DIY Button Jewelry: Button Earrings + Button Crafts
This post may contain affiliate links. I may receive a commission if you decide to make a purchase through my links. For more information, see my full disclosures here. Looking for FREE Canva templates, printable planners, cards, wall art, design elements, projects, activities, and more? Check out my Freebie Library Club.
Have a lot of stray buttons laying around? Upcycle them to make DIY button jewelry and button crafts! You're friends will love you. Plus button jewelry is unique and make for inexpensive gifts!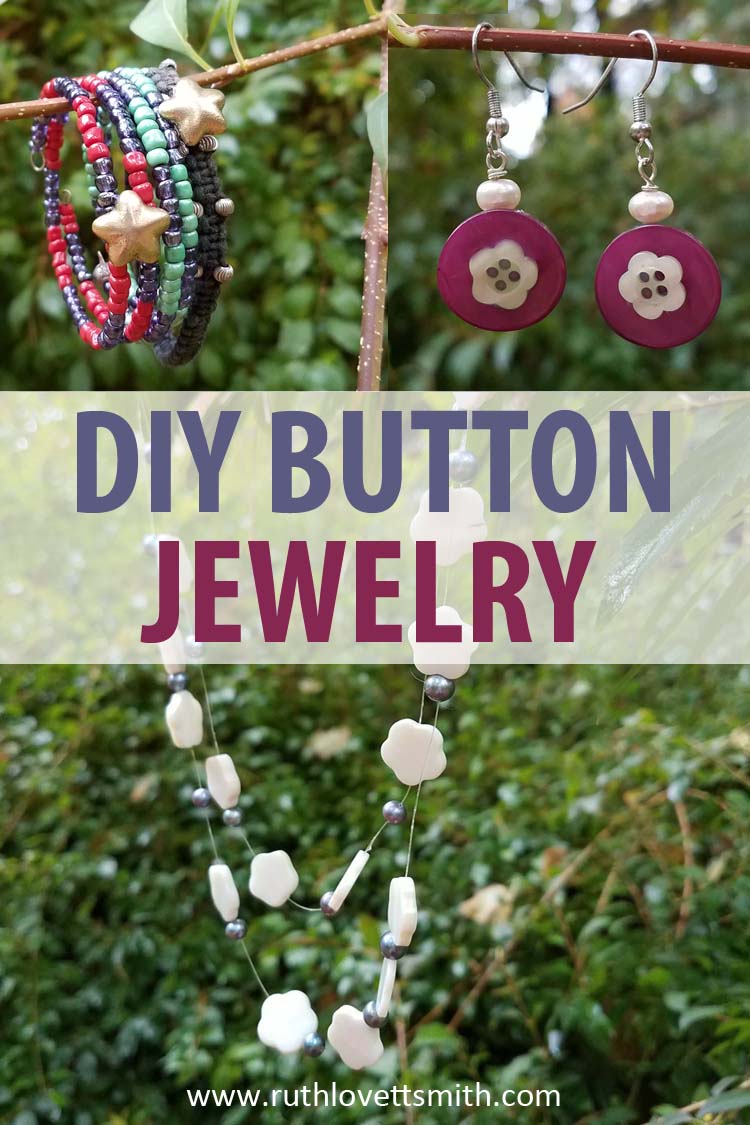 It seems that every time I am cleaning I find a stray button. Sometimes I can find what garment the button goes with and other times I am completely stumped. Since I hate to throw anything away, I have a jar specifically for stray buttons.
Some of the buttons in my collection are boring. However, some are quite interesting. Whether vintage buttons, antique buttons or new; buttons can be used for a variety of projects, including button jewelry. All you need are your buttons, leather, hemp, and/or filament cording, and sterling silver wire and clasps. You might want to add beads as well.
How to Make Button Jewelry
You can make simple button earrings, a button necklace, or a button bracelet; like I share below. Or you can get fancy and create designer button jewelry. Either way, the steps and tools are the same. You'll want to start by gathering your supplies, then read the rest of this button jewelry tutorial for more information.
DIY Button Jewelry Supplies
If you are already familiar with beading, or are a jewelry maker, it's likely that you have some jewelry tools and supplies on hand. If not, decide what you need based on your own project, ideas, and design.
Following are some tools and supplies you might want to consider:
Buttons: These can be buttons you already have or buttons that you purchase. Anything goes here.
Wire and Clasps: I personally prefer to work in sterling silver. However, you can purchase any type of wire and jewelry clasps, online, or at your local craft store.
Leather Cording and Hemp: Leather cording and hemp great for necklaces and bracelets. This can also be purchased online or at a craft store.
Jewelry Pliers and Wire Cutters: If you plan to make a lot of jewelry, you might want to consider investing in a set of jewelry pliers and wire cutters. Wire cutters make cutting wire easier. Jewelry pliers help you to hold your pieces and manipulate wire. I would personally start with a set of pliers or a pair or flat nose pliers, bent nose pliers, and round nose pliers.
Beads: If you want to add more to your DIY jewelry, you may want to purchase jewelry beads. You can get them in a variety of colors, sizes, materials, and finishes.
Now that we've covered supplies, we can start making some cool DIY button jewelry. Following are some button jewelry ideas and button jewelry tutorials.
Floral Button Earrings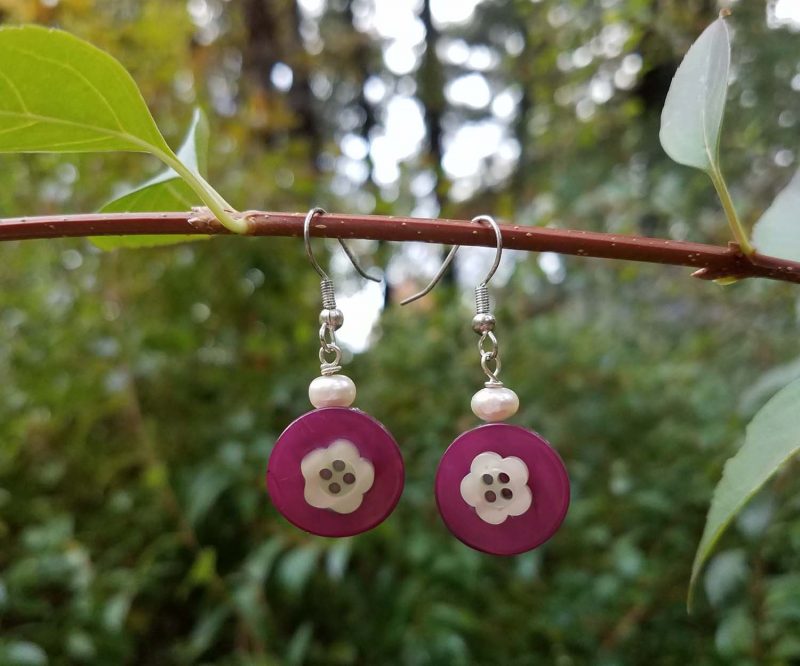 I love a good pair of earrings, and button earrings make for a great DIY gift. They can be cute and whimsical or more modern. It's completely up to you.
These earrings were made with sterling silver fish hook ear wires, sterling silver head pins, freshwater pearls, and buttons.
I took the purple button and attached it to the head pin with thin sterling silver wire. You can also use nylon thread or thin filament. Then I threaded the pearl onto the head pin, above the purple button. I bent the head pin with a pair of round nose pliers (forming a circle) and inserted it into the sterling silver fish hook. Using my round nose pliers, I wrapped the remainder of the head pin around itself, at the bottom of the circle and above the pearl. Lastly, I glued the white floral button onto the purple button. I used an epoxy glue. However, you could use a glue gun. The seal might not last as long though.
The instructions above sound more complicated than it really is. This project probably took me less than ten minutes.
Pearl and Flower Button Necklace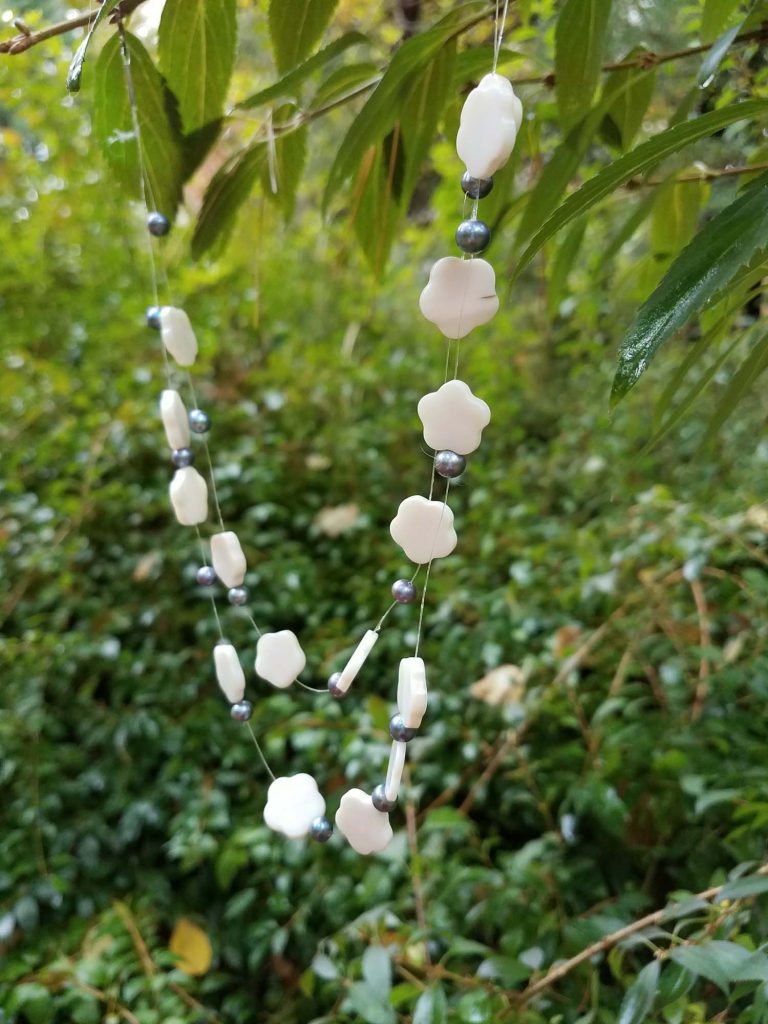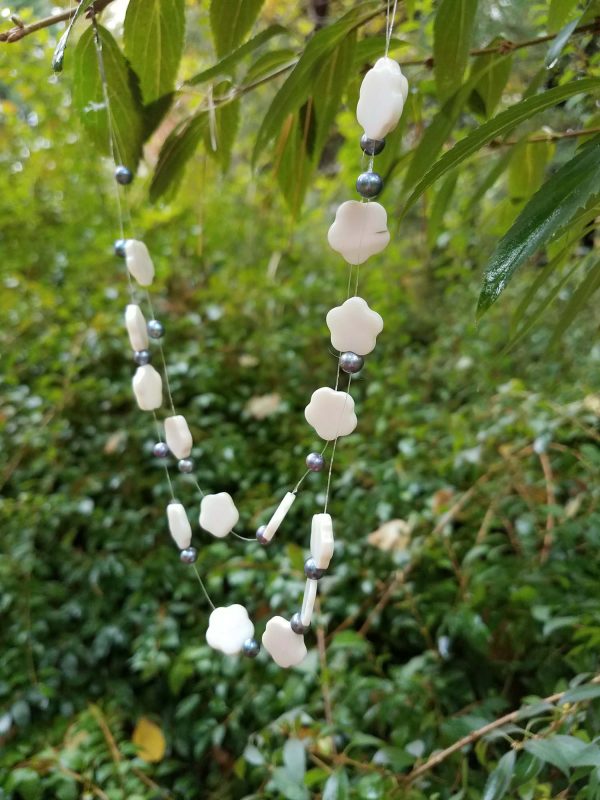 This button necklace was extremely easy to make. I used clear filament, dark freshwater pearls, white flower shaped buttons, and a necklace clasp. These particular buttons were more bead like in that the filament goes through the button. If you can't find something similar, you should be able to find buttons where the thread goes through a loop on the back of the button. This prevents you seeing holes and thread on the front of the button.
This particular necklace is a two strand necklace. One strand is slightly longer than the other, which gives you a stacked look. You string your buttons and pearls (or beads) on the filament. Then lay each beaded filament out flat. Space your buttons and pearls out how you want them. I recommend offsetting the buttons and beads on each strand. Using clear jewelry glue, place a small bead of glue, on the filament, before and after each button and bead. This will hold the buttons and beads in place on the filament. When dry, attach your necklace clasp on each end.
Gold Star Button Bracelet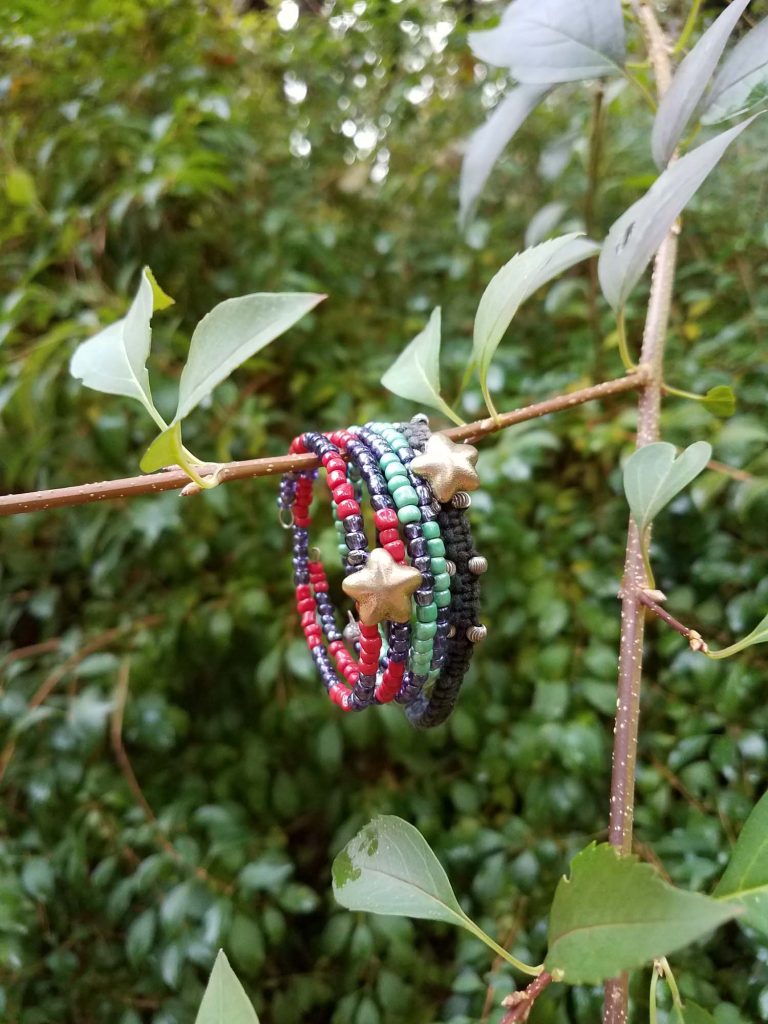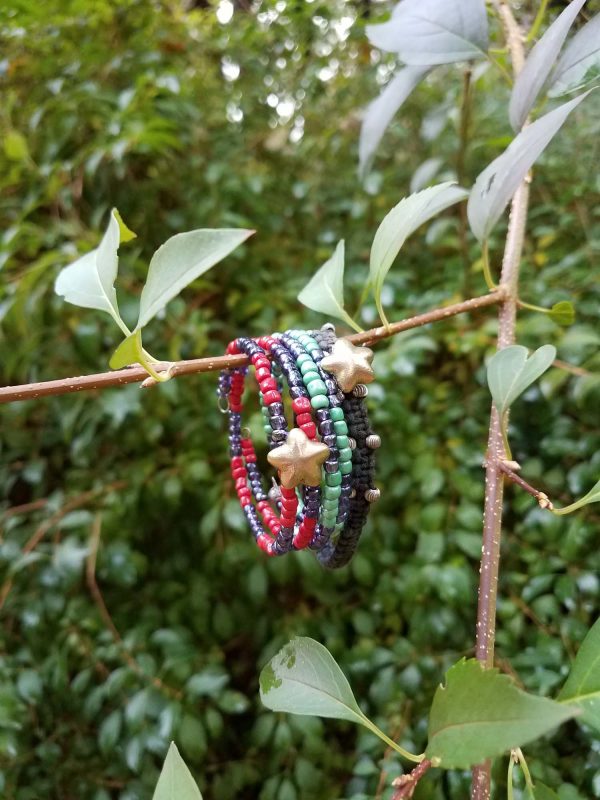 These button bracelets are probably the easiest to make, out of the three DIY button jewelry projects. I used gold star buttons (they have threading loops on the back) as well as seed beads for the beaded bracelet. The black bracelet is woven hemp cord with sterling silver beads, and the gold star button woven in.
For the beaded bracelet I used a wire bracelet form, seed beads, and the gold star button. Wire bracelet forms are circles of wire that you thread beads on to. When you are finished threading your beads, you simply make a loop in the wire at the ends. This prevents the beads from sliding off. Wire bracelet forms usually wrap around 2-3 times which makes the bracelet adjustable, as it stretches.
For the hemp cord bracelet I found a pattern I liked online. I wove the silver beads and gold star into the bracelet as I went along. If you do an internet search for "friendship bracelets" or "woven bracelets" you should be able to find a pattern that suits you.
Other Button Crafts
If button jewelry is not your thing, there are a variety of other things you can do with buttons. Do an image search for "button crafts" and you'll find a plethora of ideas. From using buttons to create mosaics, to button ornaments, button flower cards, button paper clips, and more.
You can also find ideas in various button craft books like Button! Button! 20 Cute and Crafts Projects.
DIY Button Jewelry + Button Crafts Conclusion
I hope you found this DIY button jewelry and button crafts posts helpful. Whether you want to make your own jewelry or are looking to make a unique gift, I am sure you will get hooked on making button jewelry.
For more DIY button jewelry ideas, check out the book Beautiful Jewelry.
If you liked this post, consider following and bookmarking the Art, Crafting, and Design page of this site. There I share numerous art and design projects and tips.