Nightmare Foxy Costume: FNAF Foxy Costume
This post may contain affiliate links. I may receive a commission if you decide to make a purchase through my links. For more information, see my full disclosures here. Looking for FREE Canva templates, printable planners, cards, wall art, design elements, projects, activities, and more? Check out my Freebie Library Club.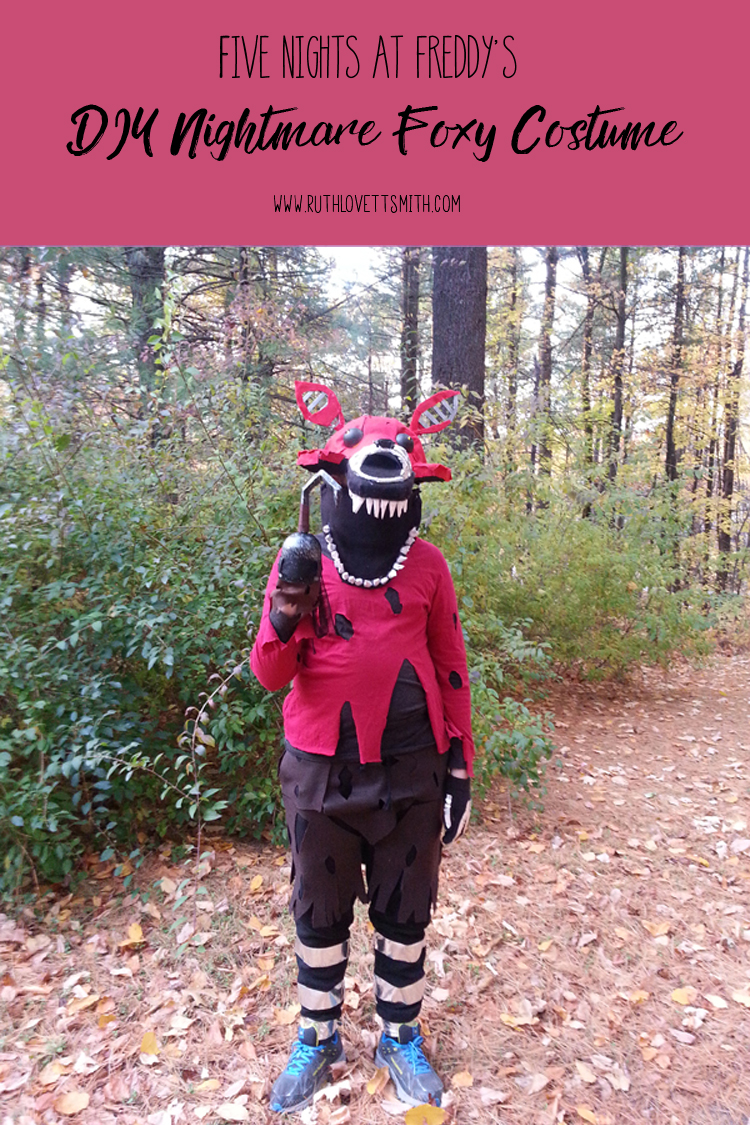 What do you do when your twelve year old son asks for a Nightmare Foxy Costume for Halloween? You do an internet search to find out who the heck Nightmare Foxy is. (He's a character from the game Five Nights at Freddy's, also known as FNAF.) Then you do an online search for a Nightmare Foxy Costume.
To my surprise, my Nightmare Foxy Costume search yielded zero results. (This was way back in 2014. )
Therefore, I did what any crazy and crafty parent does: I came up with a DIY Nightmare Foxy Costume idea.
First of all, creating a Nightmare Foxy Costume isn't hard. Rather, it is time consuming. Be prepared to put in a little effort. As a result, it will be worth it though. My son was the highlight of Halloween for all Five Nights at Freddy's fans.
If you don't want to make your own Nightmare Costume, scroll to the end of this article for ideas on where you can purchase one.
FNAF Foxy Costume Supplies
Black and red fabric
Styrofoam cylinder (for snout)
Chair-pad foam (1 inch thick)
Black mat board
Silver spray paint
White, silver, and black duck tape
Wired yarn
Bendable wire
Styrofoam ball (for eyes)
Black spray paint
Battery operated tea lights (for eyes)
Self stick velcro
Glue gun
Lots of glue for glue gun
Pirate hook bought online
Black pants and shirt
Red shirt
Brown fleece
FNAF Foxy Costume Instructions
Base of the Mask
First of all, use a child or adult size construction play helmet as a base for the mask. This helmet has a small lip at the front, therefore it is perfect for adding the Foxy snout.
Next, cut the styrofoam cylinder in half to make the snout. (Round side up and flat side down.) My snout had the half cylinder in the back and the front half was shaved out to add the silver bones you see in the front. In addition, glue the snout to the front of the helmet.
Cut strips from the chair-pad foam to build height on top of the helmet, and to add the pieces that extend from the face. Glue these in place with a glue gun. Most of all, make sure to cut holes out of the foam for the eyes.
Finally, cover the entire top and underside of the helmet with black fabric. (Gluing using the glue gun.) I like fleece because it is soft, and I always seem to have black fleece on hand.
Use red felt fabric for the red parts of the head. Felt works well because it is easy to cut. In addition, it doesn't fray. Before gluing down, cut slits in the red felt to give it a worn look.
Nightmare Foxy Ears
These ears are made out of mat board, due to the stiff nature of the material and ease of use. Draw them freehand, cut them out, and then spray them with silver spray paint. Attach strips of red felt to parts of the ears. Finally, cut two slits in the foam and fabric of the helmet and glue the ears in.
Light Up Foxy Eyes
These eyes glow in the dark! The eyes are made from cutting in half and hollowing out a small styrofoam ball. In addition, poke a small hole in the middle of each half and spray paint them black.
Battery operated tea lights fit perfectly into the hollowed out foam. (The lighted candle part coming out of the small hole.) Therefore, make sure you purchase your tea lights and styrofoam ball at the same time, so that you get the sizing correct.
Unfortunately I had to buy a pack of tea lights and styrofoam balls as they did not come individually.
In addition, you can use self stick velcro, to velcro the eyes into the holes on the helmet/mask. This way you can take them out and turn the tea lights on and off.
The Foxy Snout
The bones on the snout are made with bendable yarn covered in silver duck tape. Glue gun those to the snout. The nose on the snout is made by covering a small piece of foam with black duck tape. Glue that to the silver bones.
Pointy Nightmare Foxy Teeth
The teeth are made with white duck tape. I cut pieces and was able to create a pointy cone shape by rolling and folding the tape onto itself. Glue these teeth (using a glue gun) to the underside of the snout and bottom jaw part.
You can make the bottom jaw out of a two pieces of black fleece glued together. Attach bendable wire to the sides of the helmet/mask and to the top left and right side of the bottom jaw.
Most of all, when you put the helmet/mask on, the bottom fleece should be big enough to cover your mouth and the bottom of your face. You attach the bottom jaw to the helmet/mask with the wire. As a result, this gives a sort of flapping jaw effect and covers your face.
Our mask ended up being a bit front heavy, therefore I glued in an elastic chin strap. This helps to hold the helmet/mask back and in place.
The Rest of the Nightmare Foxy Costume
Phew. Now that the mask is complete, the rest is easy. My son wore black pants and a black shirt, with a red torn shirt over the top. Furthermore, we taped torn brown fleece onto the black pants to give a shorts look/feel.
We wrapped silver duck tape around the bottom of his pant legs to lend to the animatronic look. In addition, a black glove covered one hand and we purchased a cool hook online to finish off the costume.
I ran out of steam by the time we got to his feet so please ignore the blue sneakers!
Have you designed your own Nightmare Foxy Costume? Share your tips with me, in the comments section below. Or send me an e-mail through my Contact Page. I'd love to hear from you!
Nightmare Foxy Costume Shopping Options
Click on Nightmare Costumes
for more shopping options.


I hope you've found this post helpful. If you did, please consider sharing it by using the social sharing buttons below.
And don't forget to join our Happy Creating Facebook Group. It's a fun place to ask questions, get support, and share your own content.