What to Plant in a Vegetable Garden
This post may contain affiliate links. I may receive a commission if you decide to make a purchase through my links. For more information, see my full disclosures here. Looking for FREE Canva templates, printable planners, cards, wall art, design elements, projects, activities, and more? Check out my Freebie Library Club.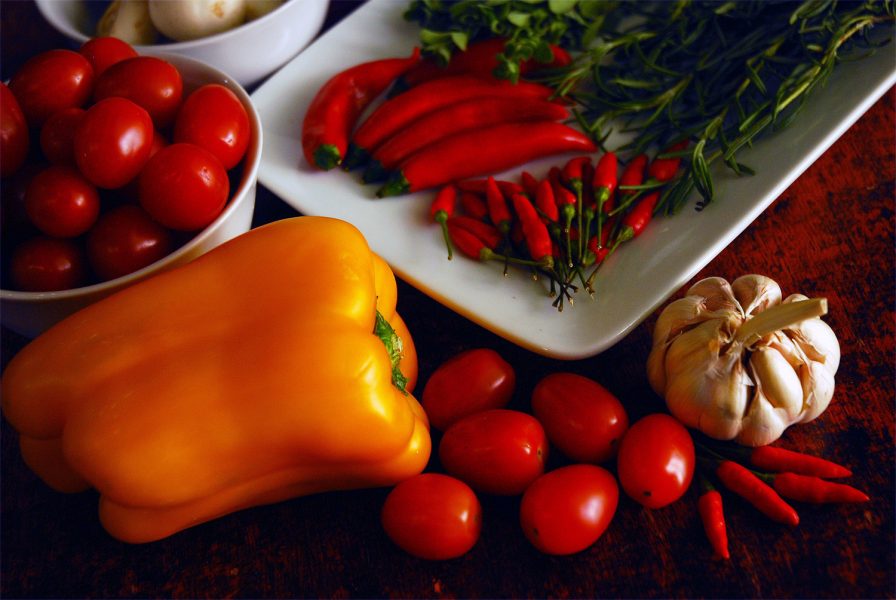 It's the time of year when gardeners across the country are planning what to put in their vegetable garden and other gardens. If you are a novice or an expert, following are the must haves and what we use when practicing organic gardening.
Tomatoes
They come in all shapes, colors and sizes, but a garden is not complete without at least one variety. Tomatoes are easy to grow as they tolerate (even love) heat and will survive poor soil.
You can buy plants at the garden center or start seeds of your own indoors. You should start your seeds 4-6 weeks before the last frost date in your area.
We started our tomatoes from seed early (we put them out with protection early) and they are now in 4 inch pots and stand about 6-8 inches tall. The varieties we are planting this year are:
Glacier, Paste, Sweet Cherry, Sungold Cherry and an Heirloom Mix–which means we'll get a bunch of different heirloom tomato plants.
Peas
The peas can be put in the ground as soon as the soil can be worked. Today we planted a row of Mammoth Melting Snow Peas. We'll also be planting shell and snap peas soon.
Spinach and Lettuces
Spinach and Lettuces are easy because you can eat them as baby plants or let them mature. Both can be planted early and love cooler weather. Today we planted Spinach, Slobolt Leaf Lettuce, Winter Density Bibb/Romaine Lettuce, Sweet Valentine Lettuce and Tom Thumb Baby Bibb Lettuce.
Cucumbers
The cuke seeds go in when it gets a bit warmer. This year we are planting a pickling cuke and a slicing cuke.
Peppers
Peppers can also be bought at the garden center or started indoors when you start your tomatoes. We started from seed and have 3-4 inch tall plants. We chose a sweet variety mix.
Green Beans
Green Beans are as easy as peas but unlike peas need to be planted when the weather is warmer. We prefer the bush variety from a taste and texture standpoint, though many like pole beans because they can train them to grow up and save valuable garden space.
Herbs
Herbs are a wonderful addition to the garden and can be grown anywhere. Some are perennials and will come back year after year. We have started bush basil seeds and sweet basil seeds indoors with our tomatoes and peppers. We will purchase Rosemary and Cilantro. The following herbs have come back this year: Thyme, Oregano, Chives, Parsley (from plants that went to seed), Lemon Balm, Chamomile, Sage and Tarragon.
Asparagus
If you love asparagus it might be worth setting aside a part of your garden or yard for an asparagus patch. The plants are slow to start but come back yearly for many, many years. Our plants are 3 years old this year and are starting to shoot up now. Fresh out of the ground asparagus is far better than store bought.
Onions
If you are a big onion eater you might want to consider plants from the onion family. In our garden we stick to scallions, leeks, garlic and shallots, but there are many other types of onions you can plant.
Fruits
If you have the space you might want to try growing fruit. We have 3 two year old blueberry bushes that are just babies and a small strawberry patch. We also have wild raspberries and black raspberries. These plants are investments because they will grow and bear fruit for many years.
Extras
If you have the space you might want to consider planting your other favorites. Melons and squashes are space hogs but are pretty tasty right out of the garden. Brussels Sprouts are also great out of the garden but also demand a lot of space. Root vegetables like potatoes and carrots can be tricky without the use of pesticides but can be done.
You also might want to save space for one unknown untried plant. Something you can't get at the grocery store but are curious about. We were going to plant the herb Stevia and Husk Cherries both this year and last–but our seeds did not germinate well.
Keep in mind that you can plant a lot in little space. There are many ways to plant besides your typical farmers row. We have a potager or what is known as a french/country kitchen garden. it is about 16 feet by 20 feet surrounded by a cedar picket fence lined with buried chicken wire to keep critters out. We are able to put most of the above in our garden and around the perimeter (with the exception of the asparagus, blueberry and wild raspberries). We do a lot of composting, so we have raised beds within. We also practice container gardening and what is known as lasagna gardening. We'll talk about those methods of gardening in another article.
We hope this article gets you excited about your garden and green living. Let us know what you are planting this year in the comments section below.