Jay Peak Hotel: Jay Peak Vermont Skiing
This post may contain affiliate links. I may receive a commission if you decide to make a purchase through my links. For more information, see my full disclosures here. Looking for FREE Canva templates, printable planners, cards, wall art, design elements, projects, activities, and more? Check out my Freebie Library Club.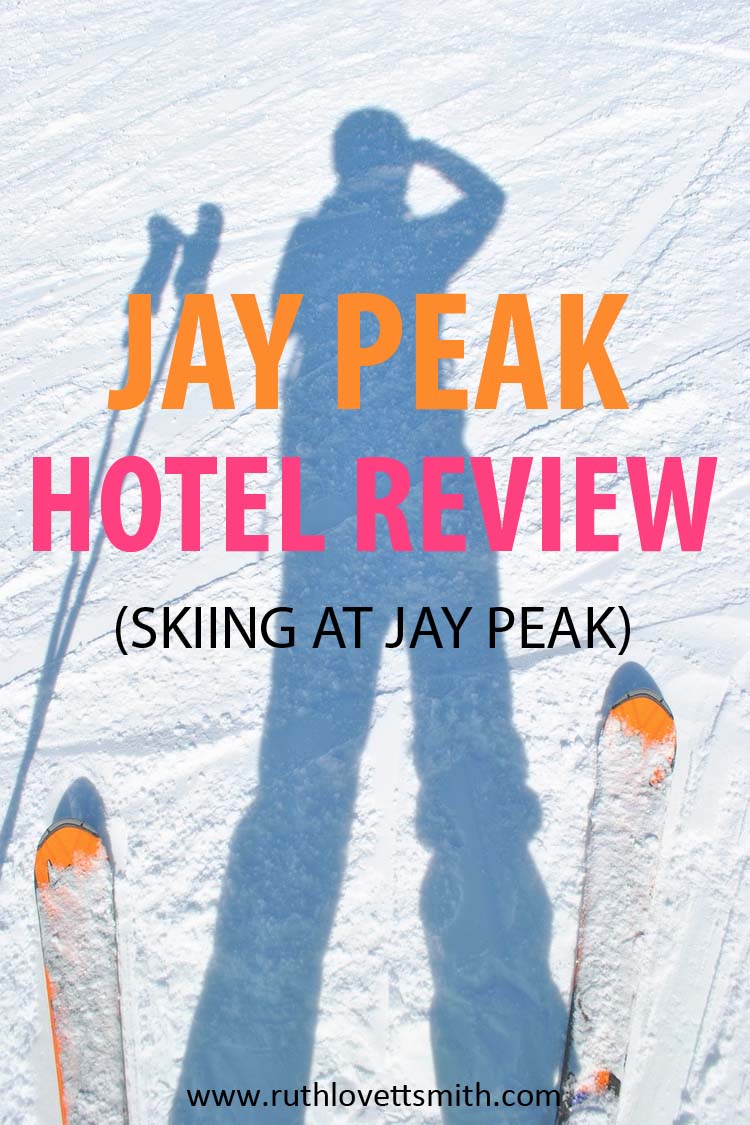 We recently returned from a Christmas trip to Jay Peak Hotel and I thought it was time to write about the pros and cons of this ski resort.
Jay Peak Resort is a four season resort located on Jay Peak in the Green Mountains, between the Village of Jay and Montgomery Center, Vermont. It is almost as far north as you can get before hitting Canada. In fact, depending upon what cell service you use; you may get a text at the summit warning you of additional cell phone charges.
The resort boasts three hotels and numerous cottage and condominium options. All three of the hotels offer ski in and ski out access, as do some of the cottages and condos.
There are many dining options including four restaurants, two bars, two coffee shops, two cafeterias, a pizza place, general store, and a couple of snack bars/cafes.
The mountain itself has 78 trails, 4 terrain parks, and 9 lifts including an aerial tram.
In addition to cross-country and downhill skiing, one can spend time doing numerous water activities in the resort's indoor water park (called the Pump House) or ice skating in the Ice Haus Arena.
This was our second trip to Jay Peak. Our last trip was two years ago in February of 2013.
Lodging at Jay Peak

For both trips we chose to stay in the Hotel Jay. This hotel is centrally located and is home to the Pump House.
It's important to make note that there is an indoor tunnel that connects the Hotel Jay to the Tram Haus Lodge next door. The newest hotel, Stateside, is about a one to two-mile drive away.
During our first trip we had a One Bedroom Suite. This time around we had a Penthouse Studio Suite.
The One Bedroom Suite had a separate bedroom with a door, a pull out sofa in the living room area, and a large indoor/enclosed balcony that overlooked the water park.
The Penthouse Studio Suite had two queen beds in one main room and no balcony.
Both rooms had a small refrigerator, microwave, a cook top, kitchen pots/pans/dishes/utensils, and a table and chairs.
The One Bedroom Suite was a better choice for our family. It just wasn't available for our second trip.
Dining at Jay Peak

Between both trips we've eaten at Alice's Table, The Foundry Pub and Grille, Tower Bar, Mountain Dick's Pizza, Aroma Coffee Shop, and the Tram Haus Cafeteria. We also bought items at Provisions General Store.
I'll preface the following to say that we aren't food snobs but we are foodies. The cafeteria food is what you would expect from any ski resort cafeteria; burgers, chicken nuggets, french fries etc. We avoided it this last time around. The restaurants were ok with Alice's Table probably being the best of what we've tried. Even then we felt that the food was not commensurate with what we paid. Again, this is typical of most ski resorts.
Skiing at Jay Peak

Jay Peak has some great skiing. However the mountain is not for the faint of heart. Some blue trails are really black trails at smaller mountains. Depending upon the weather and conditions, some trails can be extremely icy. It can also be windy at times (meaning closed lifts) and very cold.
They don't make a lot of snow at Jay, compared to other resorts. Instead, they rely on what is called the "Jay Cloud". The "Jay Cloud" is an almost always present cloud that hovers above the mountain, and is known to dump considerable amounts of snow given favorable conditions. Such was the case for us in February 2013. However, not so much this last December.
While there are beginner trails (greens) they seem few compared to the number of blue and black trails. (About 16 of their 78 trails are green.) There is also a considerable jump between their green trails and many of their blue trails. The easiest blue trail is Northway and even that has a steep section that was completely iced over this last time we went due to poor December conditions.
The one thing Jay Peak is known for is their back country skiing. You can take a lift up and ski down the backside of the mountain where there are no trails. Just make sure you have a ride to pick you up at the bottom. Many ski resorts do not allow this.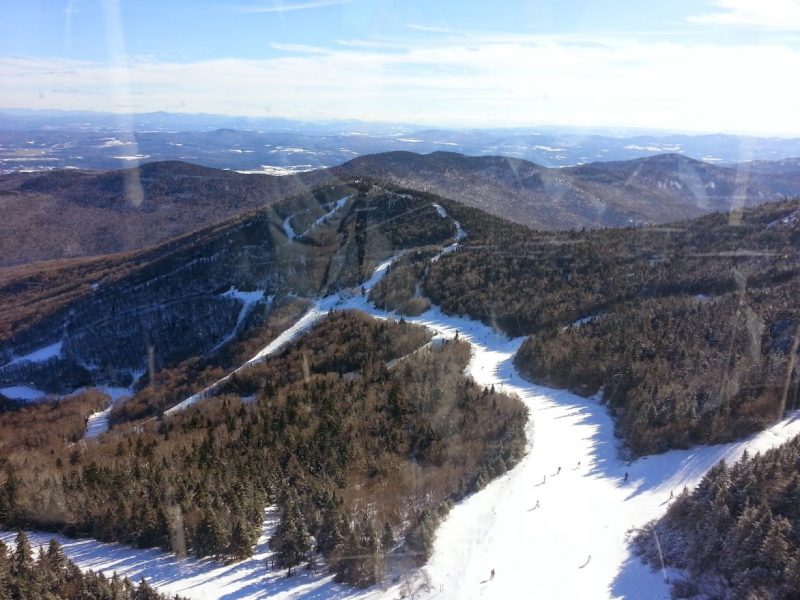 A view from inside the Aerial Tram
Jay Peak Pros
Rooms are in great condition and not warn. Beds are comfortable. Having the option to cook small meals is a plus.
Hotel Jay rooms include a good size slope side locker for storing skis and gear and the hotel is ski in/ski out.
The Pump House water park is a great attraction and way to spend evenings after a day on the slopes.
Most all of the staff we came across were extremely kind and friendly.
If you purchase a hotel package as in Ski/Ride, Splash, and Stay; you get to ski and have access to the water park on your arrival day. (Most resorts charge you a lift ticket on arrival days.)
Jay Peak Cons
There are not a lot of beginner trails.
No lights means no night-time skiing.
Depending on the season and conditions, the skiing might not be great.
Since there is a 14 day cancellation period, it's difficult to plan around the weather.
You must book far in advance during peak times like Christmas or school vacations if you want a specific style room.
The food/restaurants are ok. However, the food gets kind of redundant the longer you stay. For a stay longer than three nights I would consider a cottage or condo, and cook some of your meals.
Have you been to Jay Peak or another ski resort? Share your stories in the comment section below.