Alltrue Box Review + Alltrue Spoilers for Winter
This Alltrue box review includes Alltrue spoilers, an Alltrue coupon code, the types of products you'll find in each Alltrue box, the mission behind the Alltrue brand, and so much more.
This post may contain affiliate links, meaning I may receive a commission if you decide to make a purchase through my links, at no cost to you. For more information, see my full disclosures here. Want to turn your creative ideas into a profitable business? Check out my FREE Craft to Business Guide to get started today.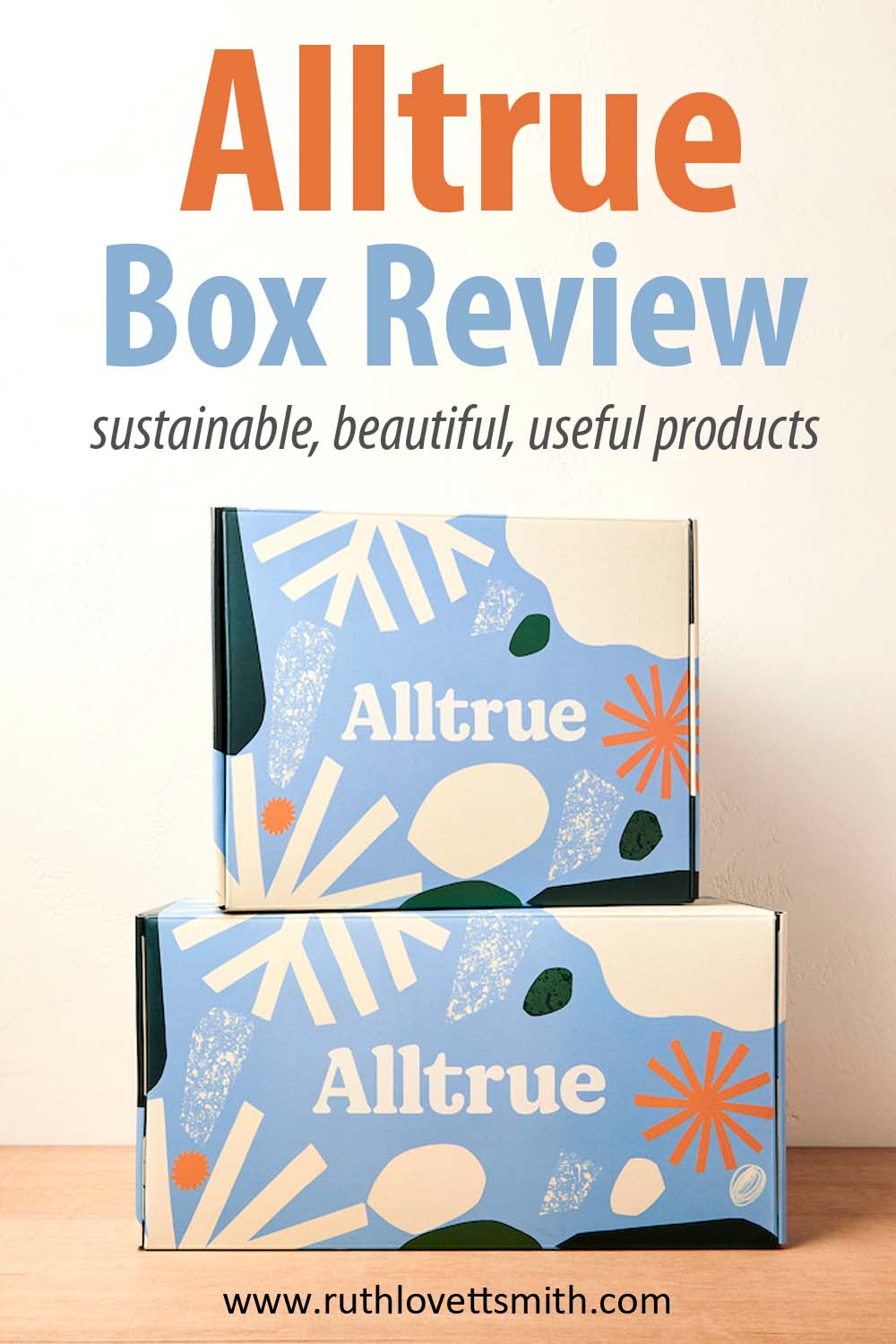 There are a lot of Alltrue reviews on the internet. Some of them are better than others. I've been a paying member for Causebox, and now Alltrue, and am happy to review Alltrue so that you can decide if the Alltrue box is right for you.
In this Alltrue review I'll cover the seasonal Alltrue box and annual subscription; as well as the pros, cons, ins, and outs of Alltrue. You'll learn about Alltrue mission and the extras that come with an Alltrue membership. You'll also get the latest Alltrue spoilers. Plus I'll even share a Alltrue promo code below.
What is Alltrue?
Alltrue is a seasonal subscription box delivered by mail. Each Alltrue box is an elegant gift that contains socially conscious products curated for women. Products range from skincare to home wares to wearable items and more. Alltrue boxes are delivered (seasonally) four times a year. You can purchase one seasonal Alltrue box, or subscribe for the entire year at a discounted rate. Annual members, as a result, also get to choose most of the items in their subscription box. Seasonal members do not.
What is Included in an Alltrue Box?
Each Alltrue box comes with 6 to 8 socially conscious products, worth up to $250. The cost is just $49.95 + tax for annual members, and $54.95 + tax for quarterly (seasonal) members. (Free shipping is available in the contiguous USA. Shipping is $7.95 to Canada, Hawaii, Alaska, and US Territories.)
There is always a variety of products in each Alltrue box. For instance, items range from clean beauty products, to ethical homewares, to cruelty free accessories. Alltrue carefully packs items in a beautiful box that includes artists work on the outside. Each box also contains a Guide to the Season, Brand Booklet, and a seasonal editorial print magazine dedicated to living consciously.
Boxes often include several products that are targeted to the season they are shipped in. For example, high end sunscreens and swim wraps in the Alltrue Summer Box. Ponchos, slipper socks, and hand bags in the Alltrue Fall Box. Hats, blankets, kitchen utensils, and nourishing lotions in the Alltrue Winter Box. Jewelry, nail polish, and luxurious face serums in the Alltrue Spring Box.
What is Included in an Alltrue Membership?
Membership also comes with several other benefits and perks. I definitely think that these extras add a lot of value to what is already a great deal. If you choose to join, be sure to take some time and look around the Alltrue website. Alltrue extras include:
Alltrue Add On Market
The Alltrue Add On Market is a collection of 500+ socially-conscious products that you can browse and purchase. Products range from clean beauty to ethical home wares and vegan accessories, and are all up to 70% off.
Alltrue Essentials Shop
The Alltrue Essentials Shop features hundreds of replenish-able household essentials. From the cleanest dish soap to the most sustainable toothpaste, you'll find products that you love and want to use.
Alltrue Choice+
Alltrue Choice+ is a new option that allows members to boost their boxes with multiple products from each choice category, at member-only prices of up to 70% off. This is a great deal as you can purchase more products at a discounted rate.
Alltrue All Good Things Magazine
Alltrue introduced a new magazine with their membership titled "All Good Things". It's a beautiful magazine filled with a ton of useful information and tips. From the Alltrue website:
"All Good Things is an editorial print magazine dedicated to living consciously. In each seasonally themed issue, we unearth stories, products, and projects from around the world that inform and inspire. All Good Things is for anyone pursuing the good life: an existence rooted in consideration, compassion, and the potential for collective change. Every box comes with a 48 page abridged version of the magazine, and members have the option to upgrade to receive a premium coffee table 100+ page extended version of the magazine, which is packed with additional eco-conscious DIY projects and exclusive content."
Why Socially Conscious?
The Alltrue motto is "All Good Things". Above all, the Alltrue mission is: "to Build a Better World". Alltrue does this by providing goods that are made fairly and sustainably by brands that are doing their part to better the world. Alltrue is the first box company to focus solely on these initiatives.
From the Alltrue website:
"We unite a community of individuals who stand for good, seek truth, and take action. Find your people, explore your values, and discover the brands and products making a difference. All are welcome. Bring your full self."
Alltrue works with amazing companies that empower women and create jobs. Each Alltrue box, company, and product has a story. This is one of my favorite things about Alltrue. They truly look for unique products, and companies, that fit with their mission statement.
The subscription box company Causebox made the brand switch to Alltrue to better represent their broader commitment to providing members more ways to expand their social and environmental consciousness. They do this through a number of new features that they are introducing (and will continue to introduce) to their community.
Alltrue Box Review
I've been a paying Causebox member for several years. When Causebox changed brands to Alltrue, I received the Alltrue Summer Box (courtesy of Alltrue). Also known as the Alltrue Summer Welcome Box, it was filled with amazing products that I continue to use. I can honestly say that they have upped their game with the inclusion of the new "All Good Things" magazine.
The Summer magazine included numerous tips for living a more sustainable life, healthier product ideas, several DIY projects, recipes, and so much more.
Thoughts on the Alltrue Box Products
As I mentioned prior, the products in my Alltrue Summer box were amazing. I found every item well packed and of high quality. There is always a variety of products in each box. In addition, there is a nice variety from box to box, if you are an annual subscriber.
I have been extremely happy with all of my boxes and items. Many items I have kept, and some I chose to use as gifts. All of the products have held up over time. I especially love Alltrue because of their focus on sustainable products and brands.
Thoughts on Alltrue Customer Service
As a Causebox member, customer service was always quick to respond to any questions or concerns. Alltrue is no different. While there may be slight delays due to Covid, Alltrue is great about communicating any and all issues beforehand.
Alltrue Box Pros
Excellent value for the price.
Socially conscious and well made products.
Purchase supports numerous female run small businesses.
Get to try new products.
Annual members get to choose their box items.
Alltrue Box Cons
Seasonal members do not get to choose their box items.
Don't always know what you are receiving, ahead of time, as a seasonal subscriber.
Will I Continue to Subscribe to Alltrue?
My answer is a definite YES! As I mentioned above, I was a long time Causebox member and feel that Alltrue has only made things better. The unique eco-conscious products, and now the addition of the "All Good Things" magazine, has made me want to continue to support a company that does good things for good people.
Keep in mind that Alltrue boxes often sell out. If you are interested in purchasing a box on a season by season basis, be sure to keep tabs on when the new box is revealed. (You can bookmark this post for seasonal spoilers and updates.)
If you love one of kind (socially conscious) products and supporting artisans and small businesses; then Alltrue is definitely for you.
When Do Alltrue Spoilers Come Out?
Alltrue spoilers are typically slowly released by Alltrue each season. They'll usually release the first spoiler a week or two before annual member customization begins. Check back here as I'll update this post with each of the new box spoilers as they are released. You'll also find updated customization dates and Alltrue coupon codes here as well.
Alltrue Spoilers for Winter
Following is a listing of the most recent Alltrue box and item choices. If a seasonal box sell outs, and they almost always do, Alltrue will put out a Welcome Box in its place.
I will update this Alltrue spoilers post, seasonally, when each new box is released.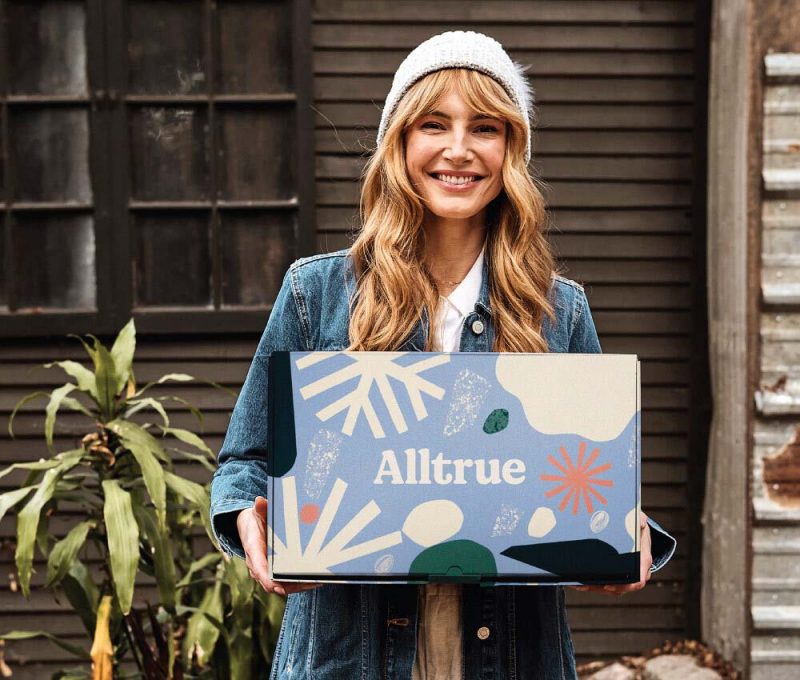 The Winter Alltrue spoilers are here, and this box is AMAZING! Check out the cute Winter box design above. Below is a list of goodies included in the Alltrue Winter box. I will update this post, seasonally, when each new box is released.
Choice one
Graf Lantz – Carry-On Travel Weekender ($158 value)
Yuna Yoga – Foldable Yoga Mat ($85 value)
Small:Hours – Set of 2 Hinged Stainless Steel Containers ($50 value)
Comma Home – Plush Throw Blanket ($75 value)
SiiZU – Cozy Poncho Wrap (Gray Stripe) ($110 value)
Choice Two
Pudus Life – Recycled Classic Slipper Socks ($27.99 value)
Symbiosis London – Luxury Anti-Aging Skincare Set ($232 value)
Vahdam India – Variety Tea Tin Set ($40 Value)
Be Home – Set of 4 Dip Bowls ($40 value)
Choice Three
Territory – Table Runner ($42 value)
Lark & Ives – Continental Snap Wallet ($56 value)
Jules Kae – Pom Beanie ($48 value)
Choice Four
lujo bar – Eucalyptus Shower Steamers (Set of 4) ($22 value)
Karma Naturals – Festive Nail Polish Bundle ($21.99 value)
The Brow Atelier – Revitalizing Brow Enhancing Serum ($70 value)
Choice Five
Mudmasky – Melting Mud Cleansing Mask ($59)
Woolzies – Laundry & Linen Spray Set ($16.99)
Net Zero Co. – Dozen Silicone Baking Cups ($15.99)
Choice Six
La Meno – Treasure Earrings ($49)
Castanha – Hand & Foot Cream Duo ($36)
Annual members get to customize their box by choosing one item from each category above. Quarterly members will receive an item from each category above. However, it will be a surprise.
Click on Alltrue Membership to visit the Alltrue website and to join the Alltrue Community.
Is Alltrue Worth It?
A lot of people ask "is Alltrue worth it?" I think that question depends on what your goals are. In short, I've been extremely happy and definitely think that Alltrue is worth it. I've always found that one or two box items often covers the entire cost of the box. And I get to try socially conscious products that I might not have heard of. Plus there is always a variety of products available.
Is Alltrue worth it to you? That depends. Do you care about your products being clean and socially conscious? Do you want to get a box delivered (just to you) that includes high end products you can feel good about? Can you afford the price of the subscription? (Tip – cut back on those little extras (like take-out) and you'll save enough for a seasonal subscription.)
Is Alltrue Easy to Cancel?
Yes! If you decide to take a break, or aren't enjoying your box, Alltrue is super easy to cancel. Simply log into your account, go to the "My Account" section, click on "Subscriptions", scroll to ""Subscription Plans", click on the 3 dots and select "Unsubscribe". Should you have any questions, you can always contact customer service. They are always friendly and easy to work with.
Which Alltrue Membership is Right for You?
As mentioned earlier, you can choose an annual membership or you can choose a seasonal membership. Annual memberships are billed up front and annually. As an annual member you lock in a discounted rate and get to choose ALL of the items in each of your four seasonal boxes. Seasonal memberships are billed seasonally, and are a little more expensive. However, you can cancel at any time. Keep in mind that seasonal members do not get to choose the items in their Alltrue boxes.
Alltrue Coupon Code
Looking for an Alltrue coupon code? Check back here often as Alltrue releases a different offer from time to time.
Alltrue Past Boxes
Here is a list of my most recent Alltrue past boxes. The items listed are the items I personally chose for my box. As you can see from the Alltrue spoilers section above, there are usually 4+ items to choose from in each customization category. Hopefully this list of Alltrue past boxes will give you an idea of what a fully customized Alltrue box might look like.
Alltrue Winter Box
Graf Lantz – Carry-On Travel Weekender ($158 value)
Symbiosis London – Luxury Anti-Aging Skincare Set ($232 value)
Lark & Ives – Continental Snap Wallet ($56 value)
The Brow Atelier – Revitalizing Brow Enhancing Serum ($70 value)
Woolzies – Laundry & Linen Spray Set ($16.99)
Castanha – Hand & Foot Cream Duo ($36)
Alltrue Box Total Value: $568.99
Alltrue Summer Welcome Box
Wanderlust Travel Speaker by LSTN ($99.99 value)
OMG Leave-In Conditioner Blend by Brand with a Heart ($18 value)
Set of 3 Nesting Bowls by Pepper + Vetiver ($36 value)
Thick Gold Hoops by Sanctuary Project ($38 value)
Love Scrub by Volim ($56 value)
Hawaiian SPF 15 Lip Trio by Hanalei Company ($20 value)
Alltrue Box Total Value: $267.99
Alltrue Summer Box Reveal
I hope you've enjoyed my Alltrue Box Review. Check back soon for the next season's spoilers. Whether you get an Alltrue seasonal box or annual membership; you can't go wrong. If you are looking for more boxes like the Alltrue box, check out my FabFitFun Review and GlobeIn Review. And don't forget to bookmark this page, and come back for the FabFitFun Spring 2022 spoilers!
If you enjoyed this Alltrue box review, please share it with your friends. Enjoy the goodies in your next box!