Apple Cider Doughnut Recipe
This post may contain affiliate links. I may receive a commission if you decide to make a purchase through my links. For more information, see my full disclosures here. Looking for FREE Canva templates, printable planners, cards, wall art, design elements, projects, activities, and more? Check out my Freebie Library Club.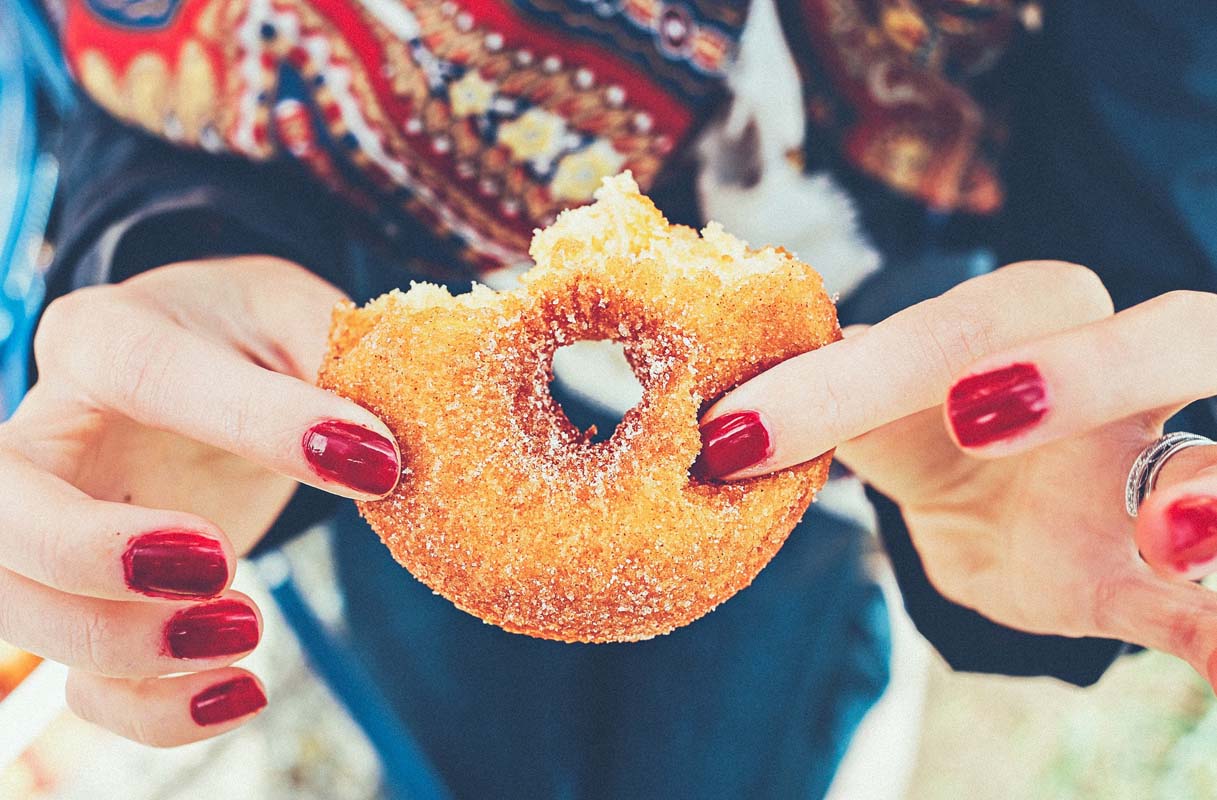 Every year in the fall we go apple picking at this divine New England orchard. There are hay rides, scare crows, pumpkins, cider, caramel apples–and the air is filled with the sweet scent of warm apple cider doughnuts.
My son used to be allergic to egg, so years ago I created an egg free apple cider doughnut recipe. You'll never know the egg is missing.
Ingredients
1/2 cup milk
1 teaspoon white vinegar
1 tablespoon applesauce
1/4 cup solid vegetable shortening (I use Spectrum pressed organic palm oil)
1 cup sugar
1 cup apple cider
3 1/2 cups all purpose flour
2 teaspoons baking powder
1 teaspoon baking soda
1/2 teaspoon salt
1/2 teaspoon cinnamon (plus more for sprinkling)
1/4 teaspoon nutmeg
oil or shortening for frying (I use Canola)
Instructions
Boil apple cider in a small pot until it is reduced to about 1/4 cup. Set aside to cool.
Meanwhile mix the first 5 ingredients until they are blended well.
Mix the remaining 6 dry ingredients in a separate bowl.
When the cider has cooled, add it to the wet mixture.
Stir the dry ingredients into the wet and mix until you have a soft and pliable dough.
If the dough is too wet or sticky, add a little flour until it is the right consistency.
You want dough not batter. If too dry, add a little more applesauce.
Roll the dough out on a floured surface and press or roll to a 1/2 inch thickness.
Using a doughnut cutter, or round glass dipped in flour, cut out the doughnuts and place on a parchment lined cookie sheet. (If using a glass and you want holes in the center of your doughnuts–you can use a water bottle cap to cut out the holes.)
Combine the scraps, and doughnut holes if you want, re-roll the dough and cut again.
Do this until there is no dough remaining.
If the doughnuts seem soft place the cookie sheet in the refrigerator to firm them up.
Add enough oil to a 3 inch or taller pan and heat until the oil is slightly bubbling. About 375 degrees. You can test the oil by dropping a small piece of dough in. It should bubble and float to the top.
Fry several doughnuts at a time being sure to flip them to ensure they are cooked thoroughly.
They should turn a nice brown color.
Remove cooked doughnuts to a paper towel lined dish. When they have cooled enough to handle them, drop them in a large zip lock bag with sugar and cinnamon and shake to coat. You can also coat with powdered sugar but we prefer the cinnamon granulated sugar combination.
Place them on a wire rack to fully cool. Store in bakery bags or an air tight container.
This recipe will make 18-24 doughnuts depending upon size and whether you keep the doughnut holes or not. They are best eaten within a few days. Enjoy with a cup or tea or hot cider.