Anonymous Hate Mail – Anonymous Letters What to Do
This post may contain affiliate links. I may receive a commission if you decide to make a purchase through my links. For more information, see my full disclosures here. Looking for FREE Canva templates, printable planners, cards, wall art, design elements, projects, activities, and more? Check out my Freebie Library Club.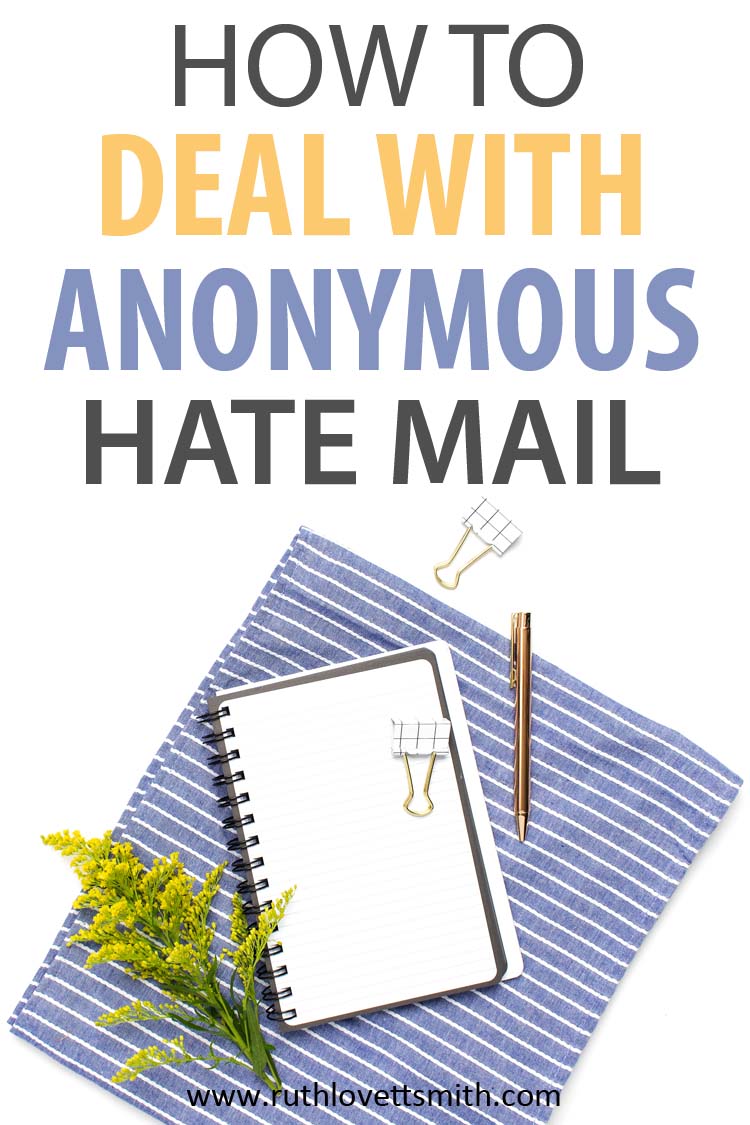 You've likely landed on this post because you are looking for information on anonymous hate mail and anonymous letters. This means that you've either received an anonymous letter OR that you are looking to send an anonymous letter. If you have received anonymous hate mail, then this post is for you. If you are looking to send an anonymous letter, then this post is NOT for you. Though you could check out Glitter Bombs, because apparently that is actually a thing.

So here is MY story on receiving, and dealing with, anonymous hate mail.
In 2014 I received my first (and only) piece of anonymous hate mail. I've been blogging since 2009, often about sensitive topics, so perhaps this should have happened sooner. Funny thing is, this wasn't hate mail via a blog comment, email, or private message. It was hate "snail" mail (how very retro) and it was personal.
I can't begin to imagine what would make someone so angry that they would take the time to:
Type a letter.
Print a letter.
Seal a letter in an envelope.
Address a letter.
Mail a letter.
So many steps and so many moments in time for the letter writer to pause and ponder whether writing a piece of hate mail is rational behavior.
(By the way, it's probably not rational behavior. This entire ordeal led me to reading and learning about sociopaths. The Sociopath Next Door is extremely interesting and beyond eye opening.)
It's been some time since I've received the anonymous letter. I've had time to recover, process, digest, and come up with some steps in dealing with anonymous hate mail. I hope these steps help you too.
Denial
It's perfectly normal to be in a state of denial when receiving a piece of anonymous hate mail. When I first received the letter, I had to reread it a couple of times to make sure it wasn't some sort of weird joke. At first it read like one of those spam letters, from a foreign country, promising millions of dollars if only you would share your personal information. After reading it a few times, the details in the letter proved that:
This letter was indeed very real.
The letter came from someone who knows my family.
The letter likely came from someone within a very small group of people in my community.
Number 3 was a shocker and is really the hardest to get over.
I live in a small, down to earth community. People who live here come from all walks of life. However many are college educated adults. They are doctors, lawyers, engineers, and business founders. Our community has a farmer's market, a community garden, and even a community solar garden. People here are smart and they care about their neighbors. People here do not send anonymous hate mail.
The take away: as much as I would like to believe that this couldn't possibly happen in my community, it did. I can't deny that.
Fear
After my initial bout of denial came a brief period of fear. (Again, perfectly normal.) If people here don't send anonymous hate mail, what kind of mental or emotional state would someone have to be in to send such a letter? I immediately addressed the letter with the police as well as with school administrators in town. (School administrators in the event the letter came from a teen.) Both are aware and are on alert in the event anything else should happen. Knowing that the authorities are on my side, and keeping an eye out, helped in my coming to terms with the situation.
If you are concerned about your own anonymous hate mail, bring your anonymous letter to your local authorities. It's good for them to have it on file, in the event an issue escalates. You can also bring a copy to your local post office, to see if there is any way they can trace it. Finally, you can look into fingerprinting the letter.
Humor
If you can't laugh at yourself or a situation such as this, then you are taking yourself too seriously. No part of the letter is true. I know that. My friends and family know that. Really, anyone who knows me in any real way knows that.
The truth is, the letter is not about me. It's about the sender and his or her own issues.
Which brings me to………..
Empathy
I genuinely feel sorry that there is someone out there who felt the need to send such a letter. I have no idea what is going on in this person's life, however I sincerely hope that this person is able to talk with someone and get some help.
Empathy is the last step in dealing with anonymous hate mail and one of the hardest. It means to put yourself in someone else's shoes. Can you imagine being so angry, hurt, or jealous that you send someone a hateful anonymous letter? I don't envy that person or their feelings.
If you want to learn more about empathy or, more importantly, teach your kids about empathy; you might want to check out The Me, Me, Me Epidemic. It's highly rated and reviewed, and may just keep your own kids from sending anonymous hate mail some day.
Related: You might also want to check out my FREE Be Kind printable. Hang it up in your home to remind your kids to be kind.
Silver Lining
It may be hard to believe but there is a silver lining in all of this. When I received the letter, I immediately shared it on Facebook and via email with numerous members of my community. It takes a village, as they say, and I wanted everyone I care about to be aware that this was happening in our small community.
The amount of support and kindness I have received has been overwhelming. It helps me to believe that there are more kind people in this world than unkind.
Related: You may also find my post Is My Friend a Sociopath? relatable and interesting. It covers The Sociopath Next Door in more detail.
Have you ever had to deal with an anonymous letter? Share your story in the comments section below.