Creating a Content Calendar Template for Your Blog
This post may contain affiliate links. I may receive a commission if you decide to make a purchase through my links. For more information, see my full disclosures here. Looking for FREE Canva templates, printable planners, cards, wall art, design elements, projects, activities, and more? Check out my Freebie Library Club.
Creating a content calendar template, for your blog, is one of the best things you can do. Download this free content calendar template today.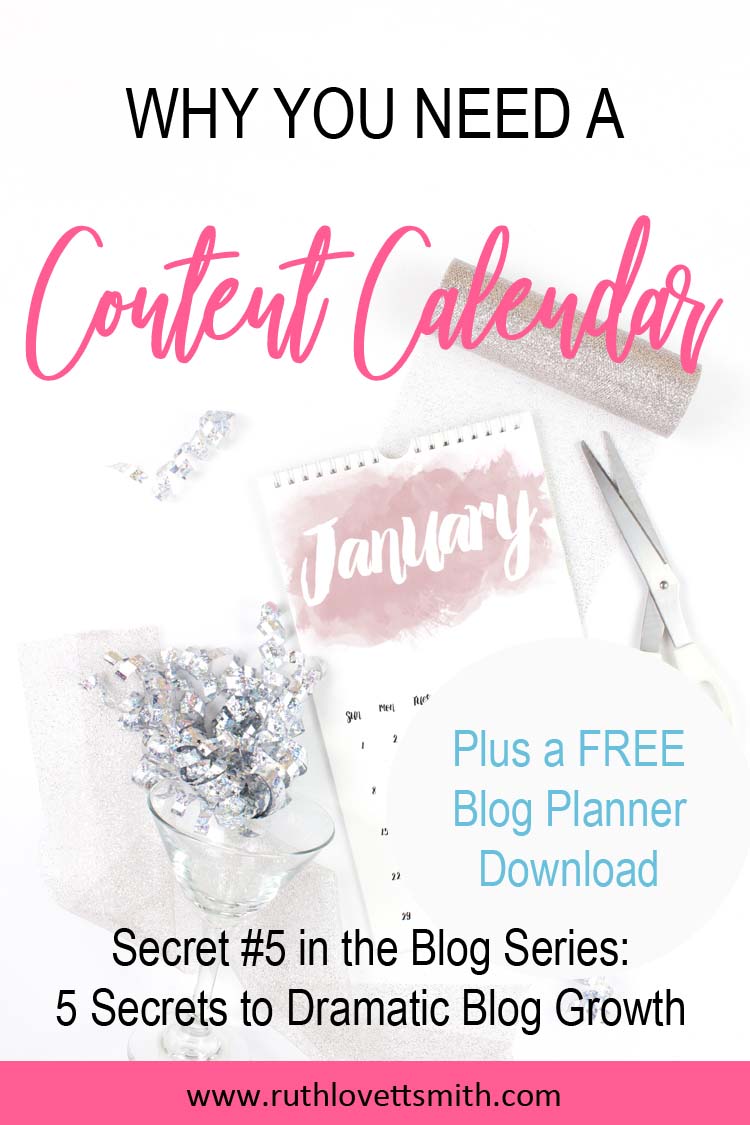 Scheduling content ahead of time, helps you to stay organized and saves you time in the long run.
Today I cover the importance of a content calendar, for scheduling your content. I also tell you how to create a content calendar template, that you can use again and again. I've even included a free content calendar template that you can download and use. This post is part of my blog series "5 Secrets to Dramatic Blog Growth."
Today I share the final secret: Creating a Content Calendar Template for Your Blog
So what is a content calendar template and how can you create one to help you schedule your content? Keep reading for more information.
What is a Content Calendar Template?
A content calendar is a schedule of all of your upcoming content. This could be blog posts, social media posts, videos, podcasts, and more.
A template is a predesigned file that serves as a starting point for a new document.
A content calendar template is a predesigned file that you can use, over and over again, to schedule your editorial content.
Why You Should Use a Content Calendar
If you take the time to schedule your content, you'll quickly find out how much more organized you can be. How many times have you stopped to think about what you need to do next? How many to do lists do you have?
A content calendar is an outline of upcoming content and tasks. It's like a fancy blogger to do list. And it will definitely save you a ton of time.
How to Create a Content Calendar Template
You can create a content calendar template in most any software program. It just depends on how detailed you want, or need, your content calendar to be.
Excel is great if you want neat rows. Word is perfect if you want to create boxes and sections. You can also use Adobe InDesign if you want to get super fancy.
The key is to make sure your content calendar template is simple and easy to use.
Some things to consider:
Do you want a daily, weekly, or monthly template?
What types of content do you need to plan out?
Is your template for blogging, social media, or both?
What size do you want your template to be?
Will you put your template in a binder or planner?
Free Content Calendar Template
I've taken some time to come up with a Weekly Blog Planner that includes space for blogging tasks, as well as social media tasks.
You can download and print it out. Or you can open the .pdf in Adobe Acrobat, and type on the actual file.
Click on Blog Planner to download.
Try out my content calendar template above, or create your own. Plan out your content, and see if it saves you time. I bet it will make your day, and week, more productive.
Let me know if you use a content calendar, and what you think, in the comments section below. Or send me an e-mail. I'd love to hear from you.
I hope you've found this post helpful. If you did, please consider sharing it by using the social sharing buttons below.