This post may contain affiliate links. If you purchase something through these links, I may receive a commission at no extra charge to you. For more information, see my full disclosures HERE. Thinking about starting a blog? Check out my post How to Start a Blog: Beginners Guide to get started today.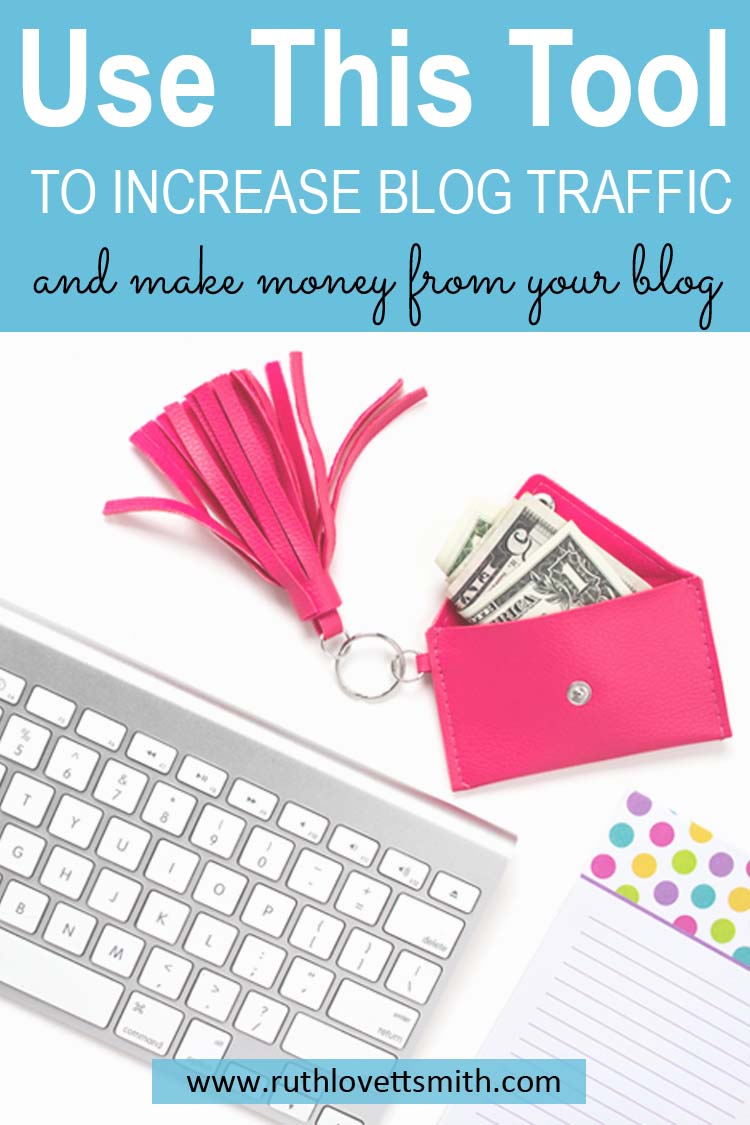 If you are looking for an SEMrush Free Trial Offer and review, you've come to the right place?
Don't know what SEMrush is? No worries, because this SEMrush Review covers the ins and outs of SEMrush, how it can help you to grow your blog, and more importantly; how it can help you to dramatically increase your blog traffic.
Keep reading, and then sign up for your SEMrush Free Trial today.
What is SEMrush?
First of all, SEMrush is a tool that helps bloggers find profitable keywords for their blogs.
Futhermore, it's a program you can use to optimize your site, and create content that will land you on the first page in search engine results.
How Does SEMrush Work?
SEMrush comes with a variety of exciting tools and information. For example, you can enter your (or any other) website address, and get the following results:
Organic search traffic numbers.
Paid search traffic numbers.
Organic keywords the site ranks for, and what number it ranks at.
Number of backlinks, and where the backlinks are coming from.
Main organic competitors.
Why This Data is Important
You can use the above data to see how your own website is performing. Also, you can use this data to see how your competitors' websites are performing.
For instance, you can track what keywords your competitors are raking for.
Above all, you can learn how to rank for those very same keywords.
Domain Scores and Trust Scores
First of all, to increase blog traffic with SEMrush, you need to know your blog's Domain Score (DS) and Trust Score (TS).
Your DS and TS is what Google uses to determine where to rank your posts. Therefore, higher scores mean that you are seen as an authority, in the eyes of Google. As a result, this places you higher on the search engine results page.
If you run a gardening blog, and are looking to rank for gardening related keywords, you need a higher DS and TS to outrank your competitors, for the same keywords.
Hence, you need to know your competitors' domain scores and trust scores as well.
One way to do this is with SEOquake. SEOquake is a free browser extension from SEMrush. It gives you the DS and TS of sites you are searching. Furthermore, it gives you backlink information as well as website age information, and so much more.
It's quick to download and easy to use. Simply download, and then search for your website (or any other website) you want information on. You can also search keywords, to see which sites are ranking for those keywords.
Click on this link to download SEOquake.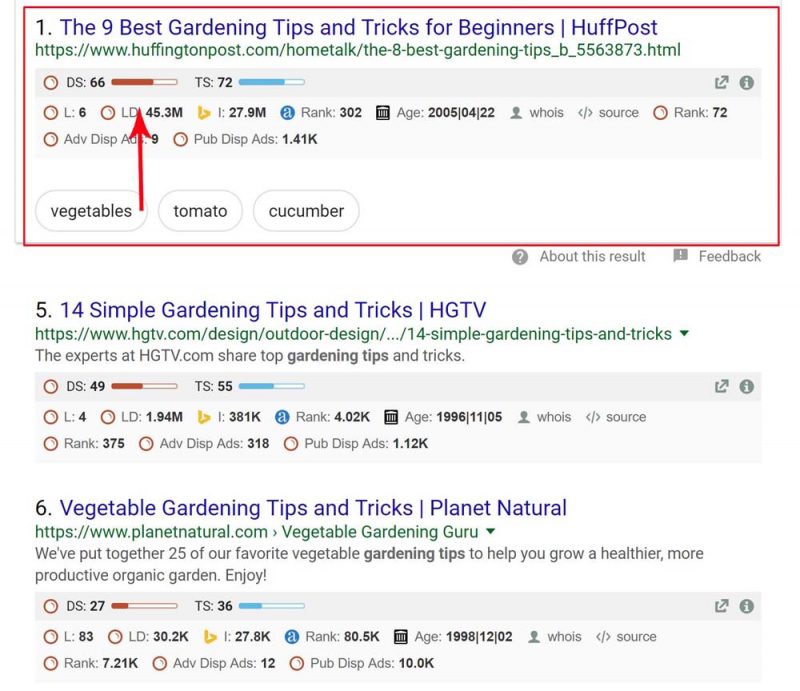 In the above image you can see the search results for the keyword "Gardening Tips". The Huffington Post ranks first with a DS of 66 and a TS of 72. The next results have lower DS and TS scores.
Unless you have a well established site, you are not going to rank on the first page for a keyword like gardening tips. Therefore, all of the hard work you put into your "gardening tips" blog post is for nothing. At least from a search engine perspective. And herein lies the problem.
Most bloggers are writing blog posts with keywords that they will NEVER be able to rank for.
Let's be real for a moment. If you are trying to make money with your blog, you need search engines to drive traffic to your site. Therefore, you need to rank for your keywords.
Consequently, this is where SEMrush comes in.
How to Increase Blog Traffic with an SEMrush Free Trial
Now that you know your DS and TS, you can use SEMrush to search for keywords that you CAN rank for. You can go about this two ways.
Enter Keywords Into SEMrush
You can enter keywords into SEMrush and it will give you a list of similar keywords.
In the image above, you can see that the keyword "gardening tips" has an approximate monthly search result of 3,600. However, there are relevant keywords, with lower monthly searches, that you might be able to rank for, like "vegetable gardening tips".
Therefore, we will now search for "vegetable gardening tips" to see which sites rank for that keyword.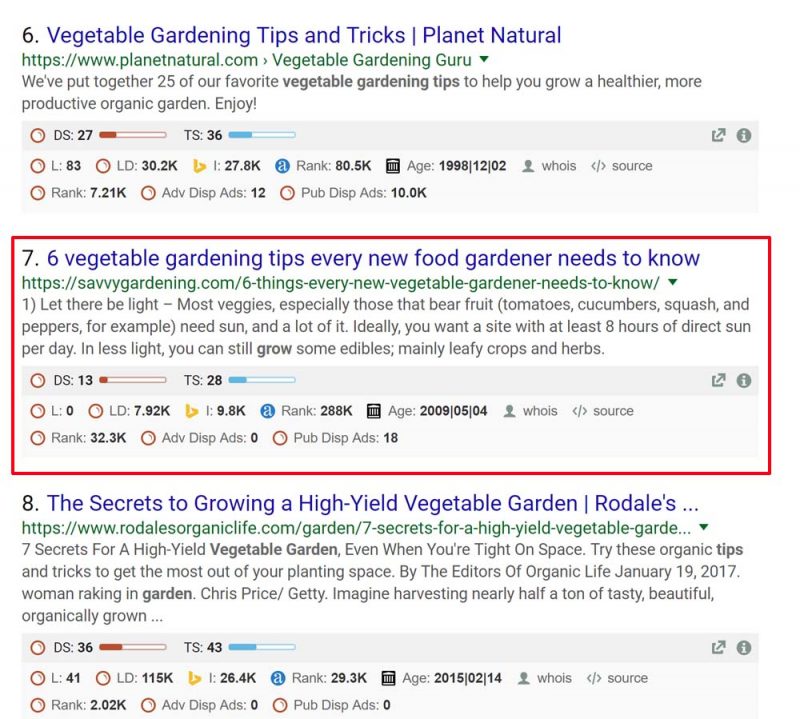 As a result, we see that savvygardening.com has a blog post on the first page of the search engine results. We also see that the site has a DS of 13 and a TS of 28. Much more reasonable.
If you have a similar DS and TS, there is a good chance that you will be able to rank or outrank this post.
Enter Websites Into SEMrush
The second way to use SEMrush, to increase your blog traffic, is to enter websites into the tool.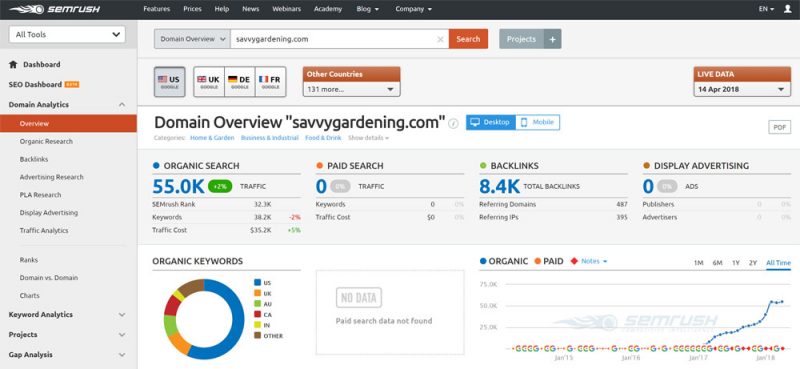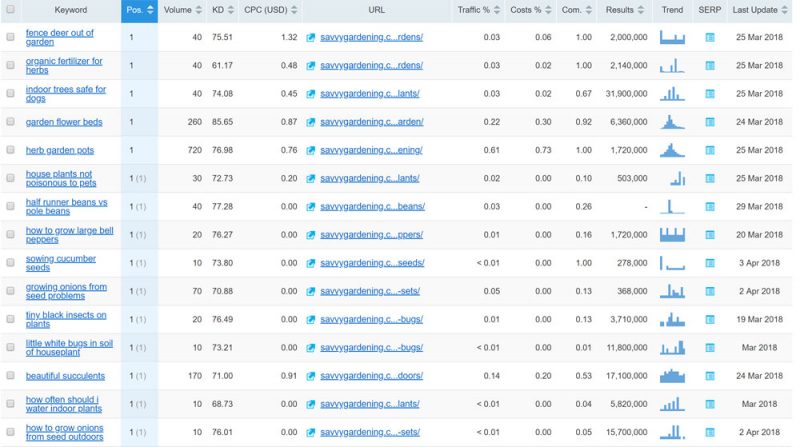 Here we can see what keywords savvygardening.com ranks for. AND what position the website is getting in the search engine results.
Look at these as potential new keywords to rank for.
Now use SEMrush to look up numerous sites in your niche, and you'll find yourself with hundreds of new keywords.
If you write stellar content, utilizing those keywords, you should be able to outrank your competition. Above all, outrank your competition, land on the first page in search engine results, and watch as the organic traffic rolls in.
Professional Tip: If you are a new blogger and have a low DS and TS, consider keywords that have lower monthly searches.
If you write a lot of content, as in numerous posts with different keywords, those monthly searches will start to add up.
Finally, just keep in mind that your DS and TS numbers need to be similar to the sites you are trying to outrank. AND that you need to SEO your posts using the relevant keyword.
For more information on how to SEO your posts see my blog post:
5 Blog SEO Tips: How to Optimize Blog Posts for SEO
SEMrush Free Trial Offer
The SEMrush Free Trial is good for seven days. This will give you enough time to test out the numerous tools, and find yourself some new keywords that you can ACTUALLY rank for.
Click on SEMrush Offer for more information.
Did you find this SEMrush Free Trial and Review helpful? If you did, please consider sharing it by using the social sharing buttons below.