Growing Your Blog: 5 Secrets to Dramatic Blog Growth
This post may contain affiliate links. I may receive a commission if you decide to make a purchase through my links. For more information, see my full disclosures here. Looking for FREE Canva templates, printable planners, cards, wall art, design elements, projects, activities, and more? Check out my Freebie Library Club.
Interested in growing your blog? My 5 secrets to dramatic blog growth will help to increase your blog traffic in no time. Learn how to grow blog traffic today.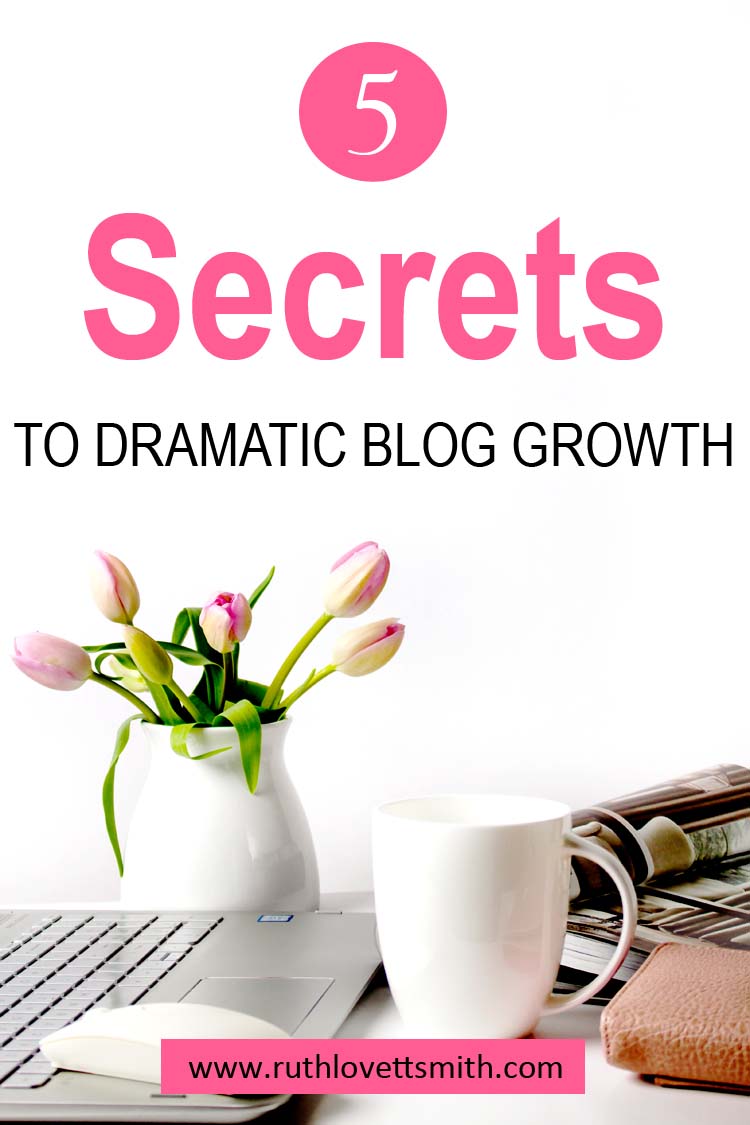 Blog growth is a huge topic of interest for bloggers. Especially if you are a business blogger. Tons of blog traffic means an increase in sales and income. So how do you get dramatic blog growth? I recently wrote a 5 part blog series on blog growth. Following is a recap, and link to each post.
5 Secrets to Dramatic Blog Growth
Build a Blog Foundation
Get Your Blog Noticed
Learn to Use Pinterest the Right Way
Create and Join Facebook Groups
Design and Use a Content Calendar
Build a Blog Foundation
Building a strong blog foundation is secret number one in my blog growth series. A foundation is the base and backbone of your blog. It's what holds your blog up. What's included in a strong blog foundation? Utilizing metrics tools like Google Analytics, increasing your blog load speed, finding the right niche keywords, and correctly using those keywords.
You also want to consider the theme and plugins you use on your blog. A well built and responsive theme means readers can easily view your blog on any type of device. Plugins can help to make user experience better. However, keep in mind that they can also slow your blog down.
Learn more in my post:
Blog Setup Guide: Laying a Foundation for Blog Traffic
Get Your Blog Noticed
Getting your blog noticed is secret number two in my dramatic blog growth series. How do you get your blog noticed? A good social media plan, gorgeous blog branding, and connecting with others by commenting and guest blogging.
Don't underestimate the value of connecting with others. Your tribe is what will help you to grow and get your blog noticed.
Get the details in my post:
3 Simple Tips to Get Your Blog Noticed
Learn to Use Pinterest the Right Way
By now you probably know that Pinterest is a great way to drive traffic to your blog. However, are you using Pinterest the right way? Are you getting the most visibility, and traffic to your blog? There is a lot to learn, when it comes to Pinterest. Secret number three is all about Pinterest.
If there is one platform you want to start with for growing your blog, it's Pinterest. Thousands of bloggers get traffic daily from using Pinterest. You can too.
Check out my post for more information:
How Does Pinterest Work? How to Use Pinterest for Business
Create and Join Facebook Groups
Did you know that Facebook can be a great social media platform for blog growth? And that you can increase your blog traffic for free? The key is in Facebook Groups. That's secret number four in my blog growth series.
Facebook groups are great for connecting with other bloggers. They are also great for getting more eyes on your content.
Learn how with my post:
How to Increase Website Traffic for Free
Design and Use a Content Calendar
The final secret in my blog growth series is all about scheduling your content. A content calendar is a great way to keep you organized and on task. Learn how to create, and use a content calendar, as well as download a FREE content calendar to start using today.
Content creation is super important when growing your blog. You need to provide valuable content to your readers in order to keep them coming back. You also need to create content consistently.
Get a free content calendar template in my post:
Creating a Content Calendar Template for Your Blog
5 Secrets to Dramatic Blog Growth Conclusion
Blog growth takes time and effort. If you read each and every blog post above, and follow all of my tips; you should see dramatic blog growth in no time.
I hope you've found this post helpful. If you did, please consider sharing it with your friends via your social media channels. Want to learn more about how to make money blogging? Check out my guide on Professional Blogging.