This post may contain affiliate links. If you purchase something through these links, I may receive a commission at no extra charge to you. For more information, see my full disclosures here. Thinking about starting a blog? Check out my post on how to start a blog to get started today.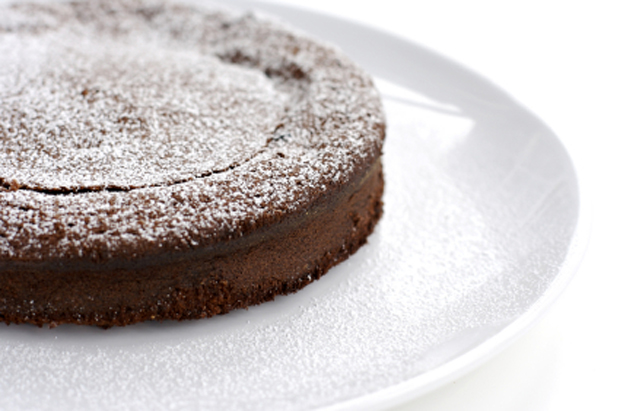 When I was a child my uncle would make this divine flourless chocolate cake topped with beautiful chocolate molded shells. It was sweet and rich and I would devour it. I didn't see him very often so it was a rare treat that I always looked forward to.
This was long before anyone really talked about food allergies, celiac disease or gluten free living. Ironically this cake is gluten free because–well–it doesn't contain any flour.
I've tinkered around to recreate this recipe to make it as delicious as ever and easy for the average home baker. Beware–this cake is for those who really love chocolate.
Ingredients
1 pound bag of semi sweet chocolate chips
1/2 pound (2 sticks) of butter
1/4 cup sugar
6 large eggs
1/2 teaspoon salt
1 teaspoon extract of your choice for flavoring IE: vanilla, mint, raspberry, orange (optional)
1/4 cup liquid of your choice ie: coffee, Kahlua, etc. (optional)
Note: Alcohol, extracts and flavoring may contain gluten
Instructions
Preheat oven to 325 degrees Fahrenheit and grease a 9 inch cake pan
Melt butter in a pot on the stove (or in the microwave)
Add chocolate chips 1/4 of a bag at a time to the melted butter
Reheat the mixture until the chocolate chips are melted, being careful not to burn the chocolate
Remove from heat and set aside
Beat the 6 eggs with the sugar until frothy and light yellow in color
Slowly whisk a small spoonful of chocolate into the egg mixture
Repeat the last step several times
(Do NOT dump all of the chocolate into the egg mixture or it will cook the egg)
Once you've whisked in several spoons of the chocolate mixture,
it is safe to pour the remaining chocolate into the egg mixture
Mix in the salt and any liquid or flavorings of your choice
(Choose either a liquid OR flavoring–if using both make sure the flavors complement each other)
If batter seems too thick at this point you can add a small amount of water
Pour batter into your prepared pan and place that pan into a larger pan with an inch or so of hot water (called a water bath)
(I like to use a tall sided, oven safe skillet. Make sure that the water does rise to the top of or into your cake pan.)
Bake for 45 minutes until the center seems set
Cool on the counter for 10-15 minutes and then place cake in the refrigerator
This cake does not need a frosting but can be finished off with a sprinkling of confectioners sugar or topped with decorative molded chocolate or even berries before serving.
I personally like to take a paper doily and place it on the top of the cake, sprinkle with confectioners sugar and then lift. You will then be left with a lace like design.
This cake serves 8-12
I hope you enjoy it as much as I do!