Top WordPress Plugins to Grow Your Blog
This post may contain affiliate links. I may receive a commission if you decide to make a purchase through my links. For more information, see my full disclosures here. Looking for FREE Canva templates, printable planners, cards, wall art, design elements, projects, activities, and more? Check out my Freebie Library Club.
WordPress plugins can help you to add new features to your website. These top WordPress plugins will help you to protect and grow your blog.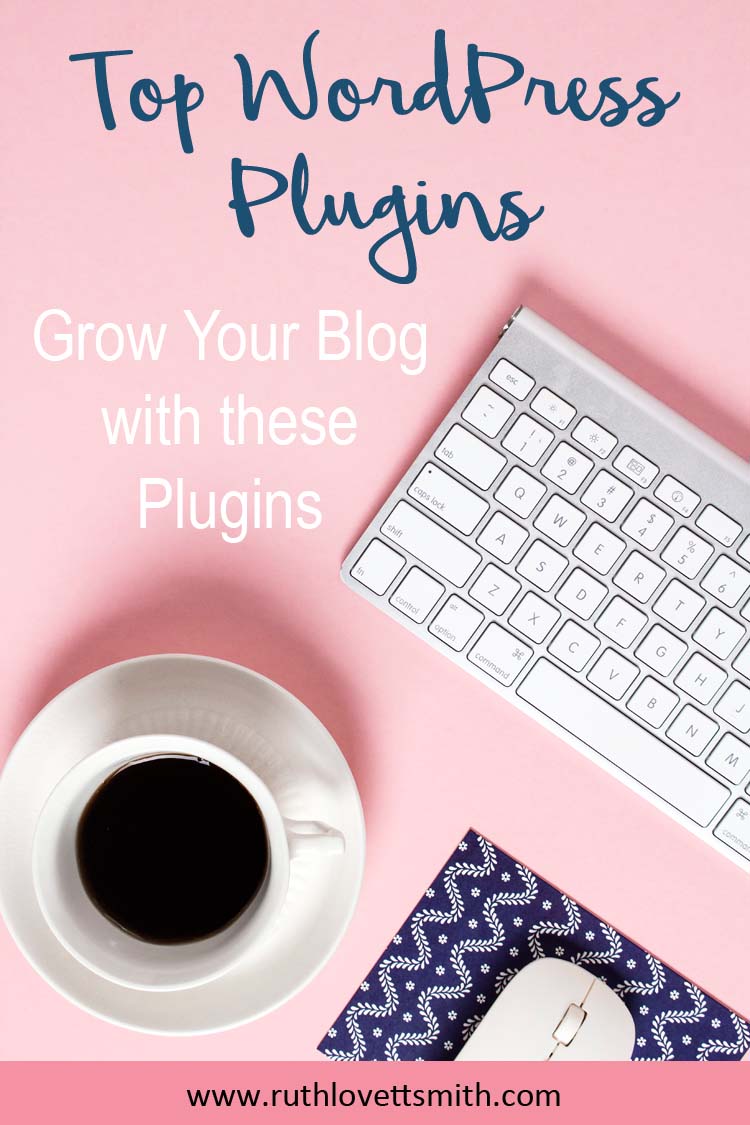 Are You Using the Top WordPress Plugins?
If you are using WordPress as a blogging platform, chances are you're also using plugins. And if you aren't using plugins, you probably should be.
A plugin is a software component that adds a specific feature to your WordPress website or blog. Want to create a poll? There is a plugin for that. Want to add a list of rotating images or ads to your sidebar? There is a plugin for that. There is a plugin for anything you can possibly imagine. And if there isn't, you can hire someone to create one for you.
I've been blogging since 2009 and have used a variety of plugins. Some I've kept along the way and some I've ditched. Following are some of my favorites that have stood the test of time. I consider these the Tops WordPress Plugins you should start with.
Top WordPress Plugins
Cost: Free for Personal Sites (Paid subscriptions are available for businesses and commercial sites.)
WordPress Rating: 4.6 out of 5 stars
Akismet is an anti-spam plugin. If your website is getting any amount of traffic, then you MUST download an anti-spam plugin. Akismet checks your comments against the Akismet web service to see if it looks like spam or not. If a comment looks like spam, it will catch it and hold it for review under the comments admin section of your blog.
Why You Need It
If you are getting any amount of traffic to your blog, your blog will be a target for link spammers. These spammers will overrun your blog with comment spam linking to a variety of questionable websites. Akismet prevents those comments from going live.
WordFence Security
Cost: Free
WordPress Rating: 4.5 out of 5 stars
WordFence Security is a comprehensive security solution for WordPress. Wordfence includes an endpoint firewall and malware scanner that were built from the ground up to protect WordPress.
Why You Need It
WordFence blocks malicious traffic and prevents multiple login attempts by spammers. If you want to protect your website and blog, you need a security plugin.
Cost: Free
WordPress Rating: 5 out of 5 stars
Yoast SEO helps you optimize your WordPress blog for SEO (Search Engine Optimization).
Why You Need It
If you want your blog or website to be found on the internet, SEO is a must. Not all WordPress themes are SEO optimized. If yours isn't, you need an SEO plugin if you want to drive traffic to your site.
See my post: What is Search Engine Optimization and is it Necessary for more information, and SEO tips.
Cost: Free
WordPress Rating: 4.1 our of 5 starts
A sitemap is basically a map of your website or blog. Google and other search engines search your site looking for content to add to its search pages. A sitemap makes it easier for these search engines to find all of your posts and pages.
Why You Need It
You work hard on your website and posts. You want them to be listed on Google. Add a sitemap and link to it in the footer of your website. That way Google and other search engines with be able to find all of your great content.
If you choose to go with Yoast Seo, listed above, there is a built in sitemap option.
Cost: Free
WordPress Rating: 4.4 out of 5 stars
WooCommerce is a powerful e-commerce plugin that helps you sell anything and everything. You can transform your WordPress website into an e-commerce store.
Why You Need It
If you aren't selling anything, then you don't. However, if you are selling any sort of products/goods (even e-books) WooCommerce is the plugin for you.
Cost: $39 to $49 annually for one site
WordPress Rating: 5 out of 5 stars
WP Rocket is a powerful web performance plugin. It will instantly reduce your load time and boost your Google PageSpeed and Core Web Vitals scores. No coding skills needed.
Why You Need It
WP Rocket will help you to increase your site speed. Increasing your site speed helps with audience retention and potentially with ranking your blog posts in search engines.
Cost: Free
WordPress Rating 5 out of 5 stars
WP Recipe Maker is an easy recipe plugin that everyone can use. An easy workflow allows you to add recipes to any post or page with automatic JSON-LD metadata for your recipes. This metadata will improve your SEO and get you more visitors!
Why You Need It
If you include recipes on your site, WP Recipe Maker is a great plugin. It make recipe posts look professional and clean.
There are several other plugins that I am using. However, these are the current work horses on my site.
Do you have a favorite WordPress plugin? Share it with us in the comments section below and maybe we'll add it to our list of Top WordPress Plugins.