Wildgrain Reviews: Fresh Bread Delivery at Home
This post may contain affiliate links. I may receive a commission if you decide to make a purchase through my links. For more information, see my full disclosures here. Looking for FREE Canva templates, printable planners, cards, wall art, design elements, projects, activities, and more? Check out my Freebie Library Club.
Wildgrain reviews covers how you can get fresh bread delivery at home. Try fermented sourdough bread, fresh pastas, and artisanal pastries; delivered directly to your door.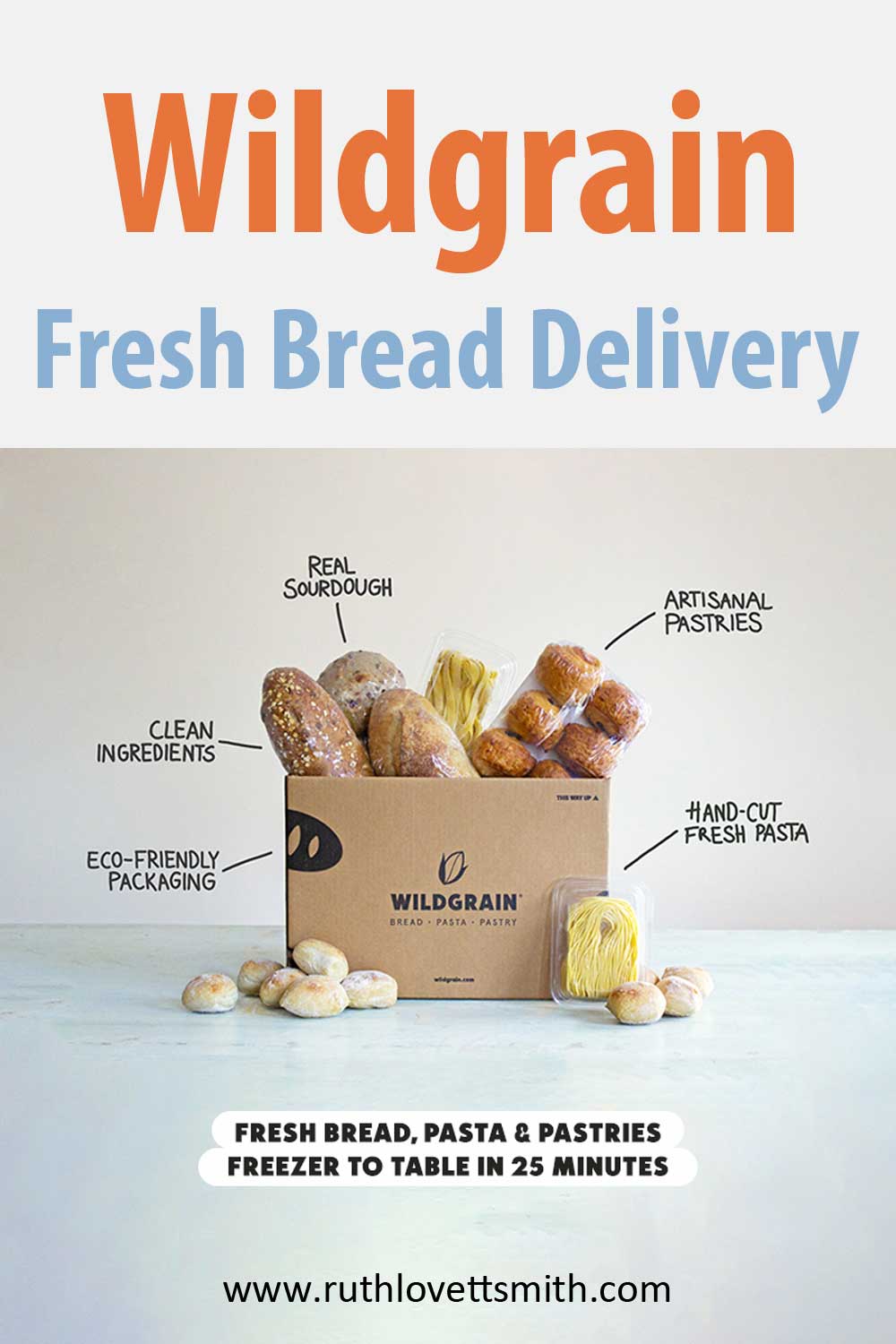 In this Wildgrain box review you'll learn the story behind Wildgrain, what comes in a Wildgrain bread subscription box, how Wildgrain works, plus I'll share a unique Wildgrain discount code. You'll even learn a little bit about sourdough bread, and I'll answer the question – is sourdough bread healthy?
What is Wildgrain?
Wildgrain is a Boston based company co-founded by Johanna Hartzheim and Ismail Salhi. They are the first bake from frozen subscription club that includes slow fermented sourdough breads, fresh pasta, and artisanal pastries. You can enjoy a fresh loaf of bread, from freezer to table, any time you desire. Loaves bake in under 25 minutes. No thawing required.
Johanna and Ismail started Wildgrain because they were looking for clean and high-quality carbs for their family. Their products include clean, and often organic, ingredients; without added preservatives or unnatural flavorings.
Products include a variety of pastas, bread and pastry. From white sourdough bread, to whole wheat sourdough bread, to whole grain sourdough bread, to sourdough cinnamon rolls, to rye sourdough, fettuccine, tortellini, and more; Wildgrain boxes contain products your whole family will love.
Greater Boston Food Bank
I love supporting a company that gives back, and Wildgrain is no exception. For every new membership, Wildgrain donates 6 meals to the Greater Boston Food Bank. So far they have donated 30,000+ meals.
They also support the River Food Pantry in Wisconsin via in-kind donations. Click the Wildgrain Story to learn more about Wildgrain, their philosophy, mission, and their products.
What Comes in a Wildgrain Box?
Wildgrain currently offers two bread subscription boxes. The Wildgrain Mixed Box and the Wildgrain Bakery Box. Both boxes come with approximately 6 items, and cost $89 per box. All items are ready to bake from frozen, with no prep required. Membership also often includes a freebie upon signing up. Such as free sourdough rolls for life, or free brioche rolls for life. I love the brioche rolls. They are perfect for sandwiches, burgers, and more.
Fresh Bread Delivery
If you are only interested in fresh bread delivery, you might want to opt for the bakery box. The bakery box includes an assortment of different types of sourdough bread and artisanal pastries. This box usually includes 3 loaves of sourdough bread, 2 other bread items – like croissants and english muffins, and finally a baked treat like cookies or mini pie bites.
Pasta Subscription Box
If you are interested in a pasta subscription box, you'll enjoy the mixed box. The mixed box includes an assortment of different types of sourdough bread, hand-cut pasta, and artisanal pastries. This box usually includes 3 loaves of sourdough bread, 2 packages of fresh pasta – such as hand-cut linguine and hand-cut pappardelle, and a baked treat as well.
Wildgrain Add-Ons and Extras
Each month you are given the option of adding up to 4 additional items to your Wildgrain box. Usually you can choose from a variety of pasta, bread and pastry treats. This is a great feature as you can customize some of the items in your box. Add a favorite loaf of sourdough bread, or an additional package of fresh hand-cut pasta.
How Does Wildgrain Work?
Visit the Wildgrain website by clicking on Wildgrain, and choose a bakery box or mixed box. Your Wildgrain box will be delivered right to your door every month. You can skip a month, change your delivery date, pause your subscription, or cancel at any time via their website. Shipping is free, and each box is packed with dry ice ensuring that your items arrive frozen.

Is Sourdough Bread Healthier?
Many people ask, is sourdough good for you? Healthy food starts with the right ingredients. Wildgrain's sourdough bread starter is a fermented mixture of flour and water, which also contains colonies of bacteria and yeast. The fermentation process used to make sourdough bread provides many unique benefits.
Fermentation digests the majority of gluten in the bread.
While sourdough bread is not gluten free, it does contain less gluten than most wheat based breads. Many people who are gluten sensitive can eat sourdough bread without issue. I personally have issues with many wheat breads, but have found I am able to enjoy sourdough breads without feeling sluggish or ill.
Sourdough bread contains prebiotics that keep your gut biome healthy.
Probiotics are beneficial bacteria, and prebiotics are food for that bacteria. Both are important for human health. Prebiotics are types of fiber that your gut bacteria digest. These types of fiber provide nutrients to the bacteria that support healthy digestion and immune function. Eating balanced amounts of both probiotics and prebiotics help to ensure that you have the right balance of these bacteria to keep your gut healthy.
Sourdough bread contains lactic acid, which helps your body absorb more nutrients.
Lactic acid is found naturally in fermented foods. The lactic acid, in sourdough bread, helps to preserve the bread naturally. Studies show that lactic acid may also improve gut health, act as an antioxidant, and increase nutrient absorption such as iron.
Is Sourdough Bread Vegan?
Sourdough bread is a type of fermented bread made from flour, water, and salt. This means that sourdough bread, by nature, is vegan. Some of the Wildgrain products are vegan. However, since Wildgrain makes a variety of products (such as pastas and pastries) they state on their website that a majority of the products in their boxes are not vegan.
Where to Buy Sourdough Bread
You may be able to find sourdough bread at your grocery store, or local bakery. Some individuals have had luck with Whole Foods sourdough bread or Panera sourdough bread. I personally haven't had much luck finding the best sourdough bread near me. I've noticed that store bought products go stale fast, and that the variety is often limited. This is why I love Wildgrain sourdough bread delivery so much. Read my Wildgrain reviews below for more information on why I believe they make the perfect loaf sourdough, or otherwise.
Wildgrain Reviews: Wildgrain Box Review
I want to start off by saying that I have been a paying Wildgrain subscription box member for several months now, and plan to continue my subscription. Wildgrain also recently sent me a box to review. I share this information in an effort to remain fully transparent.
Why do I love Wildgrain? First of all, their products are delicious. I have yet to find an item that I dislike. Each month there is a new variety of bread to try out, in addition to a traditional sourdough loaf. I especially love that I can check the website to see what is shipping that month, and skip a month if I don't think my family will enjoy some of the options available.
Second, I have been amazed at how fresh these products taste. I have been pleasantly surprised that I can take a loaf of sourdough bread out of my freezer, bake it in 25 minutes, and feel like it came out of a bakery or restaurant oven. In addition, the croissants rival any I've had from a bakery.
Third, I am more than impressed with their ingredient list. Not only does Wildgrain use high-quality ingredients, they also use minimal ingredients. Many grocery store breads have an ingredient list that contains too many ingredients, and several you can't pronounce. You can find Wildgrain's full nutrition information and ingredient list here.
Finally, I am a big sourdough lover. I actually try to eat low carb whenever I can. However, I often miss bread. Is sourdough bread good for you? I don't feel guilty eating Wildgrain products, because I find them to be a healthier and cleaner product overall. Due to the consumption of starches and sugars at the fermentation stage of making sourdough bread, Wildgrain bread can be considered a low carb sourdough bread when compared to non fermented wheat breads. Therefore I personally find the variety of sourdough breads a healthier addition to my low carb diet. The pastas and pastries are a once in a while treat for me. However, my husband and sons tend to gobble those up.
Wildgrain Reviews: My Wildgrain Favorites
Following are some of my favorite Wildgrain products. I have not been a member long enough to try each and every product. However, I am definitely looking forward to trying the sourdough pepperjack bread, cheese tortellini, and molten chocolate cakes.
Traditional Sourdough Bread
Each of my boxes have included a traditional sourdough loaf. I love this because I can use it in a variety of ways. We often make a garlic butter and create our own sourdough garlic bread for pasta night.
As I mentioned prior, all Wildgrain products are made with top-quality ingredients. Wildgrain's sourdough bread ingredients include: unbleached enriched flour, water, natural sourdough starter, organic whole wheat flour, sea salt, organic corn meal.
Cranberry Pecan Sourdough Bread
Hands down this is my favorite bread so far. The cranberries add a sweet and tart bite this bread, and the pecans add a bit of crunch. This bread is perfect with prosciutto and blue cheese. Or really any type of crostini recipe. If you like nuts and seeds, you'll probably also enjoy the walnut sourdough bread, the sesame sourdough, and the slow fermented seeded sourdough bread.
Sourdough Rosemary Garlic Bread
I love the flavor combination of rosemary and garlic. Therefore, I was anticipating this bread to have a strong rosemary and garlic flavor. However, the flavors were quite subtle. It made for a perfect sourdough sandwich bread for my herbed chicken salad sandwich. I also love the sourdough olive bread, as well as the olive sourdough ciabatta – a slow fermented ciabatta made with olive oil.
Slow Fermented Brioche Rolls
When I signed up for my membership, there was an offer for 8 slow fermented brioche rolls for life. I'm so glad I signed up during this offer. (Keep in mind that the offers are for a limited time and often change.) We use these rolls for all types of sandwiches. Breakfast sandwiches, burger night, you name it. Brioche is a light, airy, and rich tasting yeast bread that lends itself well to all sorts of recipes. The Wildgrain brioche rolls contain the addition of their sourdough starter. Consider these rolls more of a sweet sourdough bread.
Croissants and Chocolate Avalanche Croissants
Need I say more? These croissants are big, flaky, and are pretty close to what you might find in a Parisian bakery. I've tried frozen croissants before, and they don't compare to these. I've also been to Paris. While it's been years, these croissants are the best I've had in a while.
Fettuccine and Tonnarelli
Nothing can replace fresh pasta. These pastas are quick cooking, firm, and have a nice chew – if you don't overcook them. Fresh pasta cooks much more quickly than boxed. Even frozen fresh pasta. The tonnarelli is like a thin spaghetti. Perfect for a red sauce and meatballs. I prefer thick pastas and thoroughly enjoyed the fettuccine.
The above are just a few of my favorites. I'm sure next month will bring more. Whether you are looking for sourdough bread delivery, fresh hand-cut pasta, or yummy artisanal pastries – like sourdough cinnamon rolls; you can't go wrong giving Wildgrain a try.
Wildgrain Discount Code
As I mentioned earlier in this Wildgrain review, you can use my unique Wildgrain coupon code below to get $10 off of your first box, plus free shipping.
I make every effort to test and review products fairly and transparently. The views expressed in this review are my personal views, and this particular product review was not sponsored or paid for in any way by Wildgrain. However, Wildgrain did give us the product for testing and review purposes. I am also a member of Wildgrain's affiliate program.
Looking for more information on sourdough? Click on Sourdough Brioche Buns for recipe ideas as well as all things sourdough. And don't forget to share this post, with your friends, via your social media channels.