This post may contain affiliate links. If you purchase something through these links, I may receive a commission at no extra charge to you. For more information, see my full disclosures HERE. Thinking about starting a blog? Check out my post How to Start a Blog: Beginners Guide to get started today.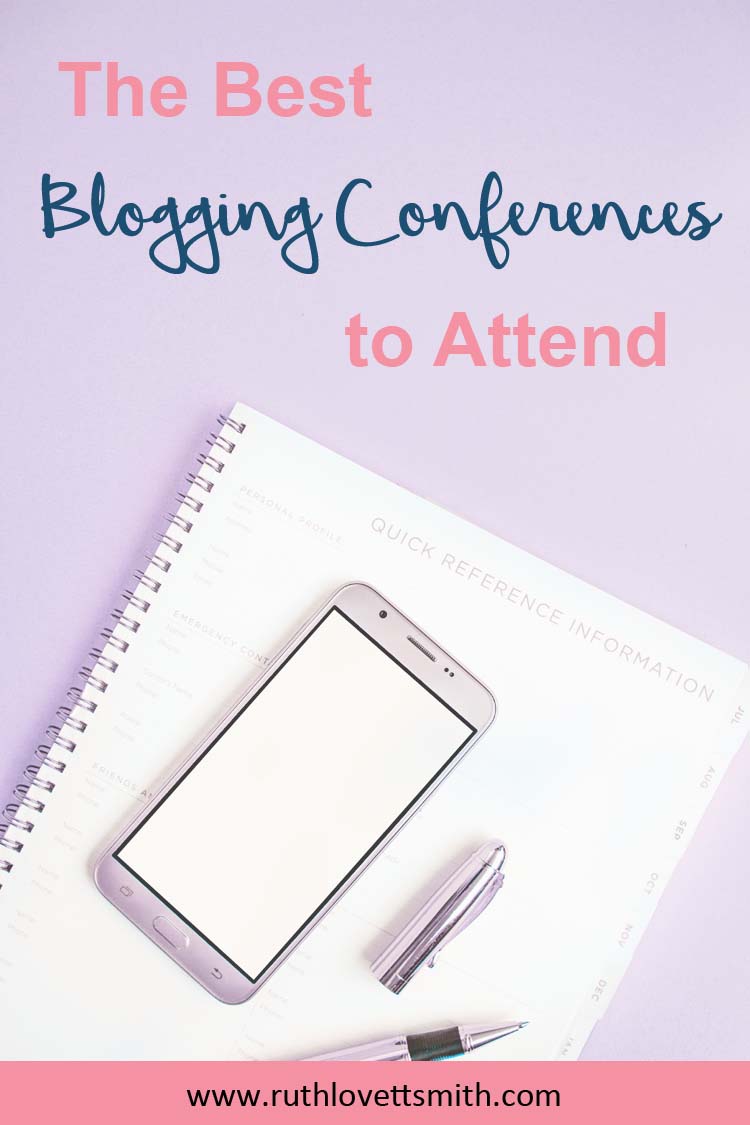 Do you know which conferences are the best blogging conferences?
If you are a blogger, chances are you keep hearing about blogging conferences. You may even have thoughts or plans to attend one in the future. But are you planning on attending any of the best blogging conferences?
If not, you might want to think more about it.
Blogging conferences are a great way to:
Learn new information about blogging.
Meet other bloggers and create new contacts.
Most of all: Grow your blog by sharing and networking.
There are literally hundreds of blogging conferences. Some are small and some are quite large. Some are niche specific, like conferences for food bloggers or art bloggers. Everyone thinks their blogging conference is the best.
So how do you choose out of the all of the best blogging conferences? First of all, I've compiled a short list of what I consider some of the BEST of the best blogging conferences out there. These are the conferences with notable keynote and guest speakers, in addition to numerous informational sessions. Therefore you'll get more bang for your buck.
The Best Blogging Conferences:
Alt Summit is known as "THE premiere conference for creative entrepreneurs and stylish social media influencers". It has grown to be one of the best business conferences for pioneering and rookie bloggers. Anyone can attend. The prevailing message is that you treat yourself as a business.
Tickets for the Winter 2018 summit sold out in 2 hours! However, you can still contact them to get on the waiting list.
BlogHer is "an organically grown community, based on trust, and built with handcrafted, custom content programs that celebrate women as well as brands".
They are all about "inspiring women to find their voices and turn their passions into content, community and commerce, attracting some of the web's best talent and top social sites, in topics from food and fashion to politics and parenting".
Every year there is a theme ranging from food, to health and wellness for 2018.
"The Mom 2.0 Summit is the premier professional conference for influential mom bloggers and female entrepreneurs who create online content. Every year, women leaders in media and business converge at the Summit to compare notes, discuss ideas, and forecast what's next for women online and in the marketplace."
Mom 2.0 is like a mini vacation. The 2015 summit was advertised as a 3 day experience in beautiful Scottsdale, Arizona. Check out the pictures on their website. It looks like it was AMAZING! The 2018 summit will be held in Pasadena, California.
Haven is a DIY and decorating professional blogging conference. The 2018 conference is 3 day event taking place in Charleston, South Carolina. This conference draws as many as 350 bloggers and over 100 sponsor representatives. If DIY and decorating is your niche, this is a blogging conference to look into.
Other Blogging Conferences:
Looking for other niche conferences, or a conference closer to home? Enter your niche (and/or location), followed by blogging conference, in your favorite search engine. I'll also update this post as new conferences pop up or become more popular.
You might also be interested in my post: How to Attend Blogging Conferences for Free. I cover numerous ways to get into blogging conferences for little to no cost.
Are you planning on attending a blogging conference? Do you have a recommendation for conferences not on this best blogging conferences list? Share your experiences and thoughts with us in the comments section below.