Find the Best Instagram Tags: Tailwind Hashtag Finder
This post may contain affiliate links. I may receive a commission if you decide to make a purchase through my links. For more information, see my full disclosures here. Looking for FREE Canva templates, printable planners, cards, wall art, design elements, projects, activities, and more? Check out my Freebie Library Club.
Learn how to find the best Instagram tags, for your posts, with the Tailwind Hashtag Finder Tool.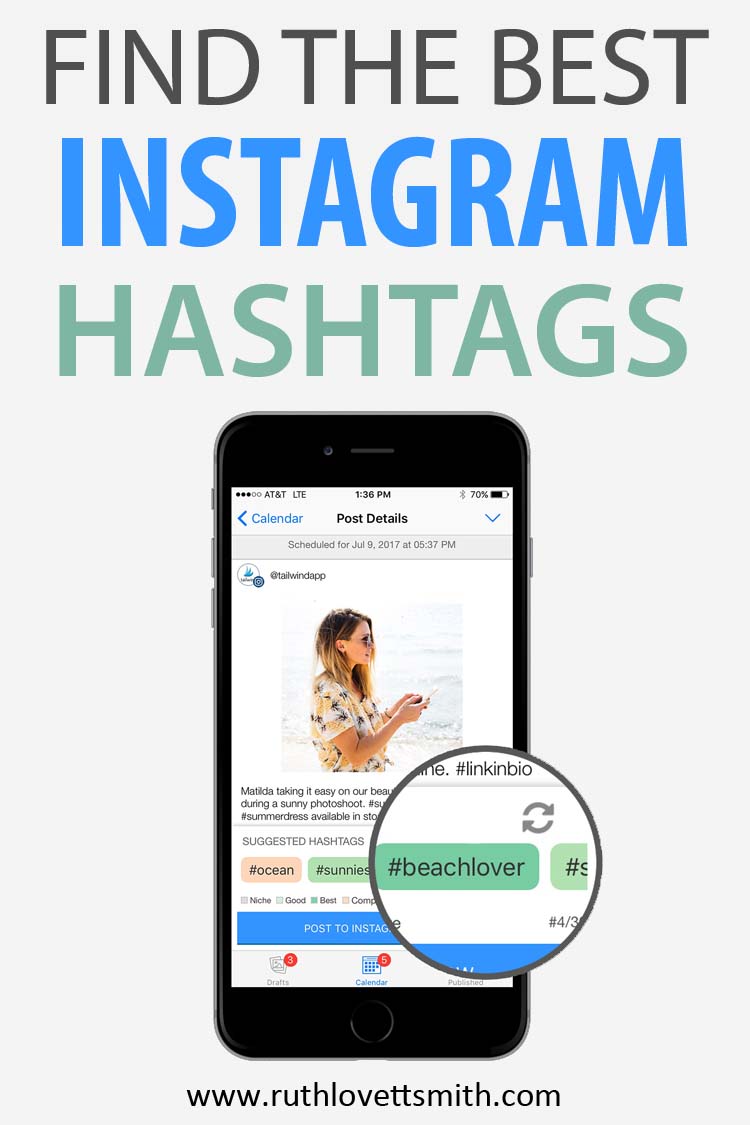 Instagram is a great platform to increase your visibility and grow your community. Hashtags makes it even easier for people to find your content. However, finding the best Instagram tags can be time consuming. Enter the Tailwind Hashtag Finder Tool; the easiest way to multiply your Instagram reach.
This post will cover what hashtags are, how to find the best Instagram tags for your content, and how the Tailwind Hashtag Finder Tool can help you.
What Are Hashtags?
You may have seen posts on Twitter, Facebook, Pinterest, Google+, and Instagram that have words with the # symbol before them. These words are called hashtags.
Adding a # symbol before a word, on most social media platforms, turns that word into a link. Click on that link and you'll be directed to a page that includes posts from individuals using the same hashtag.
Why Are Hashtags Beneficial?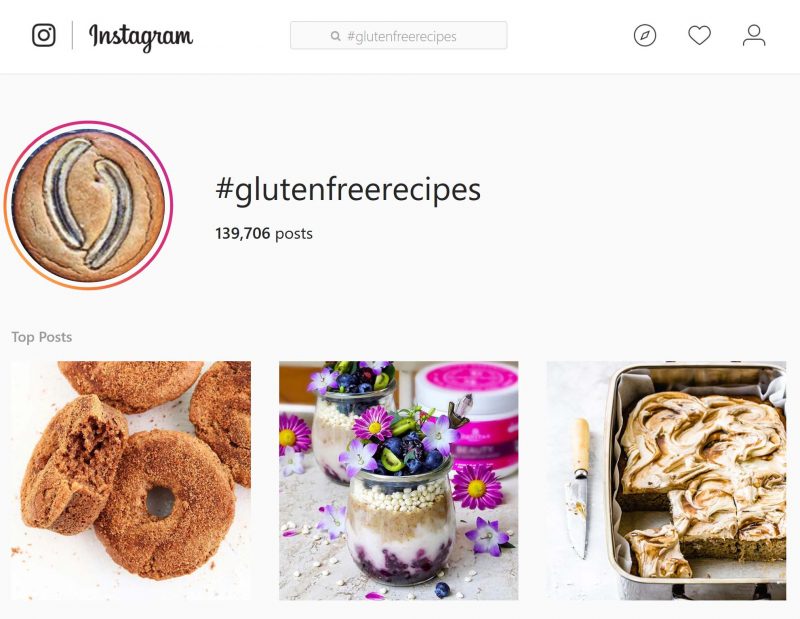 If you are looking to reach a new audience, or gain more followers, hashtags can be extremely beneficial.
For example, if you share gluten free recipes, you might want to add #GlutenFreeRecipes to the end of your Instagram posts. Individuals looking for gluten free recipes may type this hashtag in the Instagram search bar and see your post. This might lead them to scrolling through your feed. If they like it, they may decide to follow you. They may even decide to share your great content.
Instagram hashtags are a great way to expand your reach, beyond your existing followers.
How to Find the Best Instagram Tags
Most people find Instagram tags by searching the Internet, or using the search feature in Instagram. There are even bloggers who will sell you hashtag lists for your particular niche.
Once you have a list of niche Instagram hashtags, you copy and paste them into all of your Instagram posts.
The above methods will get you a list of hashtags. However, these hashtags are not necessarily the most popular Instagram tags at any given moment. Nor are they the best Instagram tags for you.
In addition, copying and pasting a list of hashtags can be extremely time consuming. Lastly, using the same hashtag list over and over may get your account marked as spam and banned on Instagram
What if I told you there was another, EASIER, way to find top Instagram hashtags?
The Tailwind Hashtag Finder Tool
Have you heard about Tailwind? Most people think that Tailwind is only for Pinterest. However, you can also use Tailwind to schedule posts to Instagram. More importantly, you can use the Hashtag Finder Tool to find the best Instagram tags for your Instagram posts.
It's super easy to use, and much quicker than searching for, copying, and pasting hashtags into each post.
1. Add an image and type your post's caption.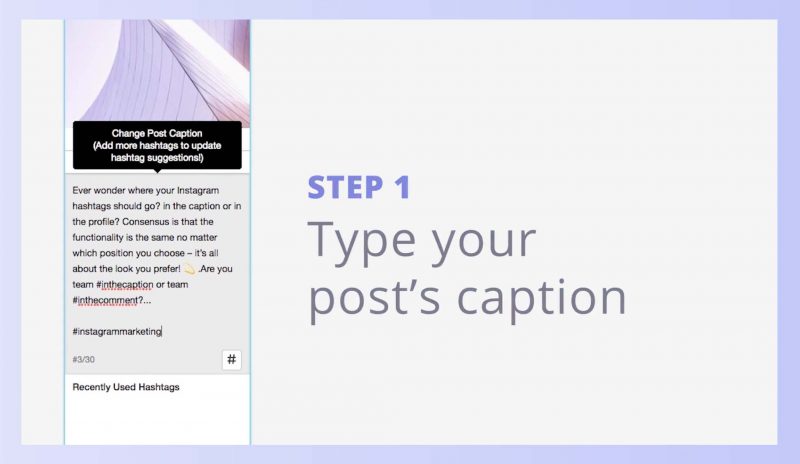 2. Add smart hashtag recommendations with a simple click.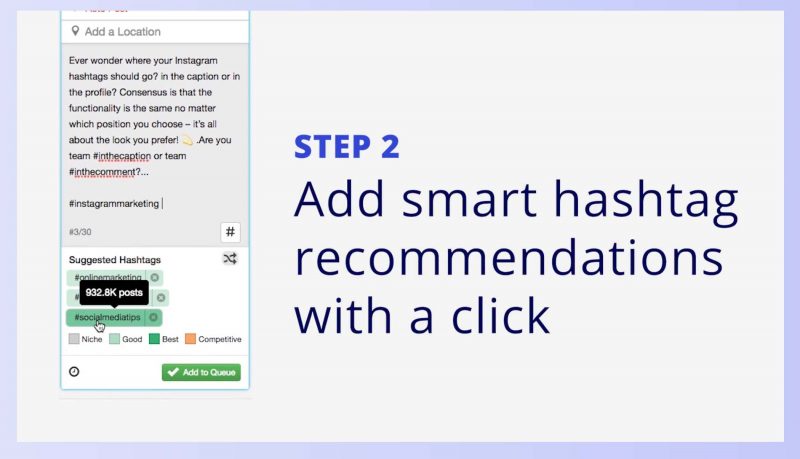 3. Use hashtag lists to save time.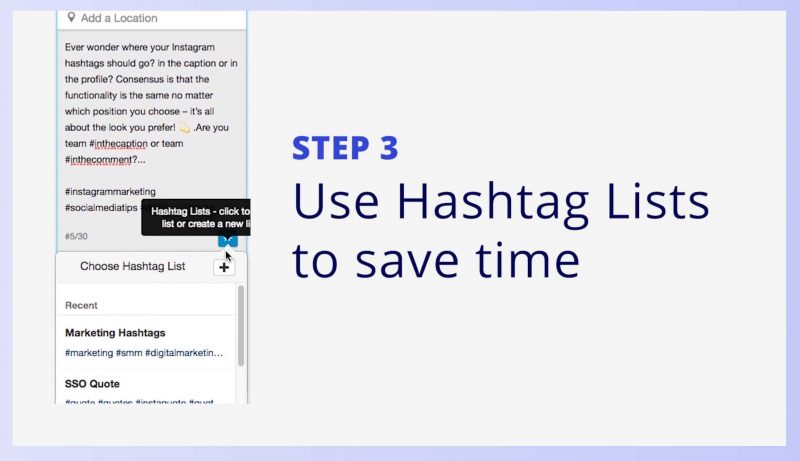 4. Publish your post.

Latest Hashtag Finder Tool Features
The Tailwind Hashtag Finder Tool also has several new and unique features. These features make using the Hashtag Finder Tool even easier.
A new selection of hashtags will appear every time you write your post.
Hashtag suggestions will appear and refresh as you type your post.
You can find new hashtags by shuffling, and dismissing, the ones you don't like.
You can hover over any hashtag to see how popular it is.
Why Use Tailwind for Instagram
Aside from the Hashtag Finder Tool, using Tailwind for Instagram has numerous other benefits.
1. Use auto post to schedule directly to your Instagram feed
You can upload any single image post, and Tailwind will publish directly to any of your Instagram business profiles. This works on both desktop and mobile.
2. Use the Smart Schedule to post at the right times
The Tailwind Smart Schedule chooses the best times to post based on when YOUR audience is most likely to be browsing their feed.
3. Re-post photos immediately from anywhere
You can create and upload drafts from any photo you find online, with easy attribution, using the Tailwind browser extension. You no longer have to e-mail photos to yourself.
4. Find your top performing posts
Discover your Instagram profile's growth, and learn which posts are your top performing posts. This will enable you to make smarter decisions for your audience to increase engagement.
Tailwind Hashtag Finder Tool Conclusion
Tailwind is a fantastic tool to help you increase your Instagram engagement, and analyze what's working within your Instagram account. The Tailwind Hashtag Finder Tool is like the icing on top of an already great cake. Use the tool to find the best Instagram tags for your posts, and increase your engagement.
If you are still unsure about whether Tailwind is right for you, try the Hashtag Finder Tool for FREE by clicking on Tailwind Hashtag Finder Tool.
I hope you found this post helpful. If you did, please consider sharing it using the social sharing buttons below. Have you tried the Tailwind Hashtag Finder Tool? Let us know! Share your thoughts in the comments section.
This post contains affiliate links. If you purchase something through these links, I will receive a commission at no extra charge to you. In addition, I was compensated for this post.