This post may contain affiliate links. I may receive a commission if you decide to make a purchase through my links. For more information, see my full disclosures here. Looking for FREE Canva templates, printable planners, cards, wall art, design elements, projects, activities, and more? Check out my Freebie Library Club.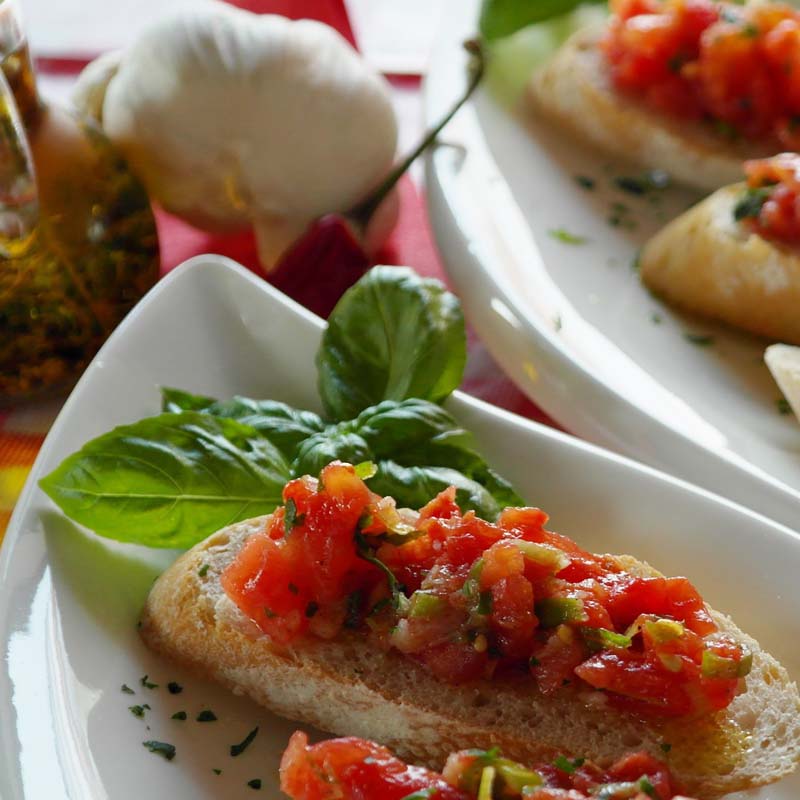 Bruschetta is an Italian appetizer made with bread, garlic, tomatoes and olive oil. It's one of my favorite summer treats.
There is nothing like crusty bread topped with fresh farm or garden tomatoes. I'll eat Bruschetta as an open sandwich or with a side of greens.
Following is a recipe that can be adapted depending upon your tastes.
Ingredients
1 loaf of any type of bread
French or Italian or gluten free if gluten is an issue. I prefer a nice white and crusty type bread
Variety of Tomatoes (8-16 ounces)
My favorite is Sun Gold Cherry. You can use other Cherry/Grape Tomatoes or any other type
1-2 Cloves of Garlic
1-2 Tablespoons of Olive Oil
1-2 Tablespoons of Balsamic Vinegar (Optional)
5-8 Fresh Basil Leaves
Instructions
Preheat over to 375 degrees farenheit.
Cut bread into 1 inch slices, large squares or slice a baguette lengthwise if you desire. Place on a cookie sheet and toast in a heated oven 10-15 minutes until bread is crisp on the outside but still soft in the center.
While bread is toasting, chop garlic cloves, tomatoes and basil leaves and toss with olive oil and balsamic vinegar in a large bowl.
Take the bread out of the oven and top with the tomato mixture. Return to the oven for an additional 5-10 minutes until heated through.
Variations
Bruschetta can be made a variety of ways and optional ingredients can be added.
With the above recipe try sprinkling mozzarella cheese over the top or spread goat cheese on the toast slices before topping with the tomatoes.
You can also make a Bean Bruschetta with rinsed canned white beans, garlic, olive oil and Rosemary.
Try adding chopped shallots or red onion to either recipe for an interesting kick.
Replace the bread with a store bought pizza crust and make a Bruschetta Pizza!