This post may contain affiliate links. If you purchase something through these links, I may receive a commission at no extra charge to you. For more information, see my full disclosures here. Thinking about starting a blog? Check out my post on how to start a blog to get started today.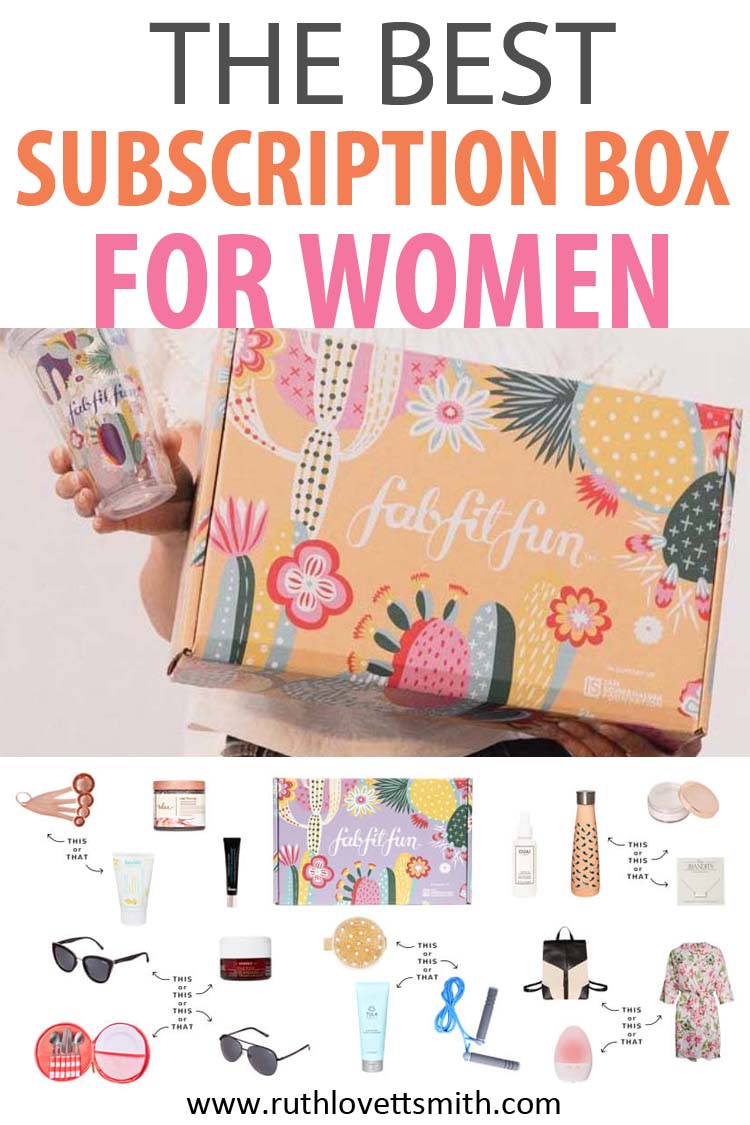 Learn about the FabFitFun starter box today! I share honest FabFitFun box reviews, spoilers, promo and coupon codes + FabFitFun add ons info for 2020.
There are a lot of FabFitFun box reviews on the internet. Some of them are better than others. I've been a member for over two years now, and am happy to offer honest FabFitFun reviews.
I'll cover the FabFitFun starter box, monthly box, and annual subscription; as well as the pros, cons, ins, and outs of FabFitFun. Plus I'll even share a FabFitFun promo code below.
What is FabFitFun?
FabFitFun is a seasonal women's subscription box filled with 8-10 full-sized, premium products valued at over $200.
The boxes ship seasonally in December, March, June, and September. You can purchase a single seasonal box, or an annual subscription at a reduced rate.
FabFitFun Cost
$49.99 for one seasonal box.
$179.99 for an annual subscription.
(FabFitFun prices are current as of 1/2020.)
What's in a FabFitFun Box?
Each box includes the best in beauty, fitness, wellness, home, and everything in between. Think lotions, scrubs, makeup, scarves, bags, and more.
Boxes include several products that are targeted to the season they are shipped in. For example, high end sunscreens and plush beach towels in the FabFitFun Summer Box. Hats, blankets, and nourishing lotions in the Winter Box.
What is the FabFitFun Starter Box?
The Starter Box is a mini box filled with 3 to 4 full-size, premium products. It's a great way to try out FabFitFun at a reduced rate. This box is not always available on the FabFitFun website. However, you may see it mentioned on various blogs as bloggers often get Starter Box invites to send to their friends.
What is the FabFitFun Editor's Box?
The Editor's Box is a box you can opt to get when the seasonal box sells out. This box, also sometimes called the Welcome Box, is filled with favorite products from past seasons. This means you can join any time of the year, rather than wait for the next seasonal box.

FabFitFun Add-Ons and Extras
There are some super cool extras that come with FabFitFun. I definitely think that these extras add a lot of value to what is already a great deal.
FabFitFun extras include:
Select Membership
First of all, if you choose an annual membership you are considered a Select Member. This means that you get to select options, for some of the items in your box, at an earlier date. For example, a lipstick palette or an eye shadow palette. Sometimes you get to choose between two lipstick colors, or two jewelry pieces. I personally consider box customization a huge perk and worth the annual membership price because I get to customize my box exactly the way I want it.
Spring Box customization opens on 2/2/20 at 9 am PT, for Select Members, and 2/15/20 at 9am PT for all members.

From FabFitFun: "Starting with the Winter 2019 season, our billing and fulfillment schedule will be organized to maximize shipping efficiency and help prevent overlap between the various groups. We'll have Select Access and All Access windows for Add-Ons and Customization."
Edit Sale
There is also an Edit Sale each season where you can choose a variety of products to be shipped to you. This is an opportunity to purchase past seasons products at a significantly reduced rate (30%-70% off). Select members have early access to this sale, which makes an annual membership an even better deal. Edit Sale items sell out quickly.
Add-Ons
FabFitFun Add-Ons are sale items that you can add to your upcoming box. They are typically between 30% and 70% off. Add-Ons ship free with your box.

The Spring Add-On Sale opens 2/1/20 at 9 am PT for Select Members, and 2/14/20 at 9 am PT for all members.
Online  Community
FabFitFun has an extremely active online community. Here members swap or sell items, as well as share tips for how they are using their items, among other things. If you can't wait to get your box, some members will do an unveiling of what is in the box they received.
Online Community Tip: My favorite thread in the online FabFitFun community is the "Free Samples? Good Deals?" thread. Members post about their favorite products, as well as any deals they might come across. I've scored discounted beauty boxes, free earrings, and more.
FabFitFun TV: Online Fitness Channel
Finally, FabFitFun has it's very own online fitness channel called FabFitFun TV. Here you can choose workouts from well known trainers like Jillian Michaels. You can watch on your phone, laptop, and even on some TVs with the FabFitFun Fitness App. Check it out here.
FabFitFun Spoilers
Following is a listing of the most recent box, and the items included. If a seasonal box sell outs, and they almost always do, FabFitFun will put out an Editor's Box in its place.
I will update this post, seasonally, when each new box is released.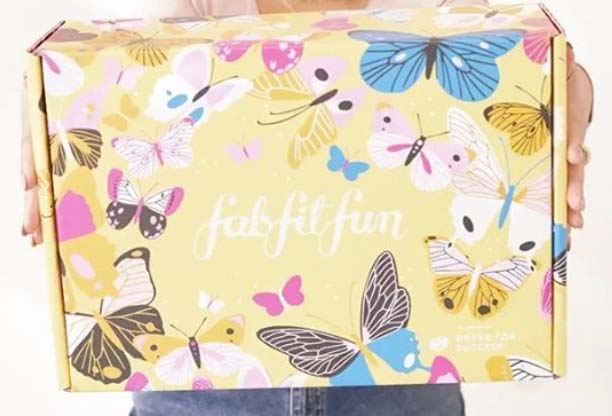 The FabFitFun Spring Box spoilers are here! This season features a beautiful butterfly design on the box. Perfect for Spring!
New this season is the introduction of FFF Throwbacks. These are favorite FFF items that have been featured in the past. Members will only receive a FFF Throwback item if they specifically choose one.
Select members get to choose from the following items. Seasonal members should be able to make choices for the first three items.
First Item
reVive Light Therapy® Glo Wrinkle and Anti-Aging Light Device
DONNI. Ribbed Sweater Coat
Caravan Diamond Woven Rug
Summer & Rose Navy Diamond Tote  FFF Throwback
west elm Indigo Tie-Dye Bowls  FFF Throwback
Elemis Peptide4 Night Recovery Cream-Oil  FFF Throwback
second Item
CALPAK Set of 3 Packing Cubes
Murad® Rapid Collagen Infusion™
Shoshanna Umbrella
tarte™ Rainforest of the Sea™ drink of H2O hydrating boost FFF Throwback
tarte™ tarteistTM PRO glow highlight & contour palette FFF Throwback
111SKIN Rose Gold Radiance Booster
third Item
Amber Sceats™ Double Coin Necklace
Gravity Weighted Sleep Mask
WEI™ Two-in-One Purify and Glow Mask Collection
Cosmedix Pure C FFF Throwback
Green Goo Hibiscus Plant-Based Body Scrub FFF Throwback
Fourth Item
Aria Beauty Luxe Detangling Electroplated Brush
Jabonería Marianella Imperial Jade Body Oil
Stone Cold Fox Tea Towels
AVEDA damage remedy™ daily hair repair
Surprise Me! (FabFitFun will choose for you.)
Fifth Item
AG Hair Fast Food Leave-On Conditioner
Skindinavia The Makeup Finishing Spray
Lovescript Body Wash
Speaqua Cruiser Bluetooth® Wireless Speaker
Ciaté London Fierce Flicks Precision Tip Liquid Liner
Eparé Dual Salt and Pepper Mill
Mystery Choice (You will receive a mystery item.)
Surprise Me! (FabFitFun will choose for you.)
Bonus Items
There are three additional bonus items, chosen by FabFitFun, in each box.

Chic and Tonic Silicone Straws, Black Orchid Spongelle, or Wander Beauty Mile High Club Mascara.
Winky Lux Rainbow Tinted Balm, Avene Thermal Spring Water, or Purlisse Watermelon Energizing 2 Minute Polishing Peel.
This Works Deep Sleep Body Cocoon or Whish Blue Matcha Restoring Mask.
Select members (annual members) get to choose one item from each category above. They can also purchase additional items, at a discounted rate, while supplies last. Additional item prices range from $7 to $15 per item, which is a great deal! Seasonal members get to choose items from the first three categories above.
Click here to join today and customize your Spring box. You'll automatically get $10 off of your first box.

FabFitFun Past Boxes
I am currently on my 3rd annual subscription. That's how much I love FabFitFun! I view each box as a seasonal treat to myself. It's like Christmas four times a year.
Following are items that were included in each of my past boxes. You can click on each title below, to view the items that were in each box.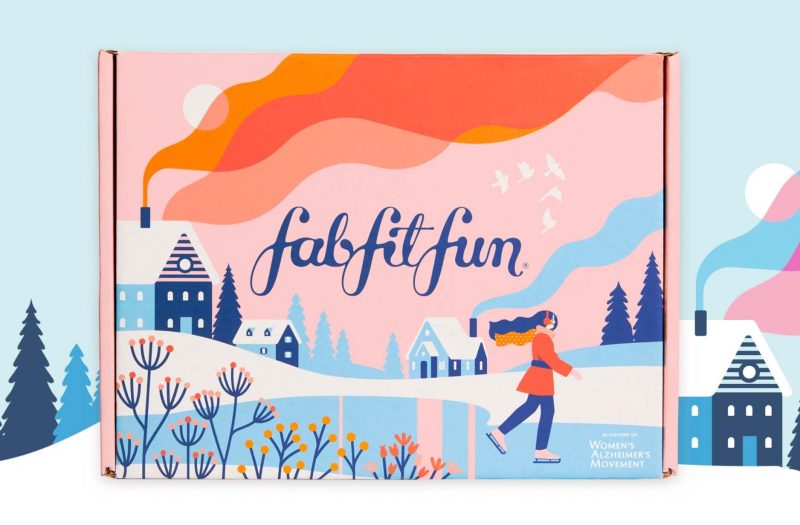 The FabFitFun Winter Box included a total of 8 items. Select members got to choose their first 5 items.
First Item
Kate Somerville® Goat Milk Moisturizing Cream – Retail Price $65
UnHide Lil' Marshmallow – Retail Price $65
R+Co TELEVISION Perfect Hair Shampoo + Conditioner – Retail Price $64
Jonathan Adler Fleur De Sel Ceramic Candle – Retail Price $48
Rebecca Minkoff Marled Beanie & Armwarmer Set – Retail Price $70
Second Item
LashesMD® Eyelash Conditioner – Retail Price $69.95
PJ Salvage Faux Trim Cable Slippers S/M – Retail Price $45
PJ Salvage Faux Trim Cable Slippers M/L – Retail Price $45
Erno Laszlo Pore Cleansing Clay Mask Retail Price – $48
ban.do Bluetooth® Shower Speaker Retail Price – $30
Third Item
Adore by Swarovski® Organic Circle Bracelet in Rose Gold – Retail Price $39
Battington Lashes Monroe 3D Silk Lashes + Glue Kit – Retail Price $32
Karuna Face For All Face & Eye Mask Set – Retail Price $42
Rodial Soft Focus Glow Drops – Retail Price $55
Fourth Item
Beauty Bakerie Proof is in the Puddin' Palette – Retail Price $38
LXMI Pure Nilotica Melt – Retail Price $28
Paper Source™ 12 Month Rose Floral Planner – Retail Price $27.95
Vooray Sidekick Crossbody Bag – Retail Price $17.99
Fifth Item
AHAVA Salt Bag – Retail Price $16
frank body Original Coffee Scrub – Retail Price $16.95
Vera Mona Color Switch® Solo – Retail Price $16.99
Sixth Item
Cuccio Somatology™ CALM + CLEAN Epsom Salt Hand and Body Wash
Thirsty Hands Hand Mask
*The sixth item was a FabFitFun choice mystery item. Members received one of the two items as a surprise.
Bonus Items
Drybar Prep Rally Prime & Prep Detangler
MakeUp Eraser Makeup Eraser – Original Pink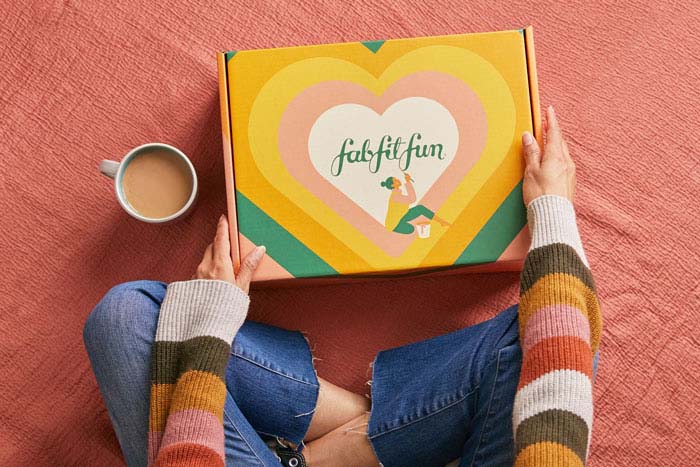 The Fall 2019 box included a total of 8 items. Select members got to choose their first 5 items from the choices below. Everyone receives the bonus items listed.
First Item
amika Strand Perfect Ceramic Styler
Plush Ultra Soft Plaid Scarf
Anthropologie Travel Yoga Mat
Second Item
NassifMD® Detox Pads
The Kut from The Kloth Slim Striped Wallet
Twine Cheese Board with Plate
kate spade new york Lunch Tote
Third Item
BaubleBar Ear Crawlers
The Better Skin Co. Better Skin Lava Magik
Cosmedix Pure C Vitamin C Mixing Crystals
Fourth Item
trèStiQue Mini Eye Essentials – Set of 4
Eparé Dual Salt and Pepper Mill
Afterspa Hair Towel Wrap
Skinvolve Body Boost Gel
Fifth Item
SKIN&CO Roma Truffle Therapy Face Toner
Aromatherapy Associates Deep Relax Roller Ball
Wander Beauty Baggage Claim Gold Eye Mask 6 Pack
Bonus Items
Harper + Ari Exfoliating Sugar Cubes
Aveda Damage Remedy Daily Hair Repair
Human + Kind Body Souffle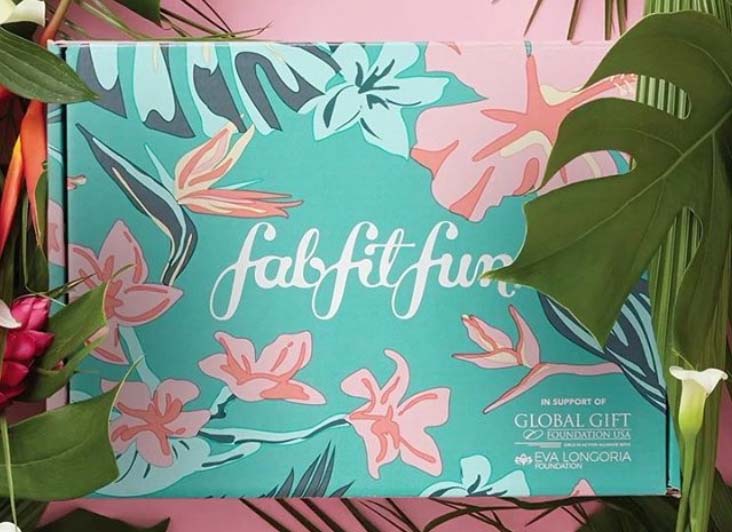 The Summer 2019 box included a total of 9 items. Select members got to choose their first 5 items from the list below.
First Item
Sol de Janeiro Brazilian Bum Bum Cream & Brazilian 4 Play Moisturizing Shower Cream-Gel Set – Retail Value $45
Sutra Professional Marble Mini Travel Blow Dryer – Retail Value $60
Vix Paula Hermany Lotus Towel – Retail Value $50
Spiritual Gangster Robe Jacket – Retail Value $60

Second Item
West Elm Indigo Tie Dye Bowls (Set of 3) – Retail Value $39
111Skin Rose Gold Brightening Facial Treatment Mask (Set of 5) – Retail Value $160
Summer & Rose Navy Diamond Tote – Retail Value $50
XO, Sienna Black Felt Letter Board – Retail Value $35
Third Item
Odeme What A Pair Set of 2 Silicone Wine Glasses – Retail Value $25
Jennifer Zeuner Star Double Necklace – Retail Value $50
Burn 60 Resistance Bands – Retail Value $34
Fourth Item
Living Proof No Frizz Nourishing Styling Cream – Retail Value $28
Eyeko Eye Do Liquid Eyeliner – Retail Value $22
Mystery Item
Fifth Item
Coola Organic SPF 30 Makeup Setting Spray – Retail Value $36
Doctor Rogers Restore Healing Balm – Retail Value $30
Intelligent Nutrients Refining Micro Polish – Retail Value $57
Bonus Items
The following four items were also included in all Summer boxes.
Invisibobble Original Duo Pack – Retail Value $16
Whish Exfoliating Foot Mask – Retail Value $32
Grace & Stella Rose Facial Spray – Retail Value $25.95
Generation Clay Brightening Purple Clay Mask – Retail Value $39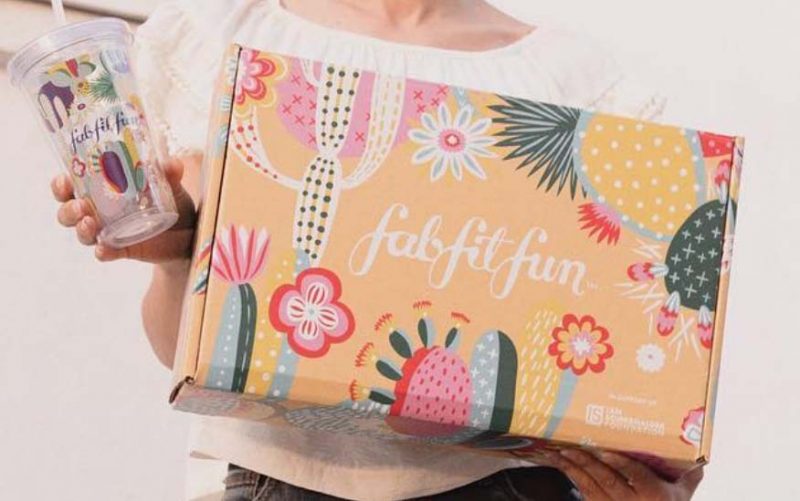 The Spring 2019 box included a total of 8 items. Select members got to choose their first 5 items from the choices below.
First Item
Show Me Your MuMu Brie Robe
Unplug Meditation Aromatherapy Diffuser
Deux Lux Demi Backpack
Second Item
Quay Sunglasses (My Girl or Vivienne)
Sunnylife Lovers Picnic Set in Malibu
KORRES Wild Rose Vitamin C Brightening Sleeping Facial
Third Item
Giadzy Copper Plated Measuring Spoons
Lavido Aromatic Body Lotion in Mandarin Orange and Bergamot
Mystery Choice
Fourth Item
Sip by Swell Water Bottle

Ciaté

London Extraordinary Translucent Setting Powder
The 2Bandits Athens Necklace
Fifth Item
Tula Purifying Face Cleanser
Daily Concepts Daily Detox Brush
Eleven by Venus Jump Rope
Bonus Items
The following three items were also included in all Spring boxes.
Manna Kadar Champagne Body Scrub (retail value $24)
Dr. Brandt No More Baggage Eye De-Puffing Gel (retail value $42)
OUAI Leave-In Conditioner (retail value $26)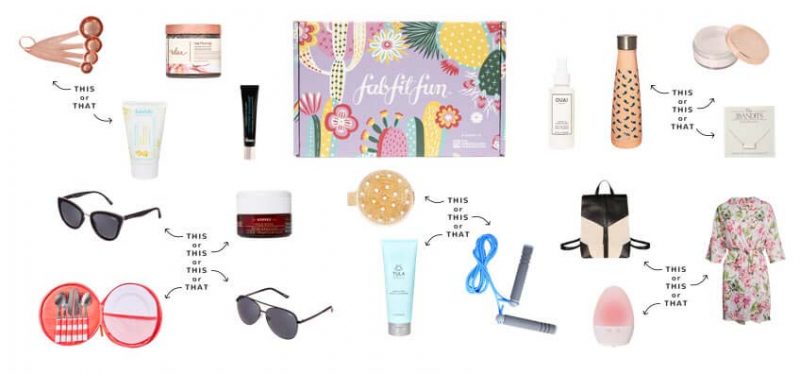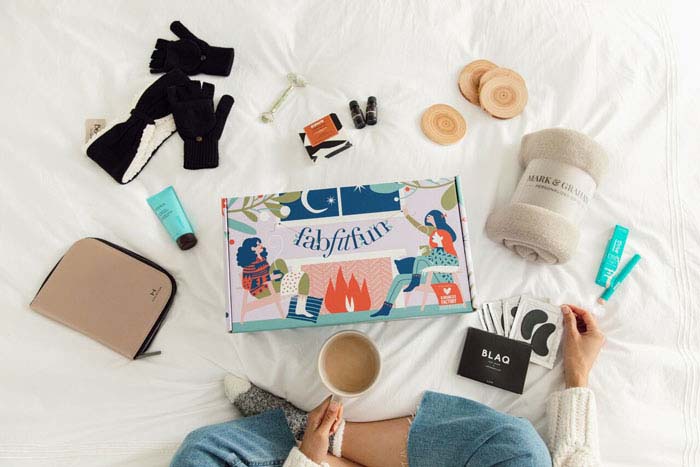 BEARPAW Combo Set: Headband and Pop Top Glove Duo (Retail $45) or Moroccan Gold Series Treatment Mask (Retail $49)
H HALSTON Jewelry Portfolio (Retail $48), or Oribe Gold Lust Dry Shampoo (Retail $44), or Lele Sadoughi Silver Circle Necklace (Retail $49)
Richer Poorer Reina Over the Knee Textured Sock (Retail $24), or Sherrie Matthews Acupuncture Jade Stone Roller (Retail $45), or PÜR™ Be Your Selfie Palette (Retail $36)
Mark & Graham Colorblock Throw in Gray/Ivory or in Natural/Ivory (Retail $49)
Bite Beauty Amuse Bouche Lipstick in Meringue (Retail $26), or Chic & Tonic I'll Coast To That 4-Piece Coaster Set (Retail $18), or Brooke Burke Body Sliders (Retail $18) last choice is a Mystery Item (Retail $25)
Anthropologie x Mer-Sea & Co. Sea Whip Body Cream in Coconut Sugar (Retail $24) or WAY OF WILL Elevate Essential Oil Set: Sweet Orange Oil & Eucalyptus Oil (Retail $31)
The following three products were also included in the 2018 Winter Box:
Thrive Causemetics Brilliant Eye Brightener in "Stella" (Retail $24)
AHAVA Hydration Cream Mask (Retail $33)
BLAQ Hydrogel Eye Mask with Hyaluronic Acid (Retail $29)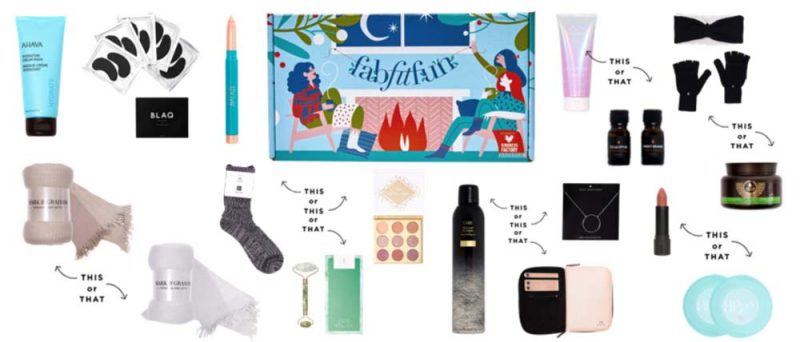 The total value of the FabFitFun Winter Box is $290-$335, depending upon selections made.
You can see from the above list of boxes that FabFitFun takes a lot of time to curate boxes that include quality products. Each box also includes a magazine that covers each product in more detail.
FabFitFun Pros
Try new (full size) products for a fraction of the cost.
Excellent customer service.
Select members get to choose from several products.
Each box is different, no repeats.
Active online community.
Fitness channel.
FabFitFun Cons
You may not like all items in the box.
It might not be for you if you don't like beauty and skin care products.
Boxes do not always ship immediately.
A note about box shipping: FabFitFun typically bills seasonally on a certain date, and ships all boxes out within one month from that billing date. I am sharing this information so that you understand that you will not receive your box two days after you order it or customize it. So be patient. These boxes are worth the wait!
Customer Service
As I mentioned above, FabFitFun Customer Service has always been wonderful to work with. Should you need to reach them, you can visit their contact page.
FabFitFun Promo Code
Looking for a FabFitFun coupon? FabFitFun often offers promo codes for new members. Try FabFitFun Coupon Code: FAB10 to start. This code will get you $10 off of your first box. If that one doesn't work, you can also try FabFitFun Coupon Code: FUN.
Or Click Here for an automatic $10 off for new members. No code should be needed.

I hope you've found this FabFitFun box review helpful. Whether you get a FabFitFun starter box, seasonal box, or annual membership; you can't go wrong. If you are looking for more boxes like FabFitFun, check out my Causebox Reviews and GlobeIn Reviews.
If you enjoyed this post, please share it with your friends using the social sharing buttons below. Enjoy the goodies in your next box!