FabFitFun Starter Box Reviews + Promo Code
If you are looking for FabFitfun starter box reviews, and information, you've come to the right place. In this post I cover the types of products you'll find in each FabFitFun starter box, plus a link to my seasonal spoilers post where you'll find what's in the most recent FabFitFun box.
This post may contain affiliate links, meaning I may receive a commission if you decide to make a purchase through my links, at no cost to you. For more information, see my full disclosures here. Want to turn your creative ideas into a profitable business? Check out my FREE Craft to Business Guide to get started today.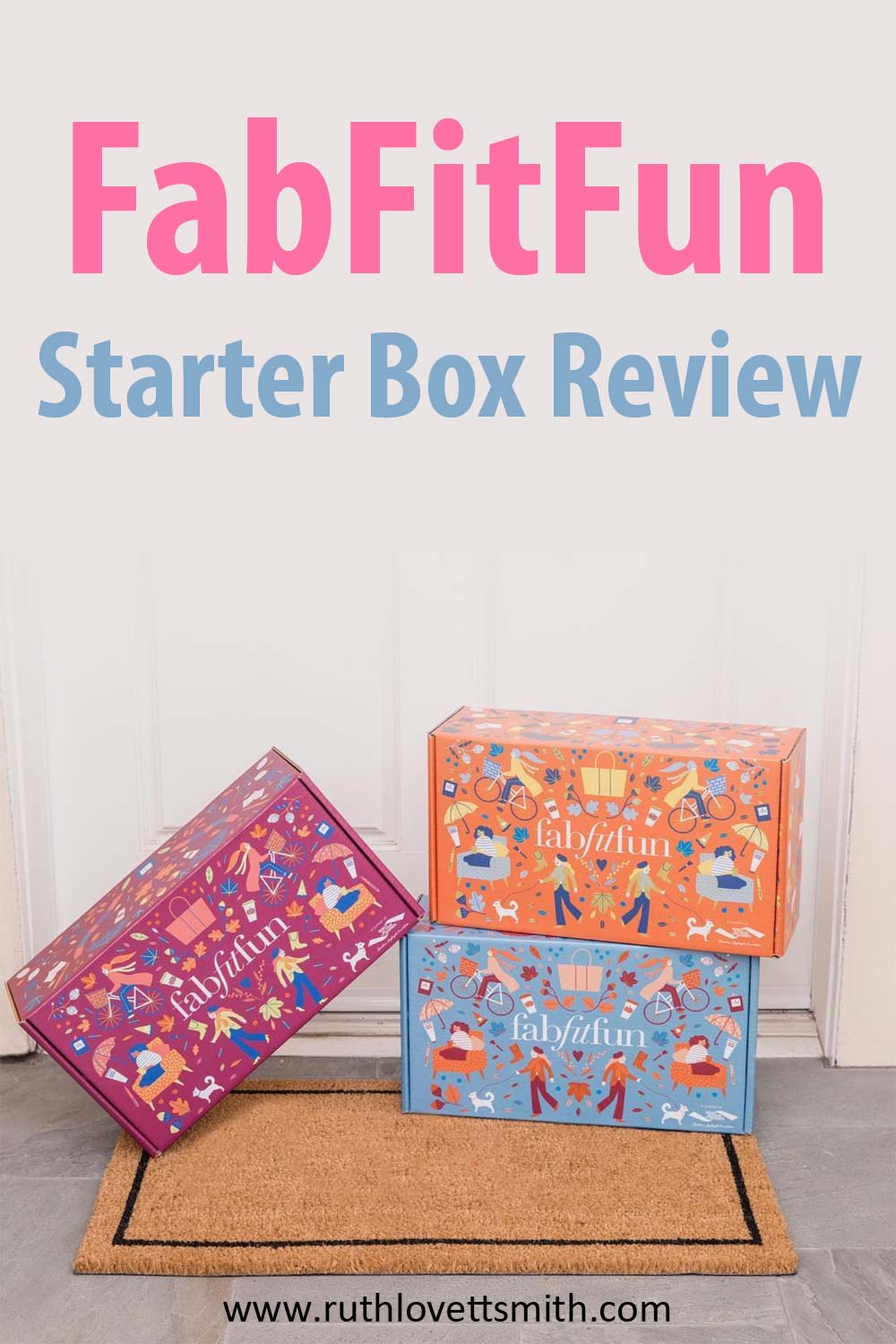 I've been a paying FabFitFun member for over five years now, and am happy to share the ins and outs of FabFitFun and the starter box.
In this FabFitFun starter box review I'll cover the FabFitFun starter box, and share a link to my most recent FabFitFun post that includes seasonal spoilers, a promo code, and more.
What is FabFitFun?
FabFitFun is a seasonal subscription box filled with high quality, full-size products for women. Boxes include home, health, wellness, and fashion items in addition to the latest beauty products. If you love to treat yourself, and like trying new products for less, FabFitFun is the way to go.
Boxes ship seasonally in December, March, June, and September. You can purchase a single seasonal box, or an annual membership subscription at a reduced rate.
What is the FabFitFun Starter Box?
The FabFitFun Starter Box is a mini box filled with full-size, premium products. There are no sample size products here. You'll receive the same products that FabFitFun members receive.
It's a great way to try out FabFitFun at a reduced rate. (You only pay shipping.) The FabFitFun Starter box is not always available on the FabFitFun website. However, you may see it mentioned on various blogs, as bloggers often get starter box invites to send to their friends. Keep in mind that the FabFitFun starter box is for new members only.
Fee free to leave your information in the comments section if you are interested in a FabFitFun starter box code. I email them out, first come first served, as they become available.
What Comes in a FabFitFun Starter Box?
The FabFitFun starter box comes with three to four full-size products. The total box value is usually over $75. (You just pay shipping.)
When you sign up, you'll also receive a free 21 day FabFitFun membership to check out the community and other FabFitFun perks. This is a great way to try out FabFitFun, to see if you like the items, before committing to a monthly or annual subscription.
How Do FabFitFun Starter Boxes Work?
In order to sign-up for a FabFitFun starter box, you'll need a starter box invite from a current member. You'll receive an email, from the member, with a sign-up link. Click on the sign-up link to be taken to the FabFitFun website. There you'll need to enter your shipping and payment information. (Payment information is needed to pay for shipping.)
Upon sign-up you'll be able to access all member areas of the FabFitFun website. This includes the community, FabFitFun TV, etc. After 21 days you'll be automatically enrolled in a seasonal subscription, unless you choose to cancel. You will receive an email, from FabFitFun, before your 21 day trial period expires.
How Much is FabFitFun Starter Box Shipping?
FabFitFun starter box shipping is $5 USD for US & PR orders, and $8 USD for shipping to CA, HI, and AK. Any applicable sales tax will apply.
Due to local laws and regulations, UK members are not allowed to send or redeem starter box invites.
Are All FabFitFun Starter Boxes the Same?
FabFitFun starter boxes vary depending on what products are available. However, there does seem to be some consistency within the season boxes are shipped out. Starter Box items are usually similar to items members received a season or two prior.
Here are some recent FabFitFun starter box contents:
Following are some of the more recent starter boxes that have shipped. This is to give you an idea of the variety, value, and items in each starter box.
FabFitfun Starter Box Fall 2021
Tarte H2O moisturizer
Set of 3 packing cubes
Makeup eraser
Drybar Prep Rally detangler
FabFitFun Starter Box Winter 2021
Jonathan Adler candle
Cuccio calm + clean body wash
AHAVA bath salts
Wander Beauty baggage claim gold eye masks
FabFitFun Starter Box Summer 2021
Alice + Olivia daisy bucket hat
Daily planner and pen set
NatureLab perfect repair treatment masque
PUR glow dry oil
How Do FabFitFun Starter Boxes Ship?
FabFitFun uses a variety of shipping methods. My boxes come to me in Massachusetts via LaserShip. I typically receive a tracking number after my box has been shipped. Keep in mind that shipping can be delayed due to the current state of the industry. Contact FabFitFun customer service with any concerns.
FabFitFun Member Perks
Here is a quick video that covers the various FabFitFun member perks.
How to Cancel a FabFitFun Starter Box Membership?
If you don't want to continue with a FabFitfun subscription, after receiving your free FabFitFun starter box, you'll need to cancel within 21 days of signing up. Simply log in to your FabFitFun account at FabFitFun.com. Click on my account, scroll down to manage membership, click on cancel subscription. It's that easy!
FabFitFun Customer Service
FabFitFun Customer Service is easy to work with. In my five plus years as a member, I've never had a problem. Should you need to reach them, you can visit their contact page. You can also email, call, or do a live chat via their website.
I hope you've found this FabFitFun starter box review helpful. If you are looking for more subscription boxes like FabFitFun, check out my Alltrue Box Review and GlobeIn Reviews. And don't forget to check out the most recent FabFitFun spoilers.