This post may contain affiliate links. If you purchase something through these links, I may receive a commission at no extra charge to you. For more information, see my full disclosures HERE. Thinking about starting a blog? Check out my post How to Start a Blog: Beginners Guide to get started today.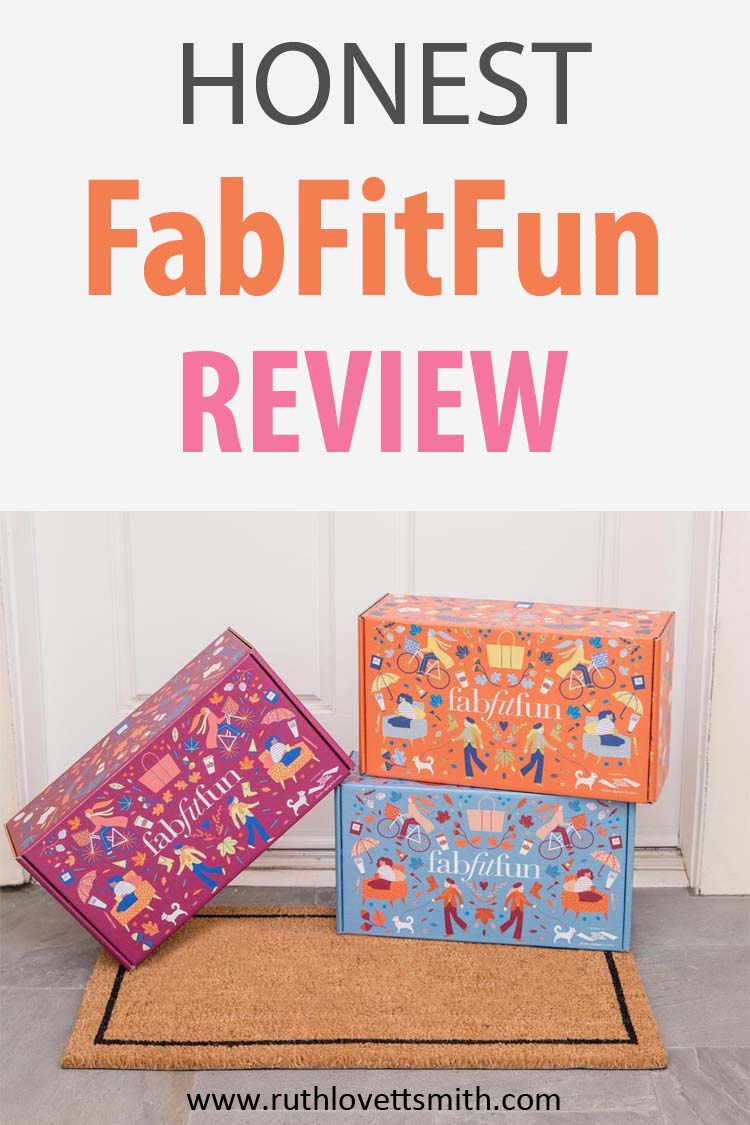 Check out the FabFitFun starter box. I share honest FabFitFun box reviews, FabFitFun spoilers, a FabFitFun coupon code, + FabFitFun add ons info for 2018.
There are a lot of FabFitFun box reviews on the internet. Some of them are better than others. I've been a FabFitFun member for over a year now, and am happy to offer an honest FabFitFun box review. I'll cover the FabFitFun starter box, monthly box, and annual subscription; as well as the pros, cons, ins, and outs of FabFitFun. Plus I'll even share a FabFitFun promo code below.
What is FabFitFun?
FabFitFun is a seasonal women's subscription box filled with 8-10 full-sized, premium products valued at over $200, for only $49.99.
The FabFitFun boxes ship seasonally in December, March, June, and September. You can purchase a single seasonal box, or an annual subscription at a reduced rate of $179.99. (Prices are current as of 11/2018.)
What's in a FabFitFun Box?
Each FabFitFun box includes the best in beauty, fitness, wellness, home, and everything in between. Think lotions, scrubs, makeup, scarves, bags, and more.
Each season includes some products that are targeted to that season. For example, high end sunscreens and plush beach towels in the Summer FabFitFun Box.
What is the FabFitFun Starter Box?
The FabFitFun Starter Box is a box you can opt to get when the seasonal box sells out. This box, also sometimes called the Editor's Box or Welcome Box, is filled with favorite products from past seasons. This means you can join FabFitFun any time of the year, rather than wait for the next seasonal box.
FabFitFun Starter Box 2018 – Summer Editor's Box

FabFitFun Add Ons and Extras
There are some super cool extras that come with FabFitFun. I definitely think that these extras add a lot of value to what is already a great deal.
FabFitFun extras include:
Select Membership
First of all, if you choose an annual membership you are considered a Select Member. This means that you get to select options for some of the items in your box. For example, a lipstick palette or an eyeshadow palette. Sometimes you get to choose between two lipstick colors, or two jewelry pieces. I personally consider this a huge perk and worth the annual membership price.
Edit Sale
There is also an Edit Sale each season where you can choose FabFitFun add ons to be shipped with your box. This is an opportunity to purchase past seasons products at a significantly reduced rate (30%-70% off). Select members have early access to this sale, which makes an annual membership an even better deal as Edit Sale items sell out quickly.
The Winter Edit Sale starts Dec 26, 2018 at 9 a.m. PT. Join today and mark your calendar so that you don't miss it!
Online  Community
FabFitFun has an extremely active online community. Here members swap or sell items, as well as share tips for how they are using their items, among other things. If you can't wait to get your box, some members will do an unveiling of what is in the box they received.
Online Fitness Channel
Finally, FabFitFun has it's very own online fitness channel called FabFitFun TV. Here you can choose workouts from well known trainers like Jillian Michaels. You can watch on your phone, laptop, and even on some TVs with the FabFitFun Fitness App.
FabFitFun Box Reviews
I am currently on my 2nd annual subscription with FabFitFun. That's how much I love them! I view each box as a seasonal treat to myself. It's like Christmas four times a year.
Following are items that were included in each of my boxes. You can click on each title below, to view the items that were in each box.
Fall Box 2017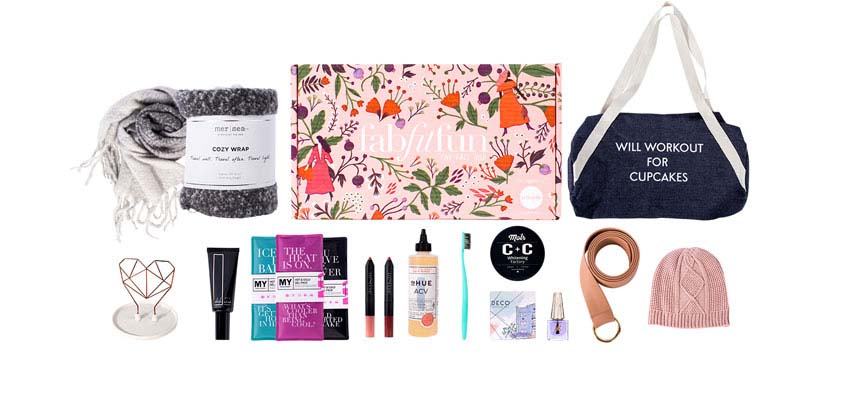 Mer-Sea and Co. Scarf
treStiQue Matte Color and Shiny Balm Lip Color
Whish Beauty Renewing Mud Mask
The Jetset Diaries Cable Knit Beanie
dpHue Apple Cider Vinegar Hair Rinse
MYTAGALONGS Hot and Cold Gel Pack
Deco Miami Lavender Cuticle Oil
PRIVATE PARTY Gym Bag
imm Living Coxet Wire Heart Ceramic Jewelry Heart
Cottonelle FreshCare Flushable Cleaning Cloths
BB Dakota Poncho
AHAVA Mineral Hand Cream
DOUCCE Freematic Eyeshadow Pro Pallette
Homemade by Ayesha Curry Ceramic Mug
Kate Somerville ExfoliKate Intensive Exfoliating Treatment
Pointe Studio Aloe Infused Cozy Socks
8 OTHER REASONS 9 Lives Choker
Nelson j Beverly Hill Moisture Healing Hair Mask
FFFTV Fitness Ball
Rachel Paley Reversible Clutch
Free People x Understated Leather Starry Eyed Travel Eye Mask
Murad Skin Perfecting Lotion
ANDERSON LILLEY Sunset Collection Candle
Physique 57 Massage Roller
Maya Brenner Designs LOVE Bracelet
KORRES Guava Body Butter
Dove Exfoliating Body Polish
FOREO LUNA™ fofo
Pier 1 Imports Marble Ring Dish
COOLA Face Sport SPF 50 White Tea Moisturizer
Summer & Rose Beach Towel
tarte tarteist™ PRO glow highlight & contour palette
ELEMIS Papaya Enzyme Peel
Vasanti Brighten Up! Enzymatic Face Rejuvenator
ERTH tu y Yo Ring
FabFitFun Spoilers
Following is a listing of the most recent FabFitFun boxes and their items. I will update this post, seasonally, when each new FabFitFun box is released.
Customization is now open for the Winter 2018 FabFitFun Box. Sign up as a Select Member and you can choose 6 items in your box. Want both choices? You can choose additional products for only $10 each.
BEARPAW Combo Set: Headband and Pop Top Glove Duo (Retail $45) or Moroccan Gold Series Treatment Mask (Retail $49)
H HALSTON Jewelry Portfolio (Retail $48), or Oribe Gold Lust Dry Shampoo (Retail $44), or Lele Sadoughi Silver Circle Necklace (Retail $49)
Richer Poorer Reina Over the Knee Textured Sock (Retail $24), or Sherrie Matthews Acupuncture Jade Stone Roller (Retail $45), or PÜR™ Be Your Selfie Palette (Retail $36)
Mark & Graham Colorblock Throw in Gray/Ivory or in Natural/Ivory (Retail $49)
Bite Beauty Amuse Bouche Lipstick in Meringue (Retail $26), or Chic & Tonic I'll Coast To That 4-Piece Coaster Set (Retail $18), or Brooke Burke Body Sliders (Retail $18) last choice is a Mystery Item (Retail $25)
Anthropologie x Mer-Sea & Co. Sea Whip Body Cream in Coconut Sugar (Retail $24) or WAY OF WILL Elevate Essential Oil Set: Sweet Orange Oil & Eucalyptus Oil (Retail $31)
Winter 2018 FabFitFun Spoilers
The following three products were also included in the 2018 Winter FabFitFun Box:
Thrive Causemetics Brilliant Eye Brightener in "Stella" (Retail $24)
AHAVA Hydration Cream Mask (Retail $33)
BLAQ Hydrogel Eye Mask with Hyaluronic Acid (Retail $29)
The total value of the FabFitFun Winter Box is $290-$335, depending upon selections made.
Vince Camuto Luck Tote or Crown Brush 6 Piece Brush Set
Alfred French Press or Alfred Teapot
Catherine Malandrino Umbrella or CYLO Cobra Bluetooth Wireless Earbuds
Grown Alchemist Hydra-Restore Cream Cleanser: Olive Leaf & Plantago Extract, or Grown Alchemist Hydra-Repair Day Cream: Camellia, Geranium Blossom, or Grown Alchemist Polishing Facial Exfoliant: Pink Grapefruit & Glucomannan Extract
touch in SOL Metallist Liquid Foil Lipistick Duo in "Penny", or FARMACY Dew It All Total Eye Cream, or Cuccio Somatology yogahhh! Detox Bath
beautyblender®
GLAMGLOW® BUBBLESHEET™ OXYGENATING DEEP CLEANSE MASK (2-Pack)
Simply Whimsical Tea Towels
SKIN&CO Roma Blue in Capri
LUNA® Rica™ Bar
You can view other prior boxes and their contents on the FabFitFun website.
You can see from the above list of boxes that FabFitFun takes a lot of time to curate boxes that include quality products. Each box also includes a magazine that covers each product in more detail.
FabFitFun Pros
Try new (full size) products for a fraction of the cost.
Excellent customer service.
Select members get to choose some products.
Each box is different, no repeats.
Active online community.
Fitness channel.
FabFitFun Cons
You may not like all items in the box.
It might not be for you if you don't like beauty and skin care products.
FabFitFun Promo Code
Looking for a FabFitFun coupon? FabFitFun often offers promo codes for new members. Try FabFitFun Coupon Code: FAB10 to start. This code will get you $10 off of your first box. If that one doesn't work, you can also try FabFitFun Coupon Code: FUN.


I hope you've found this FabFitFun box review helpful. Whether you get a FabFitFun starter box, seasonal box, or annual membership; you can't go wrong. If you enjoyed this post, please share it with your friends using the social sharing buttons below. Enjoy the goodies in your next box!