FabFitFun Starter Box 2023 Info & Review
This post may contain affiliate links. I may receive a commission if you decide to make a purchase through my links. For more information, see my full disclosures here. Looking for FREE Canva templates, printable planners, cards, wall art, design elements, projects, activities, and more? Check out my Freebie Library Club.
If you are looking for FabFitfun starter box 2023 info, you've come to the right place. In this post I cover the types of products you'll find in each starter box, plus a link to my seasonal spoilers post where you'll find what's in the most recent FabFitFun box.
I've been a paying FabFitFun member for over five years now, and am happy to share the ins and outs of FabFitFun and the starter box.
In this post I'll cover the FabFitFun starter box, and share a link to my most recent FabFitFun article that includes FabFitFun spoilers, a FabFitFun promo code, and more.
What is FabFitFun?
FabFitFun is a seasonal subscription box filled with high quality, full-size products for women. Boxes include home, health, wellness, and fashion items in addition to the latest beauty products. If you love to treat yourself, and like trying new products for less, FabFitFun is the way to go.
Boxes ship seasonally in December, March, June, and September. You can purchase a single seasonal box, or an annual membership subscription at a reduced rate.
What is the FabFitFun Starter Box?
The FFF starter box is a mini box filled with full-size, premium products. There are no sample size products here. You'll receive the same products that FabFitFun members receive.
It's a great way to try out FabFitFun at a reduced rate. (You only pay shipping.) The starter box is not always available on the FabFitFun website. However, you may see it mentioned on various blogs, as bloggers often get starter box invites to send to their friends. Keep in mind that the starter box is for new members only.
Fee free to leave your information in the comments section if you are interested in a starter box code. I email them out, first come first served, as they become available.
What Comes in a FabFitFun Starter Box?
The starter box comes with three to four full-size products. The total box value is usually over $75. (You just pay shipping.)
When you sign up, you'll also receive a free 21 day FabFitFun membership to check out the community and other FabFitFun perks. This is a great way to try out FabFitFun, to see if you like the items, before committing to a monthly or annual subscription.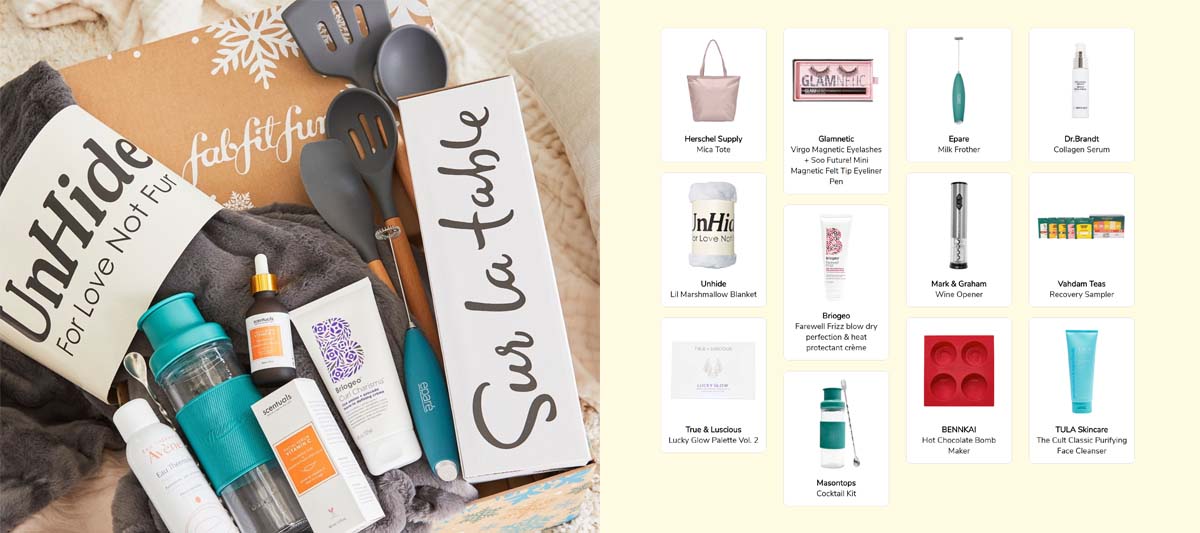 How Do FabFitFun Starter Boxes Work?
Starter boxes are a trial membership for those who are new to FabFitFun. Existing members are not able to receive starter boxes. Following is more information on how starter boxes work.
FabFitFun Free Starter Box
Many people who find this post are looking for a FabFitFun free starter box. While the starter box itself is free, you still need to pay for shipping. You'll need to enter your credit card information on the FabFitFun website to get your starter box.
How Do I Get a Starter Box?
In order to sign-up for a starter box, you'll need a starter box invite from a current member. You'll receive an email, from the member, with a sign-up link. Click on the sign-up link to go to the FabFitFun website. There you'll need to enter your shipping and payment information. (Again, payment information is necessary to pay for shipping.)
Upon sign-up you'll be able to access all member areas of the FabFitFun website. This includes the community, FabFitFun TV, and more. After 21 days you'll be automatically enrolled in a seasonal subscription, unless you choose to cancel. You will receive an email, from FabFitFun, before your 21 day trial period expires.
How Much is FabFitFun Starter Box Shipping?
FabFitFun starter box shipping is $5 USD for US & PR orders, and $8 USD for shipping to CA, HI, and AK. Any applicable sales tax will apply.
Due to local laws and regulations, UK members are not allowed to send or redeem starter box invites.
Are All Starter Boxes the Same?
FabFitFun starter boxes vary depending on what products are available. However, there does seem to be some consistency within the season. Starter Box items are usually similar to items members received a season or two prior.
Recent starter box contents:
Following are some of the more recent starter boxes that have shipped. This is to give you an idea of the variety, value, and items in each starter box. Your starter box items may be different from the items below.
FabFitFun Starter Box Spring 2023
The Bright Angle Olive Oil Pourer
Christophe Robin Cleansing Purifying Scrub
Craft Crush Winter Flower Embroidery Kit
Starter Box Winter 2023
Pink Samara Bag
Ahava Moisturizer
Portable Cutlery Set
Silicone Lunch Bag
FabFitFun Starter Box Fall 2022
Ouai Scalp and Body Scrub
Lemons Melamine Tray
Winky Lux Lip Gloss
Two Storage Canisters
Starter Box Summer 2022
Michael Kors passport wallet
Pur glow dry oil
Seraphine lip mask
Mia Melange black and white cotton basket
FabFitfun Starter Box Fall 2021
Tarte H2O moisturizer
Set of 3 packing cubes
Makeup eraser
Drybar Prep Rally detangler
Starter Box Summer 2021
Alice + Olivia daisy bucket hat
Daily planner and pen set
NatureLab perfect repair treatment masque
PUR glow dry oil
FabFitFun Starter Box Winter 2021
Jonathan Adler candle
Cuccio calm + clean body wash
AHAVA bath salts
Wander Beauty baggage claim gold eye masks
How Do FabFitFun Starter Boxes Ship?
FabFitFun uses a variety of shipping methods. My boxes come to me in Massachusetts via LaserShip. I typically receive a tracking number after my box ships. Keep in mind that there may be shipping delays due to the current state of the industry. Contact FabFitFun customer service with any concerns.
Keep Track of Your Beauty Products
Printable Beauty Product Planner
Keep track of all of your beauty products, and expiration dates, with this printable beauty product planner and journal. Inside you'll find a variety of planner pages, and checklists, to help you keep track of your beauty products and routine. Simply shop, download, and print. It's that easy!
FabFitFun Member Perks
Here is a quick video that covers the various FabFitFun member perks. Those perks include various sales such as the add-on sale, an extremely active online community, a seasonal book club, fitness channel, and more. My FabFitFun Reviews post also covers all of the FabFitFun member perks in full detail.
How to Cancel a FabFitFun Starter Box
If you don't want to continue with a FabFitfun subscription, after receiving your FabFitFun free starter box, you'll need to cancel within 21 days of signing up. Simply log in to your FabFitFun account at FabFitFun.com. Click on "my account", scroll down to manage membership, click on "cancel subscription". It's that easy!
FabFitFun Customer Service
FabFitFun Customer Service is easy to work with. In my five plus years as a member, I've never had a problem. Should you need to reach them, you can visit their contact page. You can also email, call, or do a live chat via their website.
FabFitFun Promo Codes
I hope you've found this FabFitFun starter box 2023 post helpful. Don't forget to check out the most recent FabFitFun spoilers for the most up to date information and promo codes.