This post may contain affiliate links. If you purchase something through these links, I may receive a commission at no extra charge to you. For more information, see my full disclosures here. Want to achieve financial freedom with your craft? Check out my Free Guide to get started today.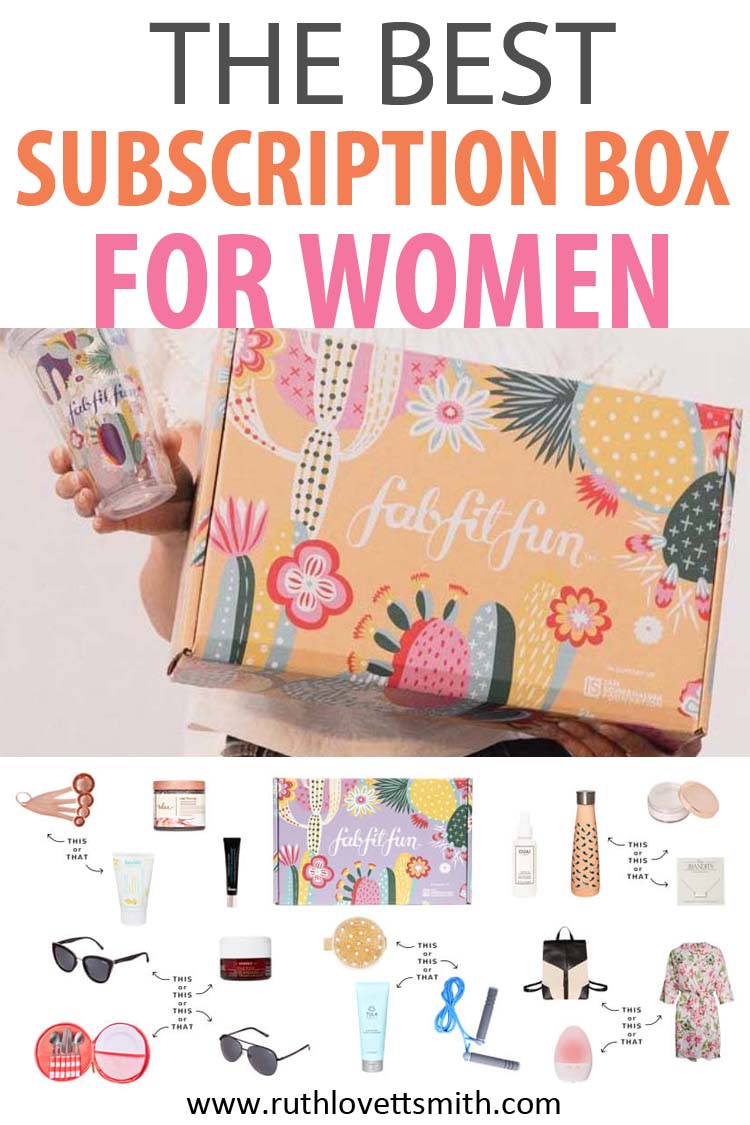 Learn about the FabFitFun starter box today! I share honest FabFitFun box reviews, spoilers, promo and coupon codes + FabFitFun add ons info for 2021.
There are a lot of FabFitFun box reviews on the internet. Some of them are better than others. I've been a paying member for over four years now, and am happy to offer honest FabFitFun reviews.
I'll cover the FabFitFun starter box, monthly box, and annual subscription; as well as the pros, cons, ins, and outs of FabFitFun. Plus I'll even share a FabFitFun promo code below.
What is FabFitFun?
FabFitFun is a seasonal women's subscription box filled with full-sized, premium products.
The boxes ship seasonally in December, March, June, and September. You can purchase a single seasonal box, or an annual subscription at a reduced rate.
What's in a FabFitFun Box?
Each box includes the best in beauty, fitness, wellness, home, and everything in between. Think lotions, scrubs, makeup, scarves, bags, and more.
Boxes include several products that are targeted to the season they are shipped in. For example, high end sunscreens and plush beach towels in the FabFitFun Summer Box. Hats, blankets, and nourishing lotions in the Winter Box.
What is the FabFitFun Starter Box?
The Starter Box is a mini box filled with full-size, premium products. It's a great way to try out FabFitFun at a reduced rate. This box is not always available on the FabFitFun website. However, you may see it mentioned on various blogs as bloggers often get Starter Box invites to send to their friends.
What is the FabFitFun Editor's Box?
The Editor's Box is a box you can opt to get when the seasonal box sells out. This box, also sometimes called the Welcome Box, is filled with favorite products from past seasons. This means you can join any time of the year, rather than wait for the next seasonal box.

FabFitFun Add-Ons and Extras
There are some super cool extras that come with FabFitFun. I definitely think that these extras add a lot of value to what is already a great deal.
FabFitFun extras include:
Select Membership
First of all, if you choose an annual membership you are considered a Select Member. This means that you get to select options, for some of the items in your box, at an earlier date. For example, a lipstick palette or an eye shadow palette. Sometimes you get to choose between two lipstick colors, or two jewelry pieces. I personally consider box customization a huge perk and worth the annual membership price because I get to customize my box exactly the way I want it.
Spring Box customization opens on 2/5/21 at 9 am PT, for Select Members, and 2/19/21 at 9 am PT for all members.
Edit Sale
There is also an Edit Sale each season where you can choose a variety of products to be shipped to you. This is an opportunity to purchase past seasons products at a significantly reduced rate (30%-70% off). Select members have early access to this sale, which makes an annual membership an even better deal. Edit Sale items sell out quickly.
Add-Ons
FabFitFun Add-Ons are sale items that you can add to your upcoming box. They are typically between 30% and 70% off. Add-Ons ship free with your box.

The Winter Add-On Sale opens 2/4/21 at 9 am PT for Select Members, and 2/18/21 at 9 am PT for all members.
Online  Community
FabFitFun has an extremely active online community. Here members swap or sell items, as well as share tips for how they are using their items, among other things. If you can't wait to get your box, some members will do an unveiling of what is in the box they received.
Online Community Tip: My favorite thread in the online FabFitFun community is the "Free Samples? Good Deals?" thread. Members post about their favorite products, as well as any deals they might come across. I've scored discounted beauty boxes, free earrings, and more.
FabFitFun TV: Online Fitness Channel
Finally, FabFitFun has it's very own online fitness channel called FabFitFun TV. Here you can choose workouts from well known trainers like Jillian Michaels. You can watch on your phone, laptop, and even on some TVs with the FabFitFun Fitness App. Check it out here.
FabFitFun Spoilers
Following is a listing of the most recent box, and the items included. If a seasonal box sell outs, and they almost always do, FabFitFun will put out an Editor's Box in its place.
I will update this post, seasonally, when each new box is released.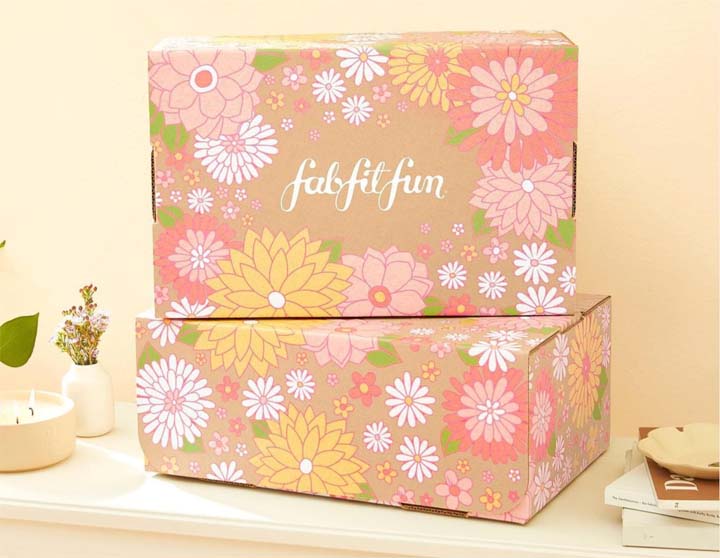 FabFitFun Spring 2021 spoilers are here! Check out the super cute floral box above. The Winter box sold out, which means the Spring box is now live! Below are the variety of items offered for the Spring box.
Customization Category one
alice + olivia Daisy Print Duffel Bag ($150 value)
Perricone MD Essential Fx Acyl-Glutathione Rejuvenating Moisturizer ($98 value)
Short Stories LED Indoor Planter ($60 value)
Monroé Classique Watch in Sunburst Solérose ($105 value)
Jenni Kayne Water Hyacinth Tray with Cutout Handles ($45 value)
Tech Candy® UV Sanitizing Bed ($60 value)
Milk Makeup Watermelon Brightening Face Mask & Mini Watermelon Serum ($44 value)
CALPAK Set of 3 Packing Cubes in Sorbet ($40 value)
Shoshanna Umbrella ($40 value)
Customization Category two
MAC Cosmetics Powder Kiss Lipstick Duo ($42 value)
Gaiam Ultimate Core Toning Kit ($50 value)
Our Place Lunchbox ($35 value)
Billion Dollar Brows 6pc Pro Brush Essentials Kit ($62 value)
Josie Maran 100% Pure Argan Oil ($49 value)
Splendid Faux Fur Slippers in Pink ($48 value)
Steel Mill & Co. To-Do Planning Bundle ($45 value)
Customization Category three
alice + olivia Reversible Bucket Hat ($85 value)
Bloomingville Woven Seagrass Coasters ($35 value)
Gloss Moderne Clean Luxury Hair Masque ($55 value)
Joy Dravecky Chloe Ring ($75 value)
Verso Skincare Super Eye Serum ($65 value)
Customization Category Four
Sorbus Makeup Organizer ($30 value)
AHAVA Refreshing Cleansing Gel ($24 value)
Erno Laszlo Sea Mud Deep Cleansing Bar ($38 value)
Lark & Ives Hair Scarf Bundle ($30 value)
Grown Alchemist Body Cream – Mandarin, Rosemary Leaf ($26 value)
ELEMIS Papaya Enzyme Peel ($45 value)
Customization Category Five
Camp Collection Dip Dye Market Tote ($25 value)
PÜR™ Cosmetics Iconic Glow Illuminating Face & Body Dry Oil ($28 value)
Cocofloss Tropical Trio ($28 value)
H Halston Aloe Infused Gel Lined Socks & Pumice Stone ($40 value)
Summer & Rose Rose Tweezer with Pouch ($20 value)
Category six
EACH Jewels Flower Hair Clips (2 pack) ($30 value)
Human + Kind Hand Scrub Elderflower & Raspberry ($15 value)
Earth Harbor Marina Brightening Ampoule ($15 value)
Category seven
Skin Forum Sun's Out, Pouts Out Lip Mask ($16 value)
Pink Sky Cactus Cup with Straw ($20 value)
Cali Cosmetics Body Wash ($22 value)
Category eight
Saie Beauty Makeup Rounds ($15 value)
Nails Inc Nail Polish ($15 value)
Select members (annual members) typically get to choose one item each from categories 1 through 5. They can also purchase additional items, at a discounted rate, while supplies last. Additional item prices range from $7 to $15 per item, which is a great deal! Seasonal members typically get to choose items from the first three categories. Any additional items will be chosen by FabFitFun and will be a surprise. Items in categories 6 through 8 are also chosen by FabFitFun and will be a surprise.
Spring Box customization opens on 2/5/21 at 9 am PT, for Select Members, and 2/19/21 at 9 am PT for all members.
Click here to join today. You'll automatically get $10 off of your first box when you enter code FAB10.
FabFitFun Pros
Try new (full size) products for a fraction of the cost.
Excellent customer service.
Customize some of your box.
Great value – one or two products included typically cost more than the entire box.
Active online community.
Fitness channel.
FabFitFun Cons
You may not like all items in the box.
It might not be for you if you don't like beauty and skin care products, though there are always fashion wellness, and home decor product options.
Boxes do not always ship immediately.
A note about box shipping: FabFitFun typically bills seasonally on a certain date, and ships all boxes out within one month from that billing date. I am sharing this information so that you understand that you will not receive your box two days after you order it or customize it. So be patient. These boxes are worth the wait!
Customer Service
As I mentioned above, FabFitFun Customer Service has always been wonderful to work with. Should you need to reach them, you can visit their contact page.
FabFitFun Promo Code
Looking for a FabFitFun coupon? FabFitFun often offers promo codes for new members. Click on FabFitFun and enter Coupon Code: FAB10 to start. This code will get you $10 off of your first box. If that one doesn't work, you can also try the FabFitFun Coupon Code: FUN.
I hope you've found this FabFitFun box review helpful. Whether you get a FabFitFun starter box, seasonal box, or annual membership; you can't go wrong. If you are looking for more boxes like FabFitFun, check out my Causebox Reviews and GlobeIn Reviews.
If you enjoyed this post, please share it with your friends using the social sharing buttons below. Enjoy the goodies in your next box!