Blogging Costs: How Much Does it Cost to Start a Blog?
This post may contain affiliate links. I may receive a commission if you decide to make a purchase through my links. For more information, see my full disclosures here. Looking for FREE Canva templates, printable planners, cards, wall art, design elements, projects, activities, and more? Check out my Freebie Library Club.
In this post I cover all blogging costs. How much does it cost to start a blog? Not as much as you think. Learn which blogging costs are necessary, and which blogging costs you can pass on.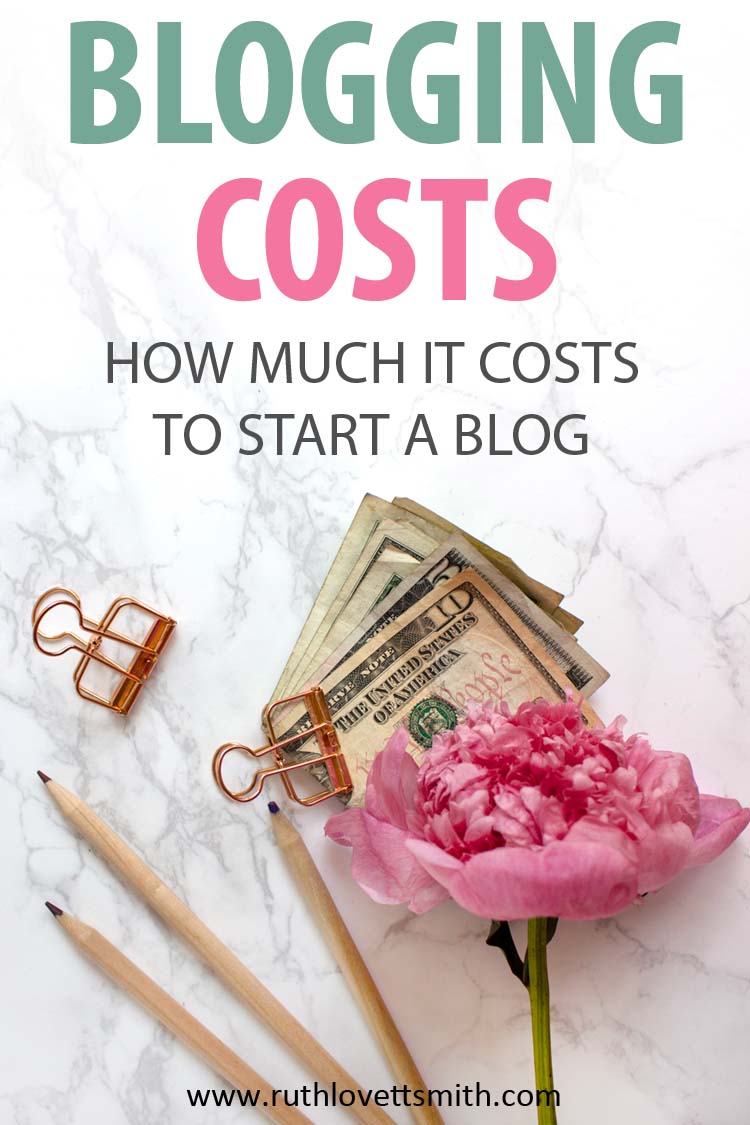 How much does it cost to start a blog? If you are interested in starting a blog, you want to know your blogging costs up front. You can certainly start a blog for free, with a free hosting company. However, if you are starting a business blog, or a blog to make money, you'll want to invest in your blog and go with a self hosted blog. (This means you pay a company to host your blog and blog files.)
A lot of bloggers write about how to start a blog and how to make money blogging, but many neglect to cover the blogging costs from start to finish. If you are on a budget, determining your blogging costs will help you to figure out if you are ready to start a blog.
Blogging Costs Start to Finish
I'm assuming you are here because you want to start a blog to earn money, or to promote your business. Therefore this article covers the blogging costs associated with self hosting your blog.
Domain Name
The first thing you'll need to spend money on is a domain name. A domain name is the web address of your blog. Think about what you'd like for a name, and then go to whois.net to see if the name is taken. If it is available, you'll want to purchase it from a domain name company like GoDaddy.com. I recommend purchasing your domain name, rather than getting a free name with your hosting services. That way, should you decide to switch hosting services, you'll own the name outright.
Most domain name companies offer coupon codes, so be sure to do an online search before purchasing. For example, search "GoDaddy coupon codes" and see what comes up.
Domain Name Cost: $14.99 a year (without any discount).
Currently there is a code at GoDaddy for .99 for the first year and $9.99 for the second year. The more years you pay for in advance, the cheaper it is.
Privacy Protection
When you sign up for a domain name, you need to provide your personal information. This information is available to the public, unless you pay for Privacy Protection. This service is not necessary, but definitely useful if you don't want your personal information (name, address, phone number) out on the internet.
Privacy Protection Cost: $9.99 a year (without any discount).
The current sale price at GoDaddy is $7.99 a year.
Hosting Services
With a self hosted blog, you'll need to pay for hosting services. There are a bazillion hosting service companies to choose from. If you plan to use WordPress, choose a hosting company that specializes in WordPress.
I used BlueHost for years, and was extremely happy. BlueHost is perfect for beginner to intermediate bloggers. They have a one-click WordPress install and awesome support. (I only recently switched to Knownhost as I needed more space for my blogging traffic and needs.)
Hosting Service Cost: $7.99 per month.
If you use my affiliate link, (Thank You!) you can get your hosting at $3.95 a month. This is a GREAT deal!


WordPress Theme
There are numerous FREE WordPress themes, so this really is an optional cost. However, as you grow and develop your blog, you may want to look into purchasing a theme.
There are a number of benefits to purchasing a theme, such as:
You get the look and style you want.
Many themes come with a variety of options/choices for fonts and colors.
Purchased themes often come with developer support.
When purchasing a theme you want to think about:
Is the theme regularly updated?
Does the developer offer support?
Is the theme search engine optimized?
Can you add on online store (if this is something you want)?
How do you want your site to look? Do you want sidebars, image slider on the homepage, etc.?
I have been blogging since 2009 and have gone through a variety of themes, both free and paid for. After numerous years of research, changes, and effort; I've finally decided upon a Kadence child theme for my website. If you have the money to spend, save time and try a Kadence theme.
Other Costs
There are other blogging costs you'll need to think about. Some are optional, while others are necessary.
Necessary:
Computer
Internet Service
Optional:
Paid for plugins
Paid for theme
E-mail collection or newsletter service
Blogging e-books, courses, and guides
Professional Tip: If you are on a budget, consider purchasing only what is necessary to get your blog up and running. Once you start making money, you can invest in plugins or a premium theme.
Final Blogging Costs
So how much does it cost to start a blog?
The final cost of starting a blog is: $110.87 for the year, or $9.24 a month (without Privacy Protection).
The sale cost of starting a blog is: $48.39 for the year, or $4.03 a month (again, without Privacy Protection).
So for about the price of one coffee a month, you can get a blog up and running in no time.
Are you ready? Check out my post How to Start a Blog: Beginner's Guide to get started. I'll take you step by step through the process, and you'll have your blog up and running before you know it. Want to learn more about how to make money blogging? Check out my Guide on Professional Blogging.