How to Start a Blog Tutorial
Learn how to start a blog, website, and online portfolio with this beginner's guide. I'll take you step by step through the process.
This post may contain affiliate links. If you purchase something through these links, I may receive a commission at no extra charge to you. For more information, see my full disclosures HERE.
You've decided to start a blog, or build your own website and online portfolio. Now what? Don't worry, it's easier than you think. I've been blogging since 2009 and have learned a lot. I'll take you step by step through the process, and help you avoid making the same mistakes I've made.
If you are still on the fence about whether or not you should start a blog, read my post Why You Should Start a Blog.
Whether you want to create a website, online portfolio, shop, or blog; you'll follow the same steps below. The only difference will be in what theme you choose and how you set up the content on your website.
How to Choose a Blogging Platform
A blogging platform is the software, or service, that turns your content into a blog/website. There are several platforms to choose from when you start a blog. However, I am personally a huge fan of WordPress (WordPress.org) for the following reasons:
This guide will cover how to start a self hosted blog with WordPress. However, you can also apply this guide to other blogging platforms as well.
How to Choose a Domain Name
To start a blog, the first thing you'll want is a domain name. Your domain name is the address of your blog. Choose wisely as this is the address people will type in to access your blog. The best business domain names are somewhat short, easy to type and read, relevant to the blog, and are without dashes, numbers, and symbols. For example: Julie's Creative Cards = juliescreativecards.com. You can certainly use an interesting or abstract domain name as well. For example, a personal travel blog might have the title: Willow's Wanderlust = willowswanderlust. If you are a freelance writer, or artist, you might choose to use your own name for your website and blog.
Check out my post on creative blog names for more information on choosing a blog and domain name.
Domain Name Options
If you are self hosting your blog, and using WordPress as your blogging platform (WordPress.org), your domain name and address are yours. (My site is: ruthlovettsmith.com). If you are using another blogging platform, and choose not to self-host, (WordPress.com, Blogger, etc.) your domain name will look something like: ruthlovettsmith.blogspot.com. Not very pretty, and not ideal if you are starting a business.
Keep in mind that while WordPress is free to use, a self hosted website means you'll need to pay for hosting services. (Your host is where your blog files are kept.) There are many inexpensive hosting options that I will cover next. However, if money is an issue, you may want to go with a free hosting blogging platform. Just remember that your domain name may include the blogging platforms name as well, and that you won't own the name.
Domain Name Availability
Once you've chosen your domain name, you'll want to make sure it's available. You can enter your domain name into a browser to see if a website, or parked website, comes up. If you get an error page, the domain name is likely available. Keep in mind that if you really love your domain name, and it's available, you'll want to purchase it immediately as domain names can go fast.
Some people choose to purchase their domain name through the same company they use to host their website. Some hosting companies even offer free domains with their packages. I personally prefer to keep the two separate and use GoDaddy for all of my domain name purchases. Keeping the two separate means that you can easily change hosts as your blog grows. GoDaddy is easy to use and often has discounts. Do an internet search for "GoDaddy Discounts" prior to purchasing your domain name.
Choosing a Blog Host
There are numerous hosting options, and companies available, when you start a blog. My current host, that I've been using since 2011, is Knownhost. They offer fully managed web hosting services, which means the support is there when you need it. They've been expanding each year, and currently offer Shared, Cloud, VPS, and Dedicated hosting to suit any budget. They also have amazing uptime, so you don't need to worry about having a slow website.
Hosting Options
Select a Hosting Plan
Now that you've chosen your host, you'll want to select a hosting plan. Your choice will depend on your budget, and what services you need. Look through each option and consider your needs now, as well as your potential future needs. You can also easily go up a plan as you grow. Simply login to your Knownhost dashboard, or contact Knownhost customer service. I think the basic plan is fine for bloggers starting out.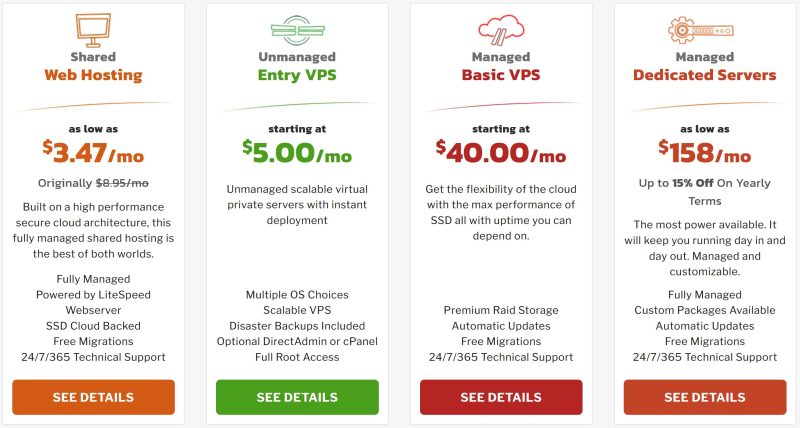 Knownhost also offers a fully managed WordPress hosting option. With this option you don't have to worry about WordPress updates, keeping the server updated, or PHP versions – they handle all of that for you, while keeping your site fully optimized for WordPress. This is a great option if you only plan to have one website. If you want multiple sites, the options above are more economical. Click on Knownhost WordPress Hosting for more information.
How to Install WordPress
Once you've chosen a host, and selected a hosting plan, you'll want to install WordPress.
Your host of choice will send you an email confirmation upon purchasing a hosting plan. This information will tell you how to access your hosting account and control panel. This is also known as your cPanel. The process is usually the same amongst all hosts and plans. However, this information pertains to the process with Knownhost.
In just a few seconds your WordPress installation will be complete.
Creating and Designing Your Blog
Once you've completed the above steps, you can start designing and adding content to your blog. This is the fun part, and where you can get really creative.
Your WordPress account is separate from your hosting account. You can access your WordPress blog admin page by going to: www.yourblogname.com/wp-admin
This is where you will enter your WordPress username and password.
Once you are logged in; you can add posts, pages, and content to your site. You can also change your blog theme, and add various Plugins.
WordPress Themes
A theme is a group of files that dictates what your blog or website will look like. WordPress comes preinstalled with a basic theme that can get you started. In addition, you can find numerous free WordPress themes through your WordPress dashboard and online.
WordPress Plugins
Plugins are tools that help you add extra features to your blog. For example, the free WooCommerce Plugin enables you to add an online store to your blog. See my post How to Build an Online Store for more information.
How to Choose a Blog Theme
There are numerous free WordPress themes, and even more themes that you can purchase. The key to choosing a theme is to think about what you want your website and blog to do, as well as how you want it to look. Some themes are basic, and others offer numerous layout and color options. If you are looking to build a creative blog, you'll want to choose your blog theme wisely. Will your theme support a portfolio or online shop? Can you change the colors and fonts?
Having gone through several themes, since I started blogging, I've finally settled upon a Restored 316 Kadence theme and am extremely happy.
Restored 316 offers numerous customizable WordPress themes that are perfect for creatives. They even have a super cool Which theme is best for your website? quiz that can help you decide which theme will work for you. Restored 316 offers amazing customer support, and a member Facebook group for help and tips. In addition they are constantly updating their themes to ensure that they are current and secure.
What I love the most about the Restored 316 Kadence themes is that they are fully customizable. This means you can easily swap out colors and font choices to build your own unique site. Many themes do not have this option, which means you have to learn code to make those types of changes. They are also extremely fast themes. This means your customers, and clients, won't have to wait a long time for your site to load.
Below are some examples of Restored 316 Kadence themes. I am using the Farmhouse Theme, which is in the first row. You can see how my site is completely different because of how I've chosen to customize it.
The great thing about Restored 316 is that they have excellent customer service, as well as additional tutorials to help you to design your website and blog exactly how you want it.
Restored 316 Kadence Themes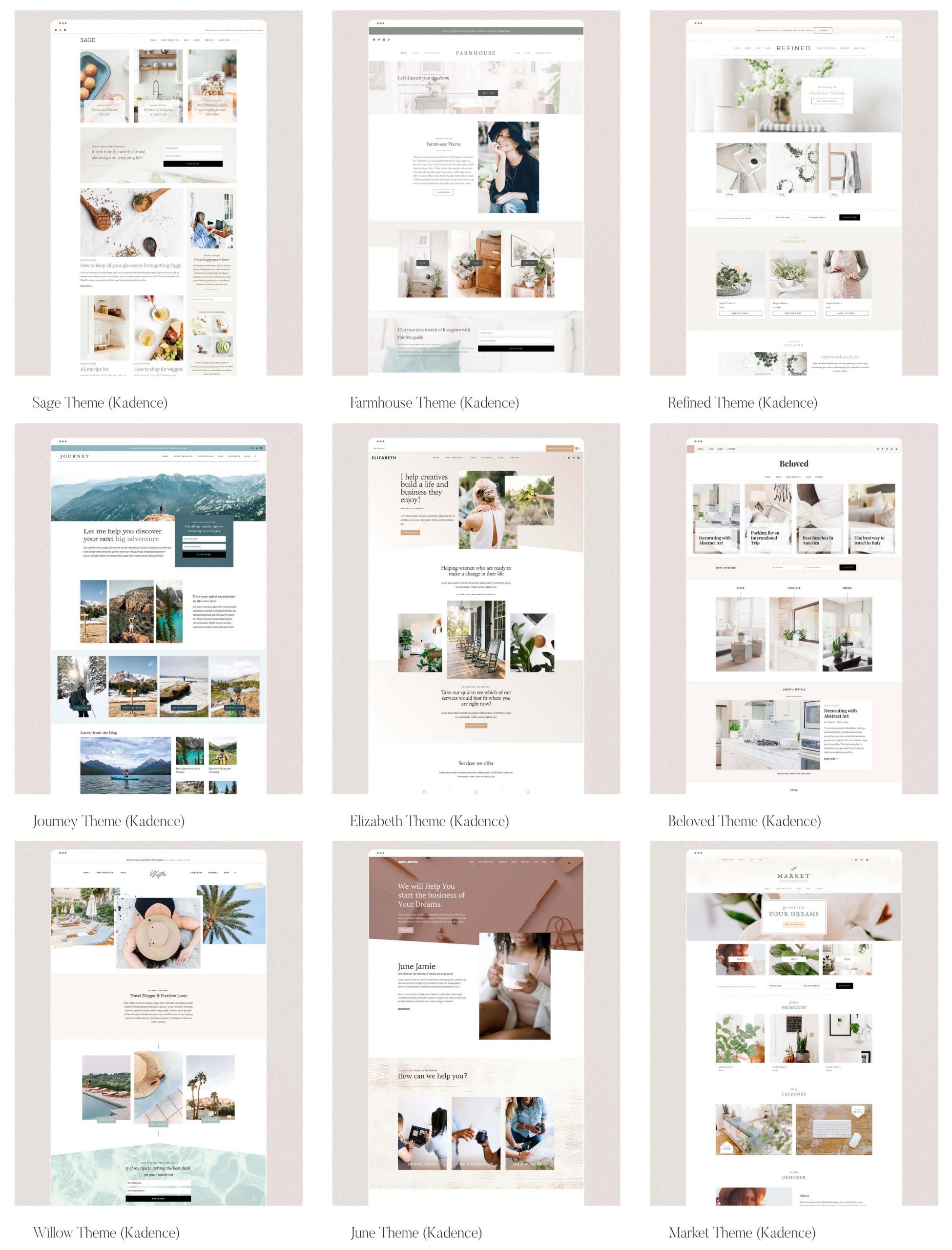 Adding Content to Your Blog
Now that you know how to start a blog and website; you'll want to learn how to access your website, and add content to your blog/website. Check out my posts What to do After Installing WordPress and How to Add Content to Your Blog for more information.
I hope you've found this How to Start a Blog Tutorial helpful. Feel free to reach out via my contact page if you have any questions.
other posts in this series: