This post may contain affiliate links. If you purchase something through these links, I may receive a commission at no extra charge to you. For more information, see my full disclosures HERE. Thinking about starting a blog? Check out my post How to Start a Blog: Beginners Guide to get started today.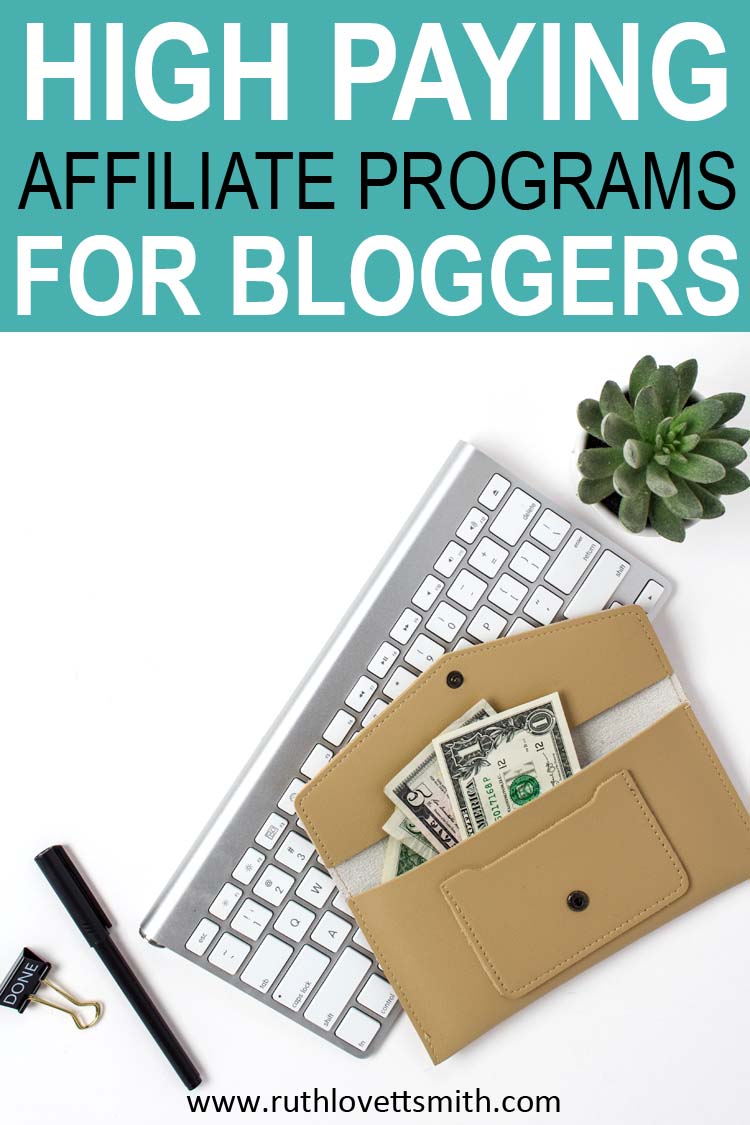 High paying affiliate programs can help bloggers earn money from their blogs quickly.
If you are blogging for money, or for business, you've probably already heard of affiliate marketing. Affiliate marketing is the process of earning a commission by promoting other people's products. These products range from e-books and courses, to online tools and physical products or services.
Oftentimes your commission is a percentage of the product cost. Therefore, the higher the product cost and commission percentage; the more you'll make. If you advertise a low cost product with a 5% commission, you'll earn money much more slowly than with high paying affiliate programs.
How to Choose High Paying Affiliate Programs
The number one criteria, when choosing a high paying affiliate program, is to decide whether the company/product/service will serve your readers.
First of all, it doesn't make any sense to promote a product that your readers won't be interested in. You'll end up wasting a lot of time and effort on a product few people will buy, resulting in less commissions. Secondly, you may lose your readers trust. And this is something you don't want to do. Therefore, make sure that the product or service serves your readership well.
The next criteria, in choosing a high paying affiliate program, are the rules of the program itself.
For Example:
How much do you have to earn before you are paid?
How will you be paid?
When does a buyer have to make a purchase (after clicking your affiliate link) for you to earn a commission?
These are just a few things that you need to think about.
How to Market Affiliate Products
Once you've chosen a few high paying affiliate programs to work with, you'll want to start marketing their products. The best way to do this is through testimonials and blog posts. If you are a user of, or have tried, the product you are marketing; write a thorough review. Testimonials are a great way to show readers how a product works, and why it might work for them too. It also lets readers know that you stand by (and have tried) what you are recommending.
If you have not tried the product or service, make that clear. Instead of a testimonial, write a blog post. Outline why you think the product, you are marketing, might be a good fit for your readers.
Another way to market affiliate products is to develop a resources page on your blog. Here you can list all of the resources you think might help your readers.
Lastly, you can also place affiliate links and ads in the sidebar of your blog. Most high paying affiliate programs for bloggers will make banners available to you, to place on your blog.
FTC Guidelines and Rules
The US Federal Trade Commission has rules regarding advertising and affiliate marketing. Visit the FTC website for the most up to date information. (If you are outside of the US, your country might have its own set of rules.)
Your affiliate program might also have their own rules. These rules usually stress making it obvious that you are promoting a product, or service, and that you might receive a commission. Make sure you read the fine print for each affiliate program that you join.
Top High Paying Affiliate Programs for Bloggers
Following are some of the best high paying affiliate programs for bloggers.
ShareASale.com is an affiliate marketing network. This means that they have several affiliate products and programs to choose from. You can search their database to find the perfect high paying affiliate program for you.
Some of the best programs for bloggers are:
StudioPress: Themes for WordPress.
LongTail Pro: An exceptional Longtail keyword generator at a phenomenal price.
Tailwind: Pinterest Marketing.
WPTasty: A Powerful Recipe Plugin for WordPress Blogs.
WP Engine Affiliate Program: WP Engine.
Awin.com is another affiliate marketing network. They also have several affiliate products and programs to choose from. A lot of bloggers love Awin because they are the only affiliate company that represents Etsy.
BlueHost.com is the number one hosting service for WordPress blogs. They offer reasonable rates, a one-click install of WordPress, and top notch customer service; making them a great affiliate partner. The affiliate payout is $65 per sign-up.
SEMRush.com is an online SEO tool that can help you find profitable and niche keywords for your blog. Track your competitors' keywords, find keywords YOU can rank for, and more. They have an in house affiliate program for bloggers. They offer 40% of sales, ongoing.
ThemeForest.net offers thousands of WordPress themes and templates, making them a perfect affiliate program for bloggers. They offer 30% of any sale, or money added to an account.
CreativeMarket.com is a favorite among bloggers. They offer fonts, graphics, stock photos, themes, and more. Plus they offer affiliates 10% of sales referred for a year.
UltimateBundles.com is your one stop shop for educational information and tools. They offer numerous "bundles" of digital products (e-books, guides, courses, etc.) that cover a variety of topics. Affiliates receive 40% of sales.
ConvertKit.com is THE e-mail marketing service that numerous bloggers and businesses use. The service is simple to use, and their e-mail sign-up forms are professional looking and will blend in with any website design. Affiliates receive 30% of sales.
IvoryMix.com offers hundreds of high end stock photos. Photos can be purchased in bundles, or you can purchase a VIP membership. Ivory Mix affiliates make 25% of pre tax sales.
These are just a few of the high paying affiliate programs for bloggers on my list. Bookmark this post, share it using the social sharing buttons below, and check back often; as I plan to add new affiliate programs as I try them.