One Simple Way to Increase E-commerce Traffic & Sales
This post may contain affiliate links. I may receive a commission if you decide to make a purchase through my links. For more information, see my full disclosures here. Looking for FREE Canva templates, printable planners, cards, wall art, design elements, projects, activities, and more? Check out my Freebie Library Club.
If you own an e-commerce store, you are probably looking for new ways to increase e-commerce traffic and sales. Today I am going to cover one simple way you can drive HUGE amounts of traffic, and potentially increase sales, to your e-commerce store. Best of all, it's free. Sound interesting? Continuing reading for more information.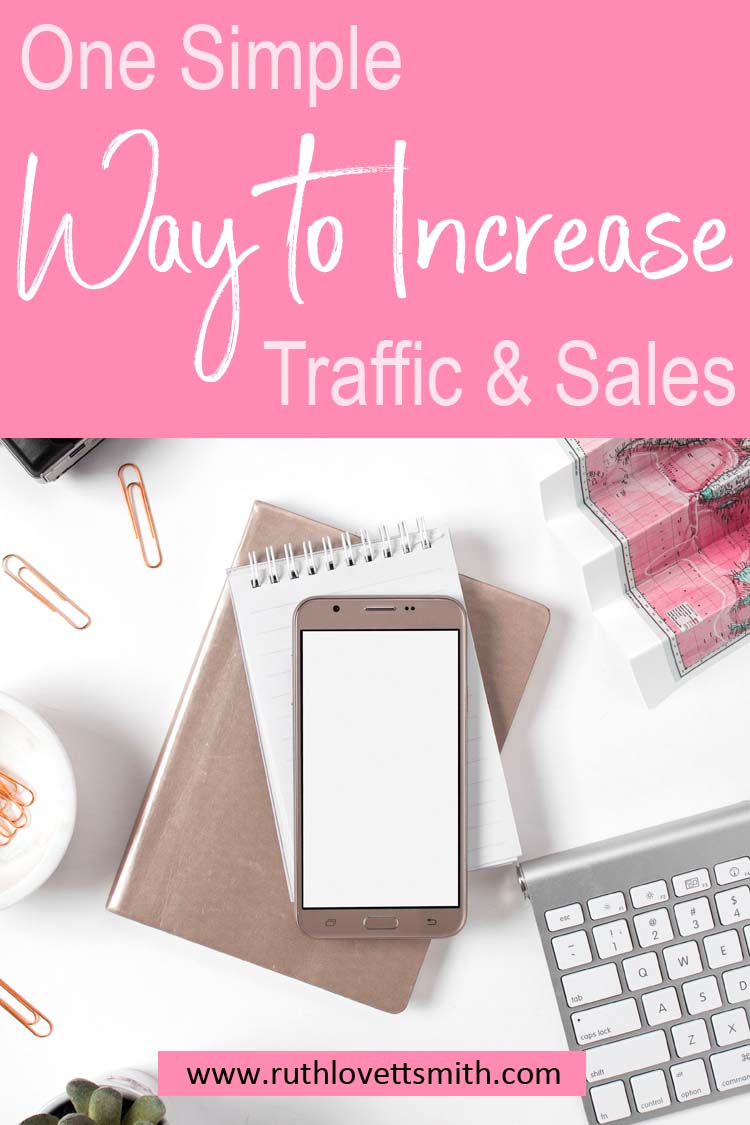 All About Search Engines
Search engines are the number one way to increase e-commerce traffic. Whether it's Google, Bing, or Yahoo; online shoppers search the internet for what they are looking for. Therefore, it's important to rank in search engine results.
However, it can also be hard to rank high enough, in search engine results, to drive traffic to your e-commerce store.
So how do you get around this? With Pinterest.
Most people think of Pinterest as a social networking site. However, Pinterest is actually a search engine. And if you own an e-commerce store, Pinterest can be an extremely valuable search engine.
Below I'll show you how you can use Pinterest to increase e-commerce traffic and sales.
If you are new to Pinterest, see my post:
How Does Pinterest Work? How to Use Pinterest for Business
Increase E-commerce Traffic & Sales with Pinterest
According to Omnicore Agency, Pinterest has 175 million monthly active users. And 87% of pinners have purchased a product because of Pinterest.
This means Pinterest is full of users looking to buy something. Get yourself in front of those buyers, and the opportunity to sell your products and services increases dramatically.
As I mentioned above, Pinterest is a search engine. Users (and shoppers) visit Pinterest, and type in what they are looking for. Then a variety of images, known as pins, come up in the search results.
For example, if I type in "trending jeans" in the Pinterest search bar, I get alternative keyword phrases like "trending jeans for women". When I click on the key phrase "trending jeans", I get a page full of pins with images of jeans.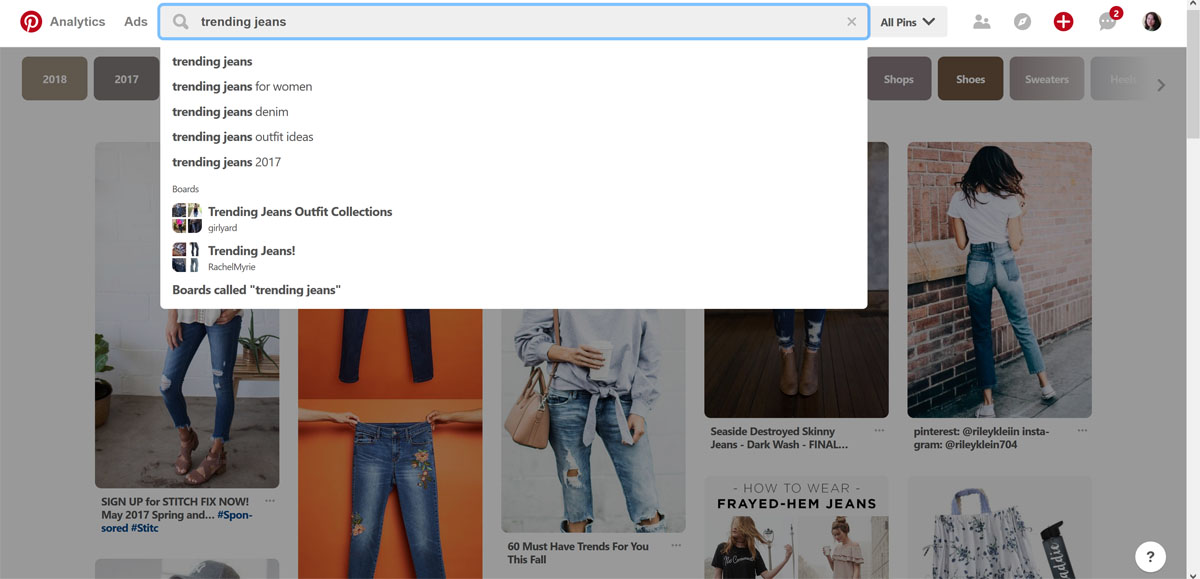 When I click on one of these images (pins), I am taken to the pin page. This page includes the pin title, a full size pin image, a detailed description of the product/pin, and a link to a blog, website, or store. (This link would be your e-commerce store or product page/listing.)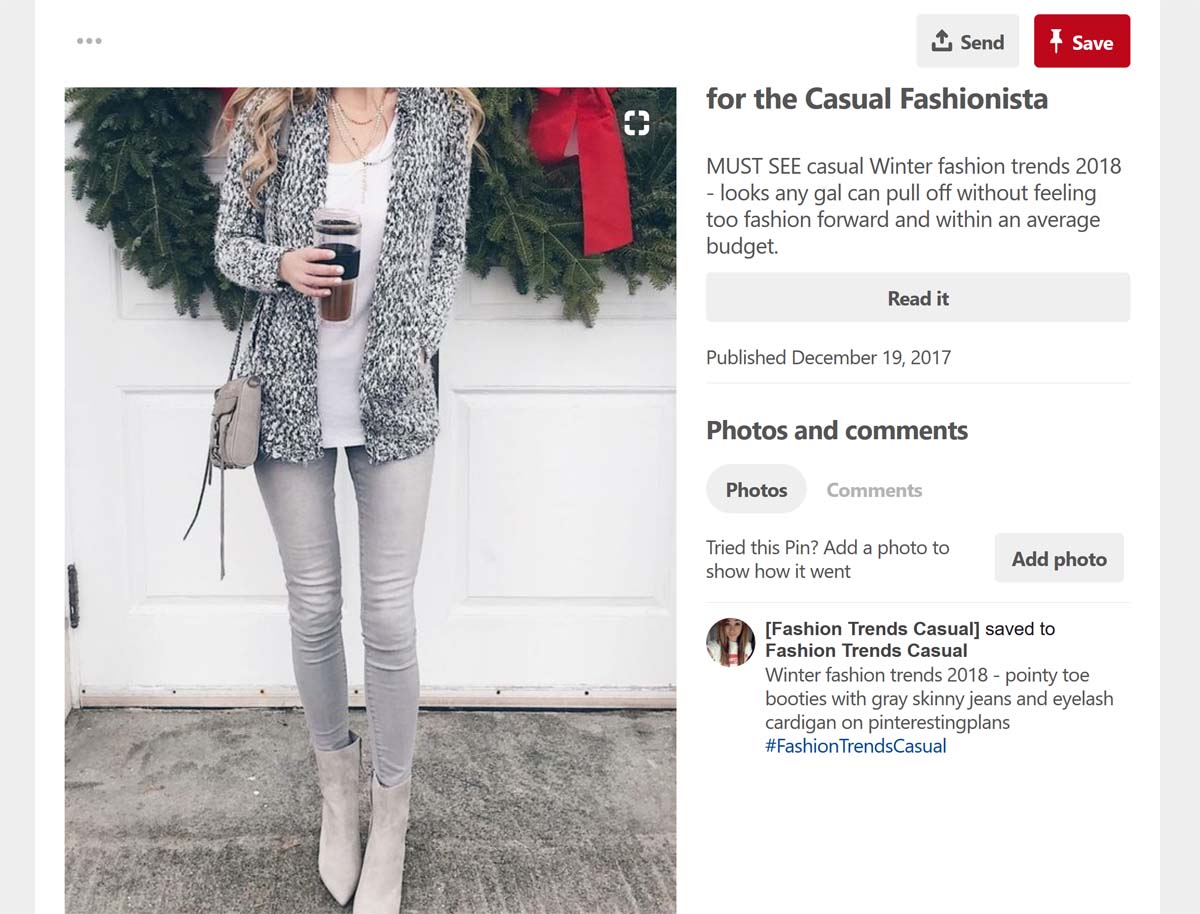 This pin is basically a free advertisement. Now create hundreds, or thousands, of pins; and share them on Pinterest. This will increase e-commerce traffic AND equates to a full advertising campaign, for FREE!
And it works for just about any niche. Whether it be fashion, food, crafting, technology, etc. People are searching Pinterest for items that you probably already sell in your e-commerce store.
Tips for becoming successful at Pinterest Marketing:
Create lightly colored, beautiful, and click worthy vertical pin images.
Make sure you use catchy titles/headlines.
Write detailed descriptions, with relevant keywords, and a call to action.
Use relevant hashtags. (Keywords with the # symbol.)
Create your own niche and keyword specific Pinterest boards.
Share your pins to your own personal boards, as well as relevant group boards.
Pin often and consistently.
A Time Saving Tool for E-commerce Stores
By now, you can probably see how Pinterest is an amazing search engine that is likely to get you huge results. However, you might be concerned about how much time you need to spend to get those results.
This is where tailwind comes in.
Tailwind is a Pinterest (and Instagram) scheduler. You can use tailwind to schedule your pins, amplify your reach, and measure your results; all with one tool.
The main goal in using tailwind is to save time pinning. Pinterest likes (and possibly favors) users who pin daily, throughout the day. Most of us don't have time to do that. Therefore, you can use tailwind to pin for you.
You can schedule your pins and know that they will be shared on Pinterest, while you are doing other tasks. Going on vacation or have a conference to attend? Schedule your pins through tailwind, and potentially increase traffic and sales while you are away. Tailwind even has a smart schedule feature that helps you to determine when you will get the most activity on your pins.
Another great feature of tailwind is tailwind tribes. Tailwind tribes are like Pinterest group boards. Share your pin in a tailwind tribe, and other users can repin your pin to their own boards. Their followers can repin the pin again. And the cycle continues. More repins equals more potential customers.
Lastly, tailwind has numerous other features to help you to determine how your pins are performing, and how much traffic Pinterest is driving to your store. This enables you to tweak your pins to get the best results from them.
The great thing about tailwind is that it is FREE to try. You don't even need to enter a credit card, or other form of payment. Click on Try Tailwind Now for more information.
Still not convinced? Click on Tailwind App Review for my recent experiences with tailwind.

In conclusion, if you are not using Pinterest in your marketing efforts; you should be. First of all, numerous other online sellers have joined Pinterest, and are seeing great results. Secondly, both Pinterest and tailwind are free to try. So what are you waiting for? Get started today!
This post contains affiliate links. If you purchase something through these links, I will receive a commission at no extra charge to you. In addition, I was compensated for this post.