This post may contain affiliate links. If you purchase something through these links, I may receive a commission at no extra charge to you. For more information, see my full disclosures HERE.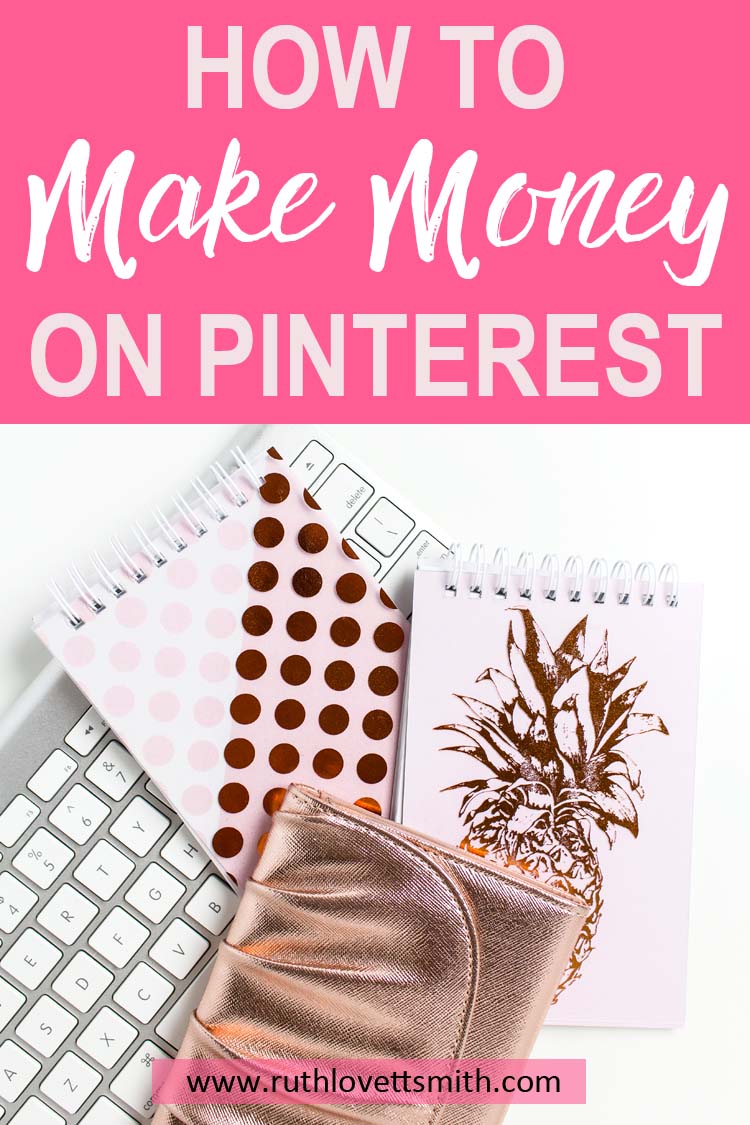 Are you looking for tips on how to make money on Pinterest? Did you know that thousands of people make money on Pinterest daily?
You can make money on Pinterest with or without a blog. I'll cover both in more detail below.
First of all, if you are looking to make money on Pinterest, you need to set up a Pinterest account. In addition, a Pinterest business account. The following posts cover setting up a Pinterest account, and how to use Pinterest, in more detail.
How Does Pinterest Work? How to Use Pinterest for Buiness
Tailwind App Review: Tailwind Tips Pinterest Marketing
How to Create Pinterest Templates That Save You Time
How to Make Money on Pinterest Without a Blog
The key to making money on Pinterest, without a blog, is affiliate marketing.
Affiliate marketing is the process of earning a commission by promoting other people's products. These products range from e-books and courses, to online tools and physical products or services.
See High Paying Affiliate Programs for Bloggers for more information.
First of all, sign up for several affiliate marketing programs. In addition, create awesome and unique pins with affiliate links. Finally, pin those awesome pins on Pinterest.
Most noteworthy, make sure that you follow the rules of each affiliate program you join. Some programs are very specific regarding what they allow.
How to Make Money on Pinterest With a Blog
A blog can also help you to make money on Pinterest. Therefore, combining a blog with your Pinterest efforts, will help you to make money much more quickly.
First of all, with a blog, you can make money with affiliate marketing, advertising, and your own products and services. Simply write posts, product reviews, lists, round-ups, and more. In addition, create those awesome pins, and then link them to your posts. Finally, make sure that your posts have a mix of affiliate links, on page ads, and/or links to your own products and services.
Pinterest is great for driving traffic to your blog, and will help you to make money from a variety of sources.
Make Money on Pinterest by Consulting
If you are a Pinterest guru, you can also make money on Pinterest by working as a consultant or virtual assistant.
There are numerous new bloggers, and pinners, who are looking for Pinterest assistance because they are either inexperienced, or don't have the time. Therefore, consider offering services like pin creation, pinning for bloggers, setting up Pinterest accounts, and more. The list is endless.
Final Pinterest Tips
The key to making money on Pinterest is all in the pin. Great pins lead to clicks. So what makes a great pin?
Catchy, enticing, and clickable headlines.
Keyword rich descriptions.
Using hashtags in descriptions.
A pin image, with bold text, that stands out.
Don't be afraid to search Pinterest to see what pins stand out to you. In addition, try to use the same strategies that popular pinners use.
Lastly, join numerous (relevant) group boards that you can pin to. Pinning to group boards helps to get your pin in front of more people. As a result, you'll get more repins.
To see my own Pinterest account in action click on:
https://www.pinterest.com/ruthlovettsmith/boards/
I hope you've found this post helpful. If you did, please consider sharing it by using the social sharing buttons below.