How to Make Money on Pinterest With or Without a Blog
This post may contain affiliate links. I may receive a commission if you decide to make a purchase through my links. For more information, see my full disclosures here. Looking for FREE Canva templates, printable planners, cards, wall art, design elements, projects, activities, and more? Check out my Freebie Library Club.
Learn how to make money on Pinterest. Make money on Pinterest in no time with these latest Pinterest tips. Pinterest marketing & perfect pin design.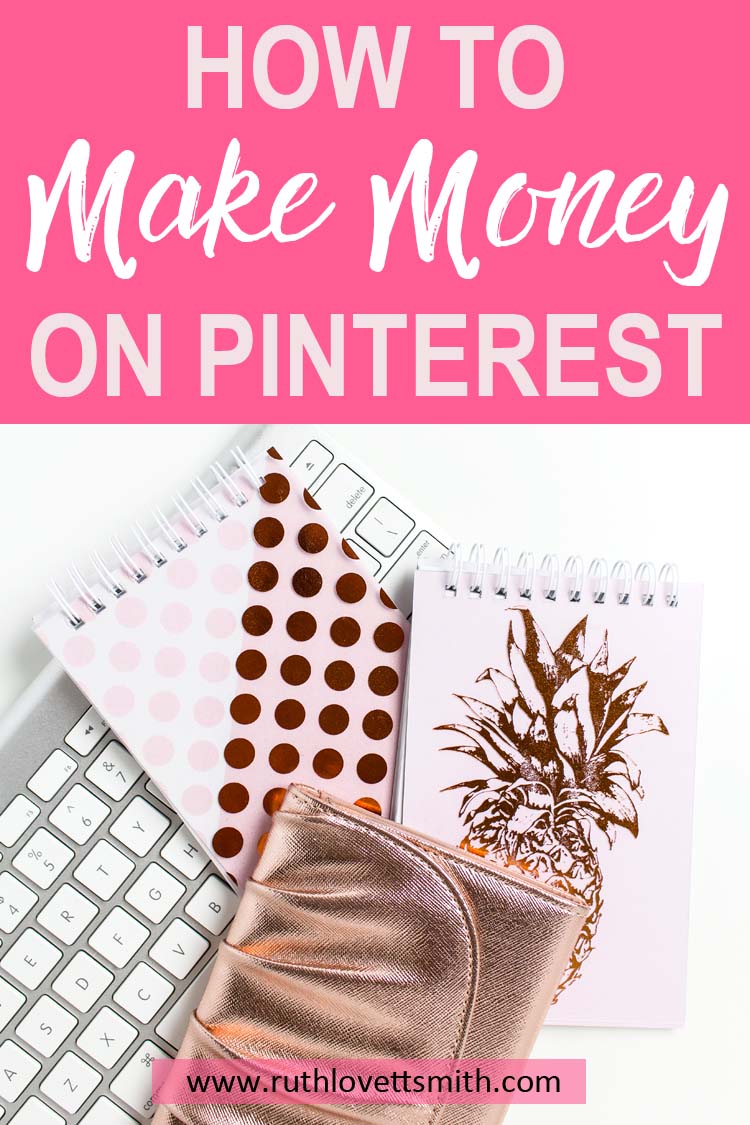 Are you looking for tips on how to make money on Pinterest? Did you know that thousands of people make money on Pinterest daily?
You can make money on Pinterest with or without a blog. I'll cover both in more detail below.
First and foremost, if you are looking to make money on Pinterest, you need to set up a Pinterest account. In addition, you need to set up a Pinterest business account. The following posts cover setting up a Pinterest account, and how to use Pinterest, in more detail.
How Does Pinterest Work? How to Use Pinterest for Business
Tailwind App Review: Tailwind Tips Pinterest Marketing
How to Create Pinterest Templates That Save You Time
How to Make Money on Pinterest Without a Blog
The key to making money on Pinterest, without a blog, is affiliate marketing.
Affiliate marketing is the process of earning a commission by promoting other people's products. These products range from e-books and courses, to online tools and physical products or services.
See High Paying Affiliate Programs for Bloggers for more information.
1. Join Affiliate Programs
Your first step is to sign up for several affiliate marketing programs. There are literally thousands of programs to choose from. From furniture, to crafting supplies, to clothing, to baby toys, and more. And those are just the physical products. You can also join programs for e-books and online courses.
2. Create Clickable Pins
Your next step is to create awesome and unique pins with affiliate links. This is really the most important step. If you don't create a clickable pin, you won't generate sales. The best pins are vertical, light in color, and are easy to ready. Simple fonts in a bold color choice work best. Try to use power words in your headings, and add a call to action like "click here" or "try now" for example. Creating a sense of urgency encourages readers to click.
3. Share Your Pins
Finally, pin those awesome pins on Pinterest. You need to pin your pins to Pinterest regularly. And you need to get other Pinterest users to do the same. Join Facebook groups that offer pin share threads. Share your pins on other social media channels. Just make sure that you follow the rules of each affiliate program you join. Some programs are very specific regarding what they allow. At a minimum, you usually need to notate that your pin is an affiliate pin by using a hashtag, #affiliate #ad #sponsored, when sharing your pin.
Professional Pinterest Tip: Make sure that your Pinterest boards, and pins, are keyword rich. For example, if you are promoting furniture; create several niche boards that relate to furniture, and pin your furniture affiliate pins to these boards. Some ideas are: Decorating on a Budget, Black and White Decorating, DIY Decor, and so on. Then make sure that your pin descriptions have appropriate keywords as well.
Here is an example of my "Writing & Blogging Tips" Pinterest board description. You can see that I use a variety of keywords as well as long tail keywords.

And following is an example of a recent pin with the title and description. You can see that I use text that stands out, as well as a light background for the pin. I also use keywords in the pin title and description. Though this pin description could even be a bit longer.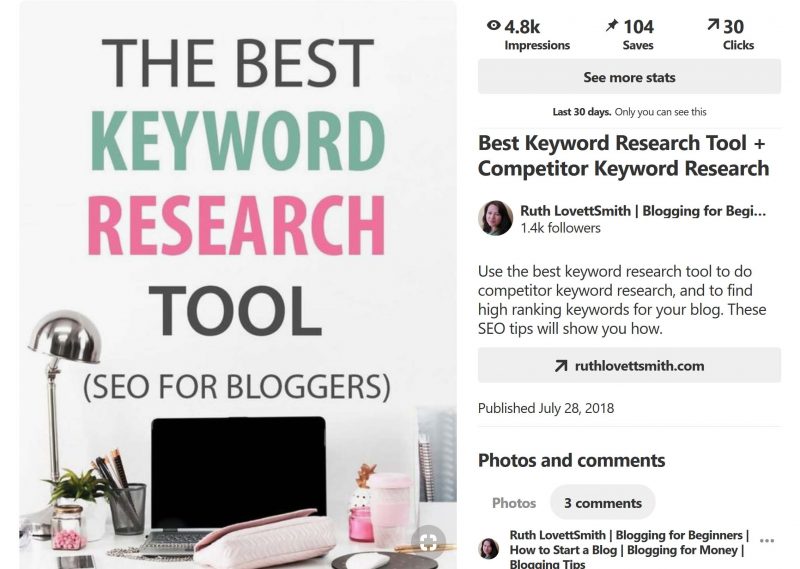 How to Make Money on Pinterest With a Blog
A blog can also help you to make money on Pinterest. Therefore, combining a blog with your Pinterest efforts, will help you to make money much more quickly.
First of all, with a blog, you can make money with affiliate marketing, advertising, and your own products and services. Simply write posts, product reviews, lists, round-ups, and more. In addition, create those awesome pins, and then link them to your posts. Finally, make sure that your posts have a mix of affiliate links, on page ads, and/or links to your own products and services.
Pinterest is great for driving traffic to your blog, and will help you to make money from a variety of sources. Some Pinterest users receive thousands of visitors to their blogs daily, just from Pinterest.
Professional Blogging Tip: Write an honest and detailed review about an affiliate product that you LOVE. Make sure that this post utilizes relevant keywords and is search engine optimized. Add your affiliate links throughout your post. Readers who are interested in the same product are likely looking for reviews. These readers are already almost ready to buy. After reading your positive review, they will be much more likely to click on your affiliate link and purchase the product. Just keep in mind that your reviews should always be honest. Otherwise you risk losing the respect and trust of your readers.
Make Money on Pinterest by Consulting
If you are a Pinterest guru, you can also make money on Pinterest by working as a consultant or virtual assistant.
There are numerous new bloggers, and pinners, who are looking for Pinterest assistance because they are either inexperienced, or don't have the time. Therefore, consider offering services like pin creation, pinning for bloggers, setting up Pinterest accounts, and more. You can even create a how to Pinterest e-book and sell it on your blog. The list is endless.
Professional Consulting Tip: You can find VA jobs by joining blogger Facebook groups. I am a member of several Facebook groups, and members are always looking for VA's and Pinterest help. Create a pin that advertises your services. Then share this pin during the groups share days.
Final Pinterest Tips and Overview
The key to making money on Pinterest is all in the pin. Great pins lead to clicks. So what makes a great pin?
Catchy, enticing, and clickable headlines.
Keyword rich descriptions.
Using hashtags in descriptions.
A pin image, with bold text, that stands out.
Don't be afraid to search Pinterest to see what pins stand out to you. Pinterest is a search engine. Do a keyword search and see what pins come up. The top pins are the pins Pinterest thinks are the best. Review them and try to figure out why.
In addition, try to use the same strategies that popular pinners use. Look at the Pinterest users you follow, and look at some of the most popular pinners. What strategies are they using? Why do you think their pins are popular? Try and implement those same strategies on some of your pins and see if it helps.
Lastly, join numerous (relevant) Pinterest group boards that you can pin to, and consider Tailwind Tribes. Pinning to group boards helps to get your pin in front of more people. As a result, you'll get more repins. Tailwind Tribes are like group boards, but through the Pinterest scheduler Tailwind. You share a pin to a relevant tribe and others repin your pin.
If you continue to create great content, pin regularly, and stick with it; you'll start to see a dramatic increase in your income. All from using Pinterest!
To see my own Pinterest account in action click on:
https://www.pinterest.com/ruthlovettsmith/boards/
I hope you've found this post helpful. If you did, please consider sharing it by using the social sharing buttons below. Happy Pinning!