Blogs That Pay Writers: Top Sites that Pay for Blogging
This post may contain affiliate links. I may receive a commission if you decide to make a purchase through my links. For more information, see my full disclosures here. Looking for FREE Canva templates, printable planners, cards, wall art, design elements, projects, activities, and more? Check out my Freebie Library Club.
In this post I cover blogs that pay writers a fair fee for their writing work. You'll find numerous sites that pay for writing, as well as how much you can expect to get paid.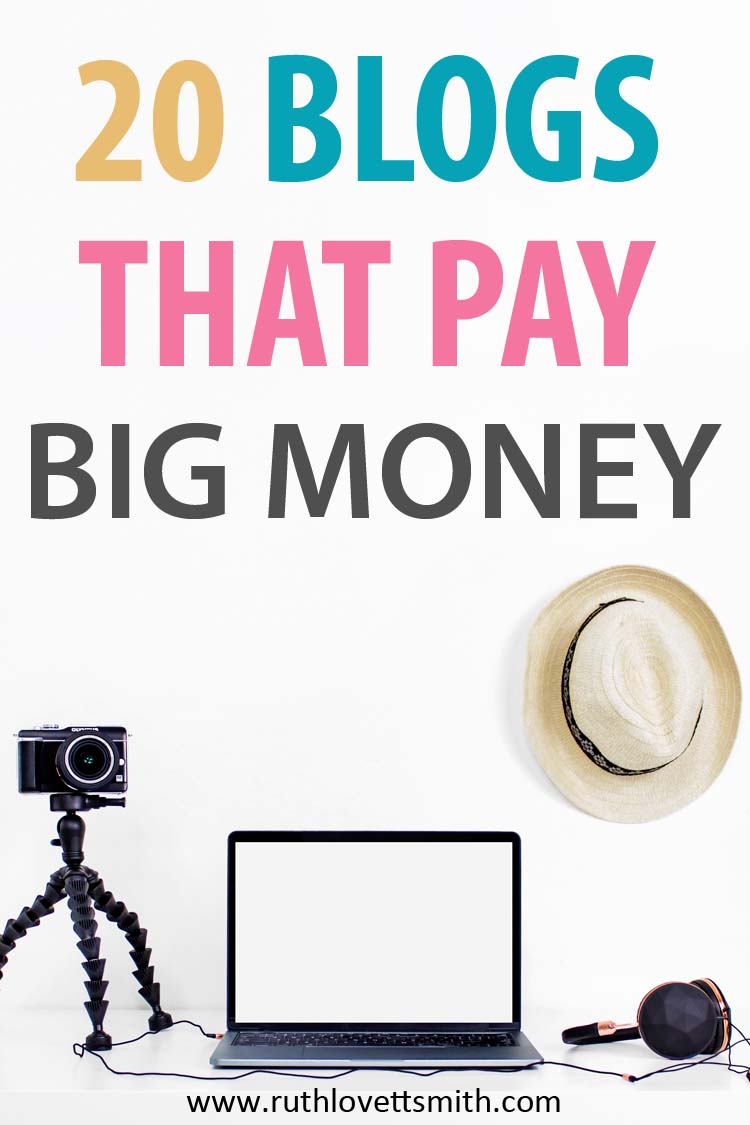 Lots of blogs that pay, don't really pay all that much. If you are just starting out, and looking for bylines or experience, you might be okay with making $25 a post. However, most writers are worth more than that. The following blogs that pay, have a minimum pay out of $75 per post. Several of them pay more. A few have a starting base that is less than $75, however the smaller number is the bottom of a range that goes to, or above, $75. Start making money blogging today by freelance writing for these top sites that pay for blogging.
How to Find Blogs that Pay Writers
This post was created as a resource to help freelance writers, and bloggers, find sites that pay for writing. You'll find paid blogging jobs, paid blogging sites, websites that pay you to write, blogs that will pay you to write, paid guest posting sites, and more. I'll also share which are the best paid blogging sites for beginners, as well as what blogs pay and how blogs pay.
How Much do Freelance Writers Make?
Writers often ask, "do blogs pay well?" The answer depends on a number of factors. Content mills usually do not pay well. But may be a good way to get started if you lack bylines and experience. However, private blogs and websites can pay well. You just need to know where to look.
On average, freelance writers make $0.10 to $1.00 a word. And as much as $20 to $100 an hour. The lower figures are for writers and bloggers that are just starting out. The higher figures are for more experienced writers.
You can command a higher rate simply by asking. As well as refusing to take lower paying writing jobs. You are much better off spending more time looking for higher paid writing jobs, than you are churning out numerous $25 blog posts. If you land a higher paid writing job, and perform your job well, there's a good chance that client might send new writing jobs your way.
Paid Blogging Jobs and Writing Job Boards
I'll start my list off with free and fee based paid blogging jobs boards. Blogging and freelance writing job boards are a great place to find blogs that pay. You know these companies are looking to hire a writer because they are submitting a job listing to these sites. You'll also get a detailed listing of what they are looking for. Therefore you can quickly eliminate listings that don't pertain to you. However, keep in mind that lots of bloggers visit these sites. This equates to tons of potential competition. Which means you want to make sure that your query is top notch, and that you take your time when sending your submission.
ProBlogger
ProBlogger has one of the most extensive job boards on the internet and is full of blogs that pay. You'll find numerous niches here, and new writing and blogging jobs are added daily. Some are freelance writing gigs, and some are permanent positions. Companies pay for their listings, therefore these jobs are likely to be higher paying than jobs you might find on free job boards. This makes ProBlogger a great place to find paid blogging jobs.
Freenlance Writing
Freelance Writing is a website that is dedicated to freelance writing, and also has a free job board. You'll find numerous job listings here from blogs that pay. They cover a variety of topics and industries. You can sort listings by location, skills, and the source of the listing. Therefore you can eliminate some lower paid listings by excluding a source like Craigslist for example. (Craigslist often, but not always, has low paying job listings.)
See my post Where to Find Freelance Writing Jobs for some more suggestions.
Writing Blogs
There are a lot of blogs that cover freelance writing and blogging. And many of them are looking for guest bloggers. If you are an expert on the topic, consider submitting to the following blogs that pay writers.
Write Naked
Write Naked only accepts pitches during their open reading period. So make sure that you check their website and submit during the appropriate times. Posts run 450 to 650 words, and the 2018 rate is $75 per post. Write Naked sections accepting guest posts are: interviews, publishing trends, day in the life of a writer, writing essentials, and behind the pen.
Wow – Women on Writing
Women on Writing accepts how to submissions on a variety of writing and publishing topics. They pay $50 to $75 for articles that range from 1,000 to 3,000 words.
Make a Living Writing
Make a Living Writing pays writers $75 to $150 for 500 word guest posts about writing, blogging, and topics that relate. Check out the website for more submission guidelines and tips on how to get your post accepted.
Writer's Digest
Writer's Digest accepts submissions on a variety of writing topics. Sections in their magazine include Inkwell, 5 Minute Memoir, Author Profiles, Writing Technique Articles, and Market Reports. Payment is between $50 and $100. Manuscripts are 30 to 50 cents per word.
Parenting Blogs
If you are a parent, chances are you have some great parenting tips. Write what you know, right? Parenting blogs are a great place to share your expertise. Parenting blogs are also a great place to connect with other, like minded, parents.
FreelanceMom
FreelanceMom pays $75 to $100 per 900 to 1,500 word article. Articles must be original and should offer current practical and actionable advice and tips on being a freelance mom. Three types of articles that do well on the site are personal articles, research based articles, and education based articles and guides.
A Fine Parent
A Fine Parent is looking for articles on parenting wisdom. They believe that great parents are made, not born. Original articles should be 1,500 to 3,000 words in length. Accepted articles are paid $75.
Zift
Zift pays $100 for 800+ word evergreen parenting articles. Their most successful articles are 1,500 to 2,000 words. They also accept list posts and infographics.
Travel Blogs
Do you run a travel blog? Do you love to travel? Travel blogs are a great place to get travel advice. If you have experience in the travel niche, consider writing for a travel blog.
Great Escape Publishing
"Great Escape Publishing publishes articles on the craft and business of getting paid to travel, whether by writing, photography, tours or other means. We also publish short interviews with successful readers and members, as well as professionals working in a field that enables our readers to get paid to travel." They do not publish straight travel pieces. If you have been successful in travel writing, photography, the import/export business, or running your own tours and would like to share insider tips of your craft, they would like to hear your story. Great Escape Publishing pays $150 for interviews, personal stories, and any articles we request for the website with specific income advice readers can print and follow to earn more income.
Escapees
Escapees is a magazine and blog about RV travel. Payment is between $100 and $200 for feature submissions. They welcome submissions on all phases of RV life and for all age demographics.
Finance Blogs
Finance and money saving blogs are extremely popular. If you have advice on budgeting and saving money, a finance blog is a great place for you to share your ideas and tips.
Money Pantry
Money Pantry pays $30 to $150 per 1,000-2,000 word articles. Topics can include anything that has to do with earning and saving money. However, Money Pantry is specifically looking for unusual and unique ideas and strategies that everyday people can use to earn and save more money.
The Dollar Stretcher
The Dollar Stretcher accepts "living better…for less" type posts for their newsletter. Payment is at the rate of 10 cents per word for 800 words or less. The majority of their articles are in the 500 to 700 word range.
Business Blogs
Business blogs can range from general business tips to productivity tips. If you have business experience, consider sharing it on a business related blog.
B. Michelle Pippin
Michelle Pippin is the founder of Women Who Wow. She is dedicated to educating and empowering female entrepreneurs, and does this through her online membership and community. She is looking for original content from experts with first hand experience on a variety of business related topics. Payment per piece ranges from $50 to $150.
iWorkwell
"iWorkwell is always looking for expert HR professionals/consultants/academics and employment or labor attorneys with deep expertise in any area of HR (i.e., all topics related to managing people) to write/edit instructional articles that are action oriented, include checklists, and help the reader complete the task." They pay up to $195, plus bonuses, for 1,500 to 3,500 word articles.
Income Diary
Income Diary accepts guest posts on a variety of business related topics. From creating awesome websites, to driving traffic, social media or making money online; there is likely to be a topic you can cover. Income Diary pays up to $200 for their top articles.
Other Blogs and Magazines
Following are other magazines and blogs that pay writers. Check out the appropriate websites for full submission guidelines.
Listverse
Listverse is a blog that pays $100 for accepted list posts. Post must include 10 items per list minimum, and one or two paragraphs per item. Listverse is looking for original list posts that are offbeat and novel. However, they do not publish opinion lists. Be sure to link to reputable sites so that they can verify your facts. Visit their website for additional rules and to submit.
Cosmopolitan
Cosmopolitan is looking for 800 word (or less) essays about a memorable, crazy, hilarious, or touching college experience. If they publish your essay, they'll pay you $100 and may reach out to you for future assignments.
Bee Culture
Bee Culture is the magazine of American Beekeeping. They pay $150 to $200 for 1,500 to 2,000 word articles. Cover photos are paid $50. Articles can cover anything as it pertains to bees and beekeeping. However, you should read articles on their site to see what they are looking for and if your idea has already been covered.
Knitty
Knitty pays for knitting patterns and tutorials. They pay $100 to $200 per published submission. Submissions must be original, new, and not published elsewhere.
Bonus: Looking for More Blogs that Pay?
Blogs and magazines come and go, and many change their submission guidelines. So what is a writer to do? I suggest investing in Writer's Market, a guide that is full of thousands of listings for book publishers, magazines, contests, literary agents, and more. Writer's Market also includes essential advice on writing better queries, getting published, and making money with your writing. It's well worth the investment.
You'll also want to check out my extensive Freelance Writer's Guide for more information on freelance writing and how to land high paying writing jobs. And if you are interested in learning how to make money blogging check out my Professional Blogging Guide.
Take Your skills to the Next Level
Get Paid MORE to Write, Blog, and Create
How to Make MORE Money with Your Craft is a deep dive into all of the ways that writers, bloggers, artists, and creatives make money. It's jam-packed with information, tips, as well as links to numerous money making resources and ideas.
I hope you've found this Blogs That Pay post helpful. If you did, please consider sharing it with your friends, and readers, via your social media channels. Did I miss a blog that pays writers well? Share it with us in the comments section.