WordPress for Blogs: Why You Should Choose WordPress
This post may contain affiliate links. I may receive a commission if you decide to make a purchase through my links. For more information, see my full disclosures here. Looking for FREE Canva templates, printable planners, cards, wall art, design elements, projects, activities, and more? Check out my Freebie Library Club.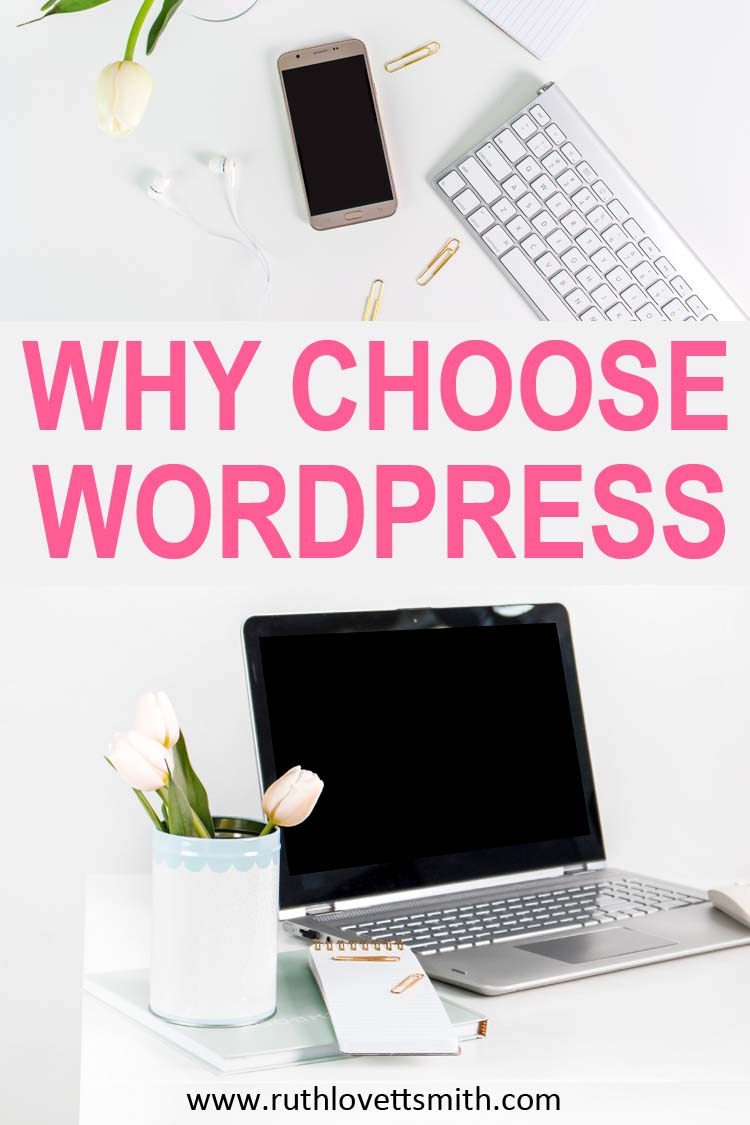 WordPress for Blogs covers why you should choose WordPress to start your blog. Thousands of bloggers choose WordPress for blogs & websites. Learn why today.
Do you have a website or a blog? If you are an artist, writer or designer; you should.
A website is the easiest way to showcase your work and connect with others. It's also easier than ever to set up. Following are some reasons why I believe you should use WordPress for your blog.
Why Choose WordPress for Blogs?
There are many blogging platforms available. However, my favorite is WordPress.
WordPress is FREE to install and use.
You can easily set up a site, with or without the purchase of a domain name.
There are numerous theme templates available.
There is support via a community and numerous articles online.
The list goes on and on.
WordPress is FREE
WordPress is a free and open source content management system. There are numerous free themes, and free plugins, that help you to do whatever it is you want to do. Want an online shop? You can do that. Want a photography or art portfolio? You can do that too. Once you get started on your blogging journey, you'll be amazed at what you can do with WordPress.
Installation is Easy
Installing WordPress is extremely easy. There are several guides online to help you through the process. Your hosting provider should have a guide to quickly setting up WordPress as well.
I also cover setting up a blog in more detail in my post How to Start a Blog: Beginner's Guide.
WordPress Themes
There are literally hundreds of free WordPress themes available. And there are even more premium themes that you can pay for.
Themes help to determine the look and functionality of your blog. From color choices to layout choices, a theme can help you to create the look that you want; all without having to learn code.
Community and Support
There are so many people using WordPress for their blogs that you'll never have difficulty finding help or support. Most themes and plugins come with support. Simply e-mail the developer. There are also website and blogs dedicated solely to WordPress and all the things you can do. Any time I have an issue, I do an internet search regarding my problem. Usually I'll find dozens of articles to help me problem solve.
WordPress Extras
As I mentioned above, there are numerous plugins available that enable you to do numerous things with your blog. You can create an online store for free with the WooCommerce plugin. You can build a business directory, or a membership site, or your own online forum. The list in endless.
One of my most favorite aspects of WordPress is that you can have a blog OR a website (or both). For those of you that don't need or want a blog, you can find a theme that makes your site look like any other professional website – no code needed.
I've been using WordPress for over nine years now and it's what I use for all of my sites.
While you don't need to learn code, I've learned enough to take my sites to the next level so that I can customize already existing themes. I also use a variety of plugins to keep my sites running smoothly.
Things to Consider When You Choose WordPress for Blogs
Get a domain name, if you don't already have one. Domain names should be as short as possible and relate to your business or company name. See my post Creative Blog Names for more information on choosing a blog name.
Get a website host. There are various website hosts available at different price points. I am personally a huge fan of Bluehost. They have amazing customer service and are reasonably priced.
For more information on starting a blog, see my post How to Start a Blog. I give you clear and easy step by step directions for starting your own blog.
If you are thinking about starting your own blog or professional site, but are worried that you need a website designer or have to know a whole lot of code; check out WordPress.com and WordPress.org. These sites offer tons of information to help you solve any problem that might come up.
WordPress.com is for individuals that don't want to host their own site or purchase a domain name. WordPress.org (which is what I recommend) if for those you want to have their own website with their own name.
You can also check out my How to Start Blogging page for more articles and tips on the process of starting a blog and blogging.
So what are you waiting for? Choose WordPress today and grow your blog and business.
I hope you found this post helpful. If you did, please consider sharing it using the social media buttons below!