This post may contain affiliate links. If you purchase something through these links, I may receive a commission at no extra charge to you. For more information, see my full disclosures HERE.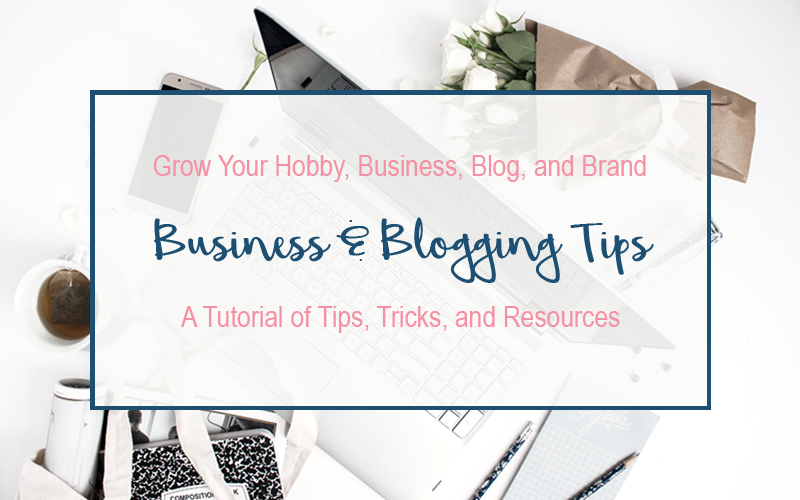 Business and blogging tips is a place where I share all of my popular and favorite posts, blogging tips, and resources to help you to grow your hobby, business, blog, and brand.

A brand is defined as a name, term, design, or other feature that distinguishes one seller's product, business, or service from those of others. To build a successful brand you have to know who you are, what you stand for, and what you are selling or offering. You also have to know what makes YOU unique. Read my post How to Build a Successful Brand to learn more about building and growing your own brand.
A logo is a graphic mark, or symbol, that organizations and individuals use to promote brand recognition. It is the "stamp" that represents who you are and what your company stands for. While you can hire someone to design a logo for you (and this is one of the services I offer), you can also design a logo yourself. Check out my post How to Create Your Own Logo for more information. If you are interested in hiring me to design a logo for you or to consult/teach/guide you on your way, you can contact me via my Contact page.
If you are thinking about starting a blog, my How to Start Blogging page covers the ins and outs of blogging. Learn whether you want a blog or niche site, how to choose a creative blog name, how much it costs to start a blog, how to set up your blog, and finally what to do after you start your blog.
Once you've set up your blog, you'll want to learn how to get traffic. My post How to Increase Traffic to Your Blog will show you numerous ways to increase your blog traffic. Once you increase your blog traffic, you'll be able to increase your revenue.
Whether you are a blogger, writer, crafter, or creative entrepreneur; there are numerous ways you can make money from home. My post Creative Ways to Make Extra Money from Home will show you how.
I hope you find this Business and Blogging Tips page helpful. Be sure to bookmark it and come back often, as I will update it from time to time. Should you have any questions, please don't hesitate to contact me or comment in the comments section below.