Starting a Craft Business: Selling Crafts and Art Guide
This post may contain affiliate links. I may receive a commission if you decide to make a purchase through my links. For more information, see my full disclosures here. Looking for FREE Canva templates, printable planners, cards, wall art, design elements, projects, activities, and more? Check out my Freebie Library Club.
Want to start your own art or craft business? This ultimate selling crafts and art guide covers how to start a craft business, starting an art business, the best selling crafts, how to price your products, where to sell your crafts, legalizing your craft business, and more.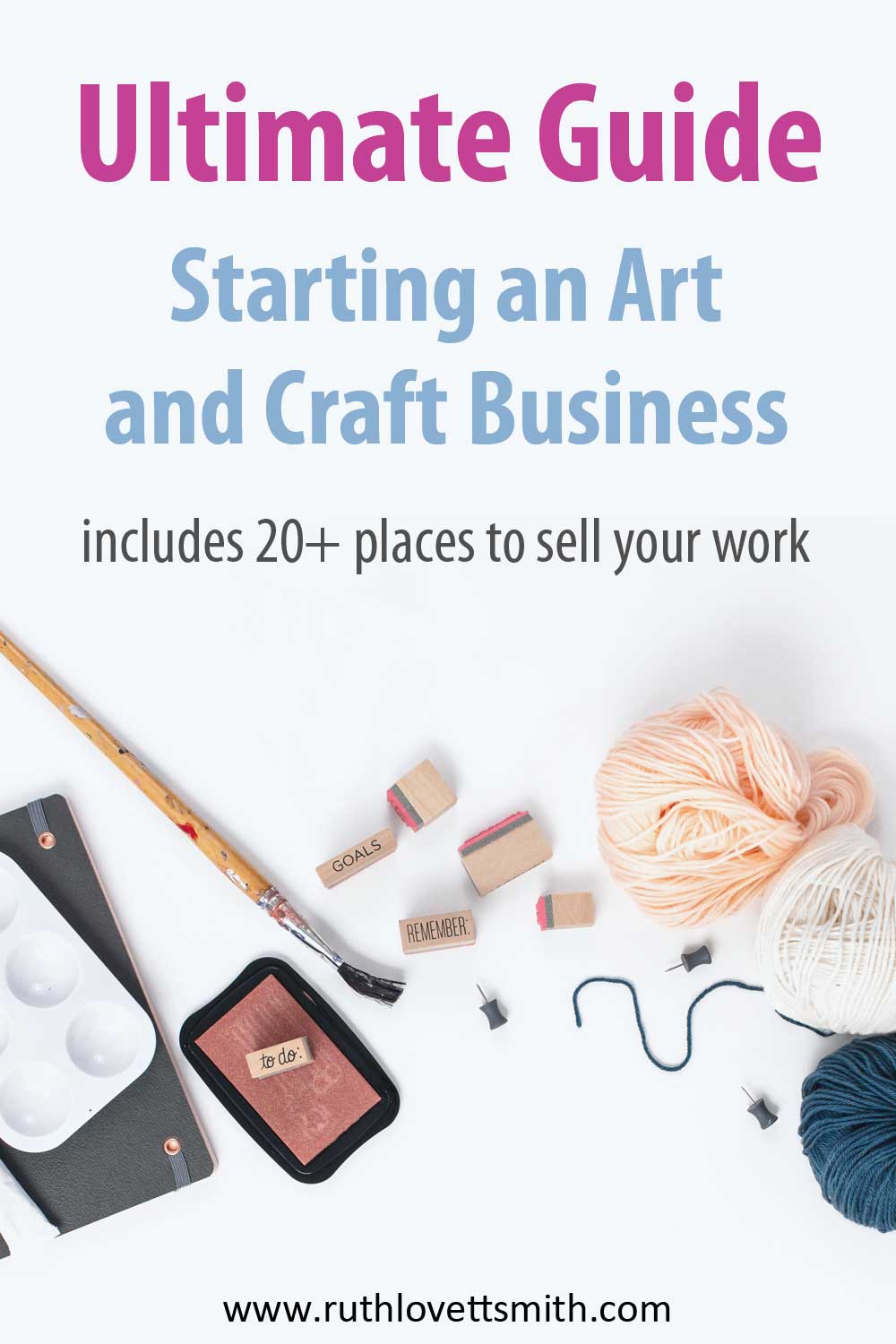 Can an Art and Craft Business be Profitable?
So many creatives wonder whether and art and craft business can be profitable. The answer is an absolute yes! An art and craft business can be extremely profitable. Selling crafts from home can be a great way to make extra money. Or, if you are super motivated, you can also build a lucrative full-time art and craft business. There are artists and crafters all over the world who are making a full-time income from their own art and craft businesses. If you are creative, and like to work with your hands, you might want to consider selling crafts from home.
As with any business, it's important to learn how to market and sell your art and craft work. This selling crafts and art guide will take you step by step through what you need to know to build your own art business or craft business.
How Do I Start a Small Craft Business?
If you don't already have an art business or craft business set up, there are a few steps you need to take before starting one. If you do have an art business or craft business, you can skim through the next sections if you prefer.
Checklist for starting a craft business:
Determine what you want to make and sell.
Legalize your art and craft business.
Determine where you want to sell.
Create wholesale and retail product prices.
Starting a Craft Business Tips
The first step in starting a craft business is to determine what type of art, craft, or crafts, you want to make and sell. Many artists, and crafters, end up with an art business or craft business out of a hobby. If there is an art or craft that you are good at, you should consider turning that into your art and craft business. Do people constantly compliment you on a particular hobby? That could be your craft business.
To be a successful artist and crafter, it's important to do what you love. To make the most money with your art and craft business, it's important to find a product and/or service that is marketable and easy to create and sell.
If you aren't sure what type of art or crafts you want to sell; read on for information on some best selling crafts, as well as art business ideas and craft business ideas.
Best Selling Crafts Ideas
So you love art and crafting, but you aren't sure what types of arts and crafts to sell. Thankfully, there are literally hundreds of options for you. Read through this best selling crafts list and think about what sparks your interest. Why are you drawn to that particular idea? Research other artists and crafters to see what they are making and creating. This might inspire an idea for a new product or service.
What home based craft business can I start?
Following is a list of ideas to help you brainstorm. You may not be familiar or experienced with some. That's okay. Many artists and crafters are self taught. If you see an idea you like, do some research and try it out. You might find a craft that you are great at.
1. Sewing Business
If you know how to sew, you can make money with your craft. The ideas here are endless. You can create and sell your own patterns, work as a seamstress, or sell your own sewn goods. Some popular items are pillow covers, clothing, quilts, pot holders, and handbags.
2. Jewelry Business
If you love jewelry and working on a small scale, a jewelry business might be for you. There are a ton of Jewelry Making Books available, and so many mediums that you can work in. You can try beading, paper clay, wood, buttons, recycled materials, and more.
See my post Button Jewelry for more ideas.
3. Weaving, Crochet, and Knitting Business
Starting a crochet business, knitting business, or weaving business can take a bit of education and practice, if you are not familiar with any of them. However, if you are good, the opportunity for a lucrative craft business is huge. Products include hats, socks, mittens, blankets, sweaters, kid's sweaters, stuffed animals, and more. Hand woven and hand knit products often sell for a high price at craft fairs and boutique stores.
4. Paper Crafts Business
Paper crafts are crafts made with paper. You can create handmade greeting cards, hand bound books, bookmarks, paper ornaments, gift tags, and more. If you love working with paper, a paper crafts business might be right for you.
5. Painting Business
If you are a painter, or love painting, consider turning your art into a craft business. Whatever you can paint on you can sell. Think furniture, ornaments, wall art, murals, and more.
6. Pottery Business
If you are not a potter, there is a bit of a learning curve here. However, a pottery business can be another lucrative business idea. Most potters create beautiful works of art that are also functional. Mugs, bowls, and plates are items people use on a daily basis. Ornaments and jewelry are two other ideas as well.
7. Digital Art Business
Digital art is art that is created on a computer. If you are creative, tech savvy, and have access to a computer; digital art is a minimal cost business to start. You can create printable wall art, invitations, greeting cards, guidebooks, templates, and more.
Other Craft Business Ideas
These are just a few business ideas to get you thinking. The more you read and research, the more ideas you'll come up with. Figure out what it is you LOVE to do, and get working.
For more craft business ideas, see my post Hot Craft Ideas to Sell.
Legalizing Your Art and Craft Business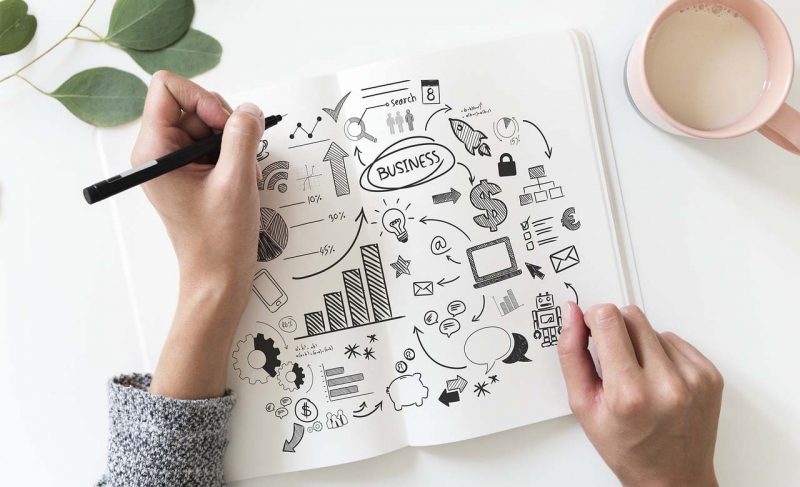 Before you start to sell your crafts, you need to look into legalizing your business. Laws vary by town and state, so you'll need to look into the laws in your own area. Many states have a small business section on their government website. If you can't find one, do an internet search for your state and small business. Or go to your local town office for help.
Starting with a DBA
If you are just starting out, there is a good chance you can file a DBA which stands for "Doing Business As". This enables you to work and collect money under your social security number. For example, if your business name is Julie's Jewelry; you would file your DBA as Julie's Jewelry. If your business name is your name; say Julie Smith, then you likely don't need a DBA.
Creating a Legal Company
If you are a larger business, have a business partner, or have numerous employees; you may want to look into forming some type of corporation. This may be necessary, and may be more beneficial to you than a standard DBA.
Different types of companies, and corporations, come with different types of liability protection. For example, a Limited Liability Company often protects the owner's personal assets. Most small business owners do not create a formal company, such as an LLC, right away. However, you may want to speak with an attorney, or tax professional, to determine what is right for you and your art and crafting business.
Either way, you will need some form of business identification when selling your work through outlets other than yourself. So take some time to think about where you are at now, and your future business goals. This will help to determine what business structure is right for you.
Paying Taxes as a Small Business Owner
In addition to legalizing your craft business, you'll also need to look into your local and state tax laws. You may need to collect sales tax, and you will need to know how to pay those taxes as a business owner. Often times small business taxes are paid quarterly. In the United States small business owners also pay taxes on their income.
It's your responsibility to keep track of your annual income, as well as where it comes from. You can do this in a notebook, planner, text document, or in a spreadsheet.
Tax Write-offs for Small Business Owners
While no one likes to pay taxes, art and craft business owners can often write off business expenses related to their work. Things like office supplies, books and magazines, association fees, and more. Keep any and all receipts related to your blogging business. It will surprise you when you see the number of items you can write off come tax time.
Want an easy way to keep track of your finances? You can manage your income, and your expenses, with my preformatted spreadsheets. They are specifically for freelancers and small business owners. This is the system I use for my own business.
The easy Way to Keep Track of Your Finances
Spreadsheets for Income and Expenses
Manage your finances easily with my preformatted spreadsheets for income and expenses. This product includes 9 spreadsheets and 1 printable, with an Excel and Google Sheets option. Simply shop and download to get started.
Your Art and Craft Portfolio
A small business website can be an important part of your business. Depending on what products and services you sell, you may also want to include an art and/or craft portfolio as part of your website. Your art and craft portfolio is a resource to showcase your work, as well as gain new clients. A business website will go a long way towards building your art and craft business.
How to Build an Art and Craft Portfolio
You can create your own website, blog, and portfolio in an afternoon. If you are serious about your business, I highly recommend it. If you don't have the time, or want to try out selling your products first, I recommend setting up a LinkedIn profile that can serve as a resource in place of your own website and portfolio.
When you are ready to set up your own small business website, and portfolio, see my detailed post and tutorial How to Start a Blog. In this post I take you step by step through the process.
Where Do I Sell Crafts Online?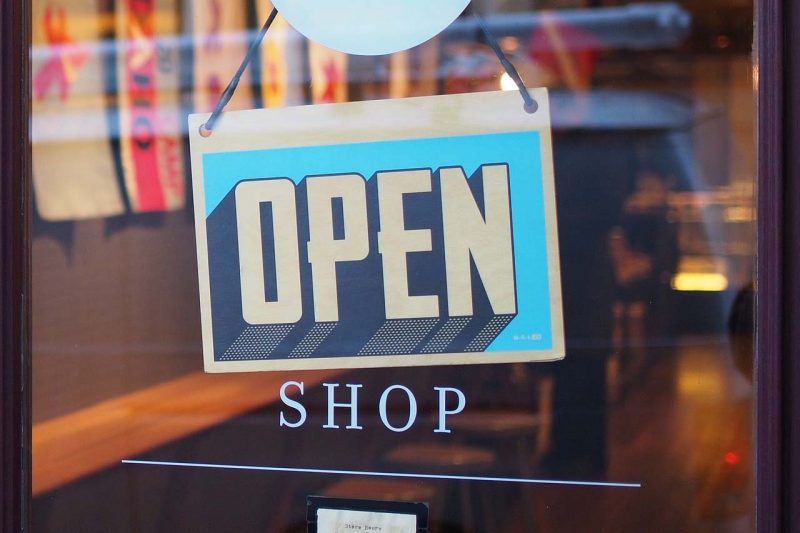 The next step in making money with your art and craft business is selling your work. Luckily there are a variety of ways to do that. Some are easier than others, and some are more lucrative than others. Choose one or choose all of them. This is your craft business and you are only limited by what you are willing to do.
Build Your Own Online Shop
One of the best ways to sell your crafts is to build your own online shop. It takes bit of time to get started. However, once your site is up and running, you can spend your time creating your work. If you already have a website up and running, you should be able to create an online shop in an afternoon.
The benefit to your own online shop is that you do not need to pay a commission, or fees, to anyone else. What you charge is what you get.
For more information on how to set up your own online store, see my post WooCommerce Storefront. You can also visit my Printable Art Shop to see how I run my own online shop.
Sell on Social Media
Social media (Twitter, Instagram, Facebook, Pinterest, Google+, YouTube) has been great for artists and crafters. With the use of hashtags, and by growing a following, you can leverage your social media accounts to make sales. Keep in mind that it helps to have an online shop to direct people to.
I've seen artists and crafters do one day restock sales, and sell out in a matter of hours, just by sharing the sale information on their social media channels.
It may take a while to grow a following. However, once you have your tribe; they are likely to keep purchasing from you and recommending your products to their friends.
Start an Etsy Shop
Etsy is an online shop for all things handmade. Lots of artists and crafters use Etsy.
The main benefit of Etsy is that you do not need to run your own online store. An additional benefit is that there are shoppers already on Etsy, so they may find your products easier.
The drawback of Etsy is that you have to pay a small fee for listings and a commission on items sold.
Etsy might be great for you if you are just starting out and want to see if people will buy your products. However, if you are already making great sales; you should consider opening up your own online store.
Sell on Amazon Handmade
Amazon Handmade is similar to Etsy. You simply sell your handmade items on Amazon.
Keep in mind that their fees may vary, and that you should compare both Etsy and Amazon to see which is right for you.
Other Online Stores
There are numerous other online stores where you can sell your crafts. Check out ArtFire, Bonanza, and Zibbet, or do an internet search for "selling crafts online store".
If you are interested in selling your designs, or art work, there are online stores for that too. With these sites, you create an online shop with your designs. Some sites offer digital designs that can be purchased and downloaded. Other sites enable you to have your designs printed on shirts, mugs, and more. When someone places an order; the company creates the item, ships it, and you receive a commission. This is called print on demand.
If this interests you, check out these sites:
Sell to Local Stores
Local stores and boutique shops are a great place to sell your art and crafts. The key is to find shops that already sell handmade goods. Bonus points if you can find a shop that doesn't sell your exact item or style. This means there may be a space for you.
If you are interested in working with a local store you'll want to contact the store owners. Ask to set up a meeting to show them your work. Be prepared to also present a wholesale and retail price list.
Consider Non Local Stores
If your items are light and inexpensive to ship, you may be able to sell them at stores outside of your geographic area. Do an online search for "gift stores" or "craft stores" or your own particular craft.
Sell Through Museums
Museums are a great place to sell high end art and crafts. Smaller museums and specialty museums are easier to get into. For example, a museum that focuses on pottery might sell work from local potters. Larger museums usually only sell work from well established artists and crafters.
Call the museum store to inquire about the process of getting your items into their store. You'll likely need to set up an appointment to show your work.
Look Into Art and Craft Fairs
Many artists and crafters make good money at art and craft fairs. However, a number of people do not. The key to being successful is to know the art and craft fair demographics and vendors ahead of time. Community farm fairs are better suited to country style crafts and lower priced items. High end art fairs are better for higher priced items. Just keep in mind that booth prices vary and depend upon the size of the fair, location, and number of days.
To find art and craft fairs to attend, do an internet search for "art shows", "craft shows", and "craft fairs" followed by your town or state. You can also visit fairsandfestivals.net. Use their search tool to find fairs by zip code, state, and date.
You might also want to check out Maker Faire. Maker Faire is a celebration of invention, creativity, and curiosity showcasing the very best of the global Maker Movement. They hold fairs all over the world.
Sell at Farmer's Markets
Depending on your craft, you might have great success with farmer's markets. Visit a local farmer's market to see what types of art and craft vendors are there. While a craft related to food or cooking would be helpful, it's definitely not necessary. I've seen jewelry, knit sweaters, and more at farmer's markets.
Many farmer's markets have a website where you can find out who to contact.
Consider Industry Expos and Trade Shows
There are a number of industries that have expos and trade shows specifically for people within that industry. Oftentimes you can also rent a booth and sell your crafts there. Expo booth prices are typically more expensive than craft fairs. However, the people who attend are already interested in your particular craft or niche.
To find an expo near you, do an interest search for your industry/craft/niche followed by "expos" or "shows".
track the companies you contact and work with
Submissions Tracker Printable
Keep track of the companies you contact, and send your submissions to, with this submissions tracker printable. Download, print, and start sending out those submission requests today!
How to Price Your Products
It is no secret that creatives are notorious for under valuing themselves. It is important to charge what you are worth for your products and services. Otherwise you'll have a hard time sustaining your craft business. You might be surprised at how much people are willing to pay for one of a kind, handmade products.
Determining Product Prices
A general formula, for determining your product price, is to take your materials cost and add it to the cost of your time. For example, if it cost you $5 to create a pair of earrings and it took you one hour to make them (at $20 an hour); you would add $5 + $20 to get $25. This is your bare minimum price, including the time it took to make the piece. New small business owners often use this number as their retail price, which is a huge mistake.
Why is this a huge mistake? What if you want to sell through other stores? Those stores will ask you for a wholesale price. Their retail price is often double the wholesale price. Most stores also want your retail price to be the same as, or less than, theirs. Otherwise, what is the point of them agreeing to sell your product?
If your retail price is $25, the store will want a wholesale price of $12.50. After your $5 material cost, you are now making $7.50 an hour instead of the $20 an hour you originally planned. This doesn't even factor in the additional costs of running your business; like packaging, advertising, electricity, office space, etc. These are expenses that many creatives forget to add into their product price. Now you can see why so many creatives don't make a lot of money, and why many give up on their dreams of an art and craft business.
Smarter Product Pricing
So how can you price your products for maximum profit?
Add additional costs and overhead to your base price.
Consider a certain % or $ price markup of your base price.
Determine your profit margin for the best pricing outcome.
I go into more detail on how to price your products correctly in my guide How to Make MORE Money with Your Craft. The biggest take away here is to charge more. You can always decrease your prices later, if you feel the market does not support your higher prices.
Art and Craft Business Tips for Success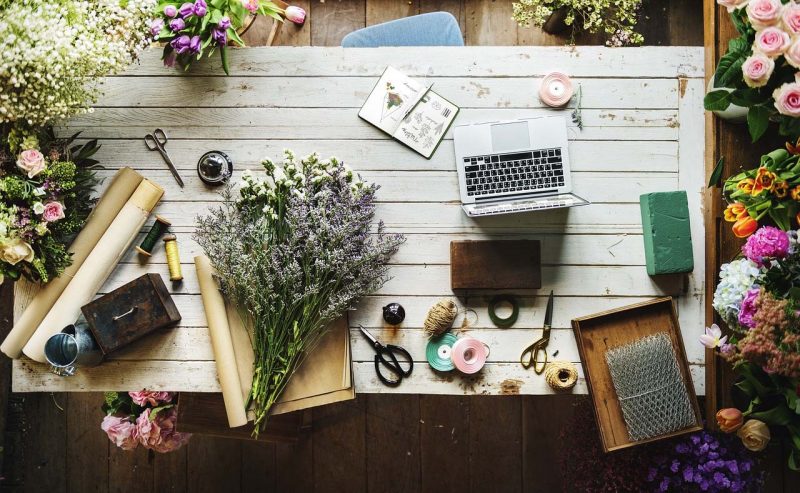 To run a successful craft business you have to treat your craft as a business. I know, this sounds like a no brainer. My point here is that you likely run your craft business, first and foremost, because you love to craft. Making money is probably a close second.
Crafting for fun, or for gifts for friends, is different than running a craft business. As I mentioned above, you'll need to form some type of legal business and pay taxes. You'll also need to pay close attention to supplies, what they cost, and how much to charge in order to make a profit.
Think long and hard about whether you are willing to do what it takes. While starting a craft business can be a lot of fun, there are times where you will have to put your head down and grind out products. This is common during the holiday season, or when new business owners get their first large wholesale order.
Networking and Marketing Tips
Having a website, and being active on social media, can also go a long way towards getting noticed and making sales. It's important to market yourself, your products, and your services. It's equally important to make networking a part of that plan.
Networking means reaching out and interacting with others to exchange information, and develop professional contacts. Networking can help you to spread the word about your business and products. It can also be a great way to build a community of artists and crafters that you can collaborate with.
The best way to network with other artists and crafters is via social media. The best strategy is to find artists and crafters in related niches. For example, if you sell handmade greeting cards; reach out to stationary artists to see if they'd be interested in working together. Maybe you create a card line for their business. Or perhaps a jewelry artist might want a thank you card designed to send to their own customers. Comment regularly on artist and crafter blogs as well as social media posts. Reach out via email and introduce yourself. Tell them how much you love their work, and ask if they'd be interested in a collaboration. Think of these connections as your creative tribe. How can you help each other?
Confidence Building Tips
There may be days when you feel like you will never be successful. There may be days when you think you should quit. You might find a 20 year old artist whose art and craft business is ten times more successful than yours. Or maybe you scroll through Instagram and wish that your work was as good as some other artist/crafter.
News flash – there will always be someone who is better, or more experienced, than you. That is 100% OK. What makes your work special is YOU. There is only one you, and only you bring the perspective that you bring. The only way you will NOT be successful is if you quit.
When doubt creeps in, take a social media break. Stop looking at, and comparing yourself, to other artists and their work. Craft and create for fun. For the love of doing it. Take an online class, or read a how to books to learn and grow. Just keep creating. The more you create, the more your craft will grow.
Lastly, pat yourself on the back. You made the decision to bet on yourself. You decided that you and your work have value. This is huge. Remember where you started, enjoy where you are in the process now, and plan for where you want to be in the future. Most of all, just keep on creating.
If you want to learn even more about starting a craft business, where to submit your work, and receive my product ideas for creatives list; check out my guide below.
Take Your skills to the Next Level
Get Paid MORE to Write, Blog, and Create
How to Make MORE Money with Your Craft is a deep dive into all of the ways that writers, bloggers, artists, and creatives make money. It's jam-packed with information, tips, as well as links to numerous money making resources and ideas.
I hope you've found this selling crafts and art guide helpful; and that you are excited to start, and/or grow, your own art and craft business. Don't forget to bookmark this post, and share it with your friends via your social media channels. For more posts and tips on art, crafting, and design; check out my creative hub Art, Crafting, and Design Tips.
Do you have an art and craft business tip to share? Let us know in the comments section below!